New Monopoly for Millennials board game has offended the target audience
The game, which focuses on experiences rather than real estate, has called been called 'patronising'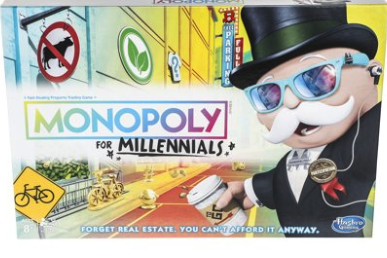 Monopoly has released a new edition targeted towards millennials - and it has everything from avocados to thrift stores, but no houses.
Hasbro, the game makers behind the iconic board game created the millennial version to appeal to people born between 1981 and 1996 - by including all types of stereotypical millennial content.
The point of the new game, rather than buying real estate, is to enjoy experiences - because as the box explains: "Forget real estate. You can't afford it anyway."
Experiences include activities such as travel, dining at vegan restaurants, and sleeping on a friend's couch, and the winning player is the one who collects the most.
The game makers also gave the game's mascot Rich Uncle Pennybags a millennial makeover - by adding earbuds, blue sunglasses, a disposable coffee cup and a gold "participation" medal.
Hasbro priced the game at $19.82 and it is currently sold out on Walmart's website, where it was exclusively sold.
However, not everyone is amused by the new game - least of all millennials themselves, who expressed their feelings on social media.
"Maybe I'm being a 'snowflake' but there is something so gross, cringe-y, and tone-deaf about the new millennial Monopoly game," one person tweeted.
Another said: "As a millennial who loved playing Monopoly, I'm disappointed Hasbro made this garbage. A game that profits off the backs of millennials while simultaneously mocking them? Must have been a Baby Boomer in charge of making it."
Despite the backlash, Hasbro insists the game is just supposed to be "lighthearted."
The Ten Best Board Games
Show all 10
"We created Monopoly for Millennials to provide fans with a lighthearted game that allows Millennials to take a break from real life and laugh at the relatable experiences and labels that can sometimes be placed on them.
"With many of us being Millennials ourselves, we understand the seemingly endless struggles and silly generalisations that young Millennials can face (and we can't even!).
Support free-thinking journalism and attend Independent events
"Whether you are a lifestyle vlogger, emoji lover or you make your 'side hustle' selling vegan candles, Monopoly for Millennials is for you!" a Hasbro spokesperson told The Independent.
Join our commenting forum
Join thought-provoking conversations, follow other Independent readers and see their replies