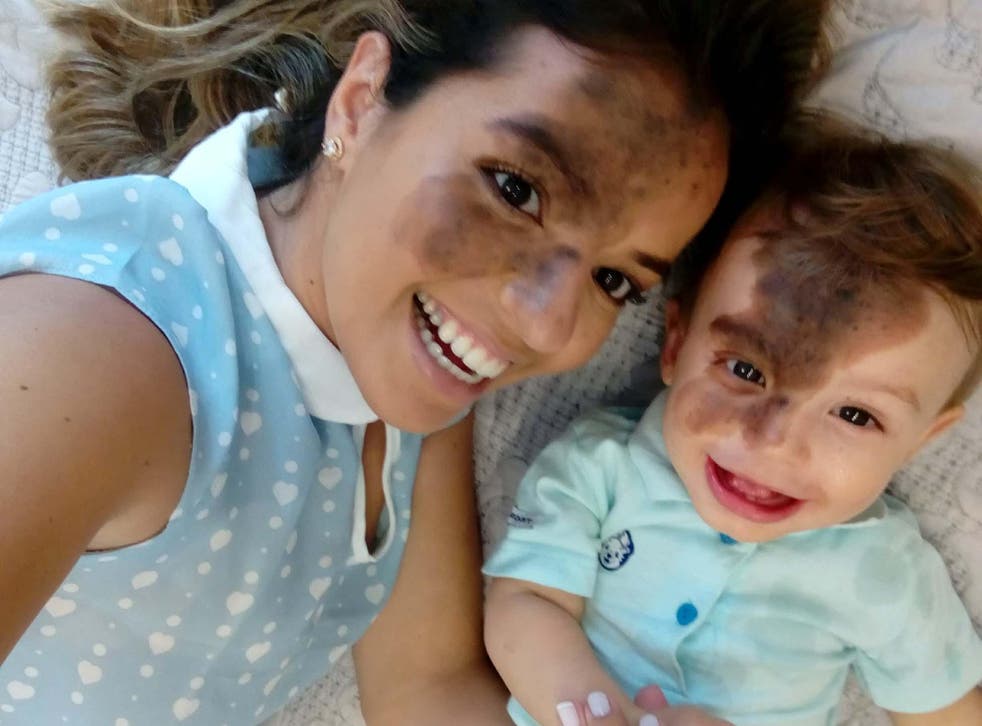 Mother gets birthmark painted on face to celebrate baby son's uniqueness
'We will always show him as he is'
A mother had a replica of her son's birthmark painted on her face so she could walk in his shoes for a day.
One-year-old Enzo Cestari was born with a dark birthmark that covered most of his forehead and stretched down one side of his nose.
However, his mother, Carolina Giraldelli, 26, from Cáceres, Brazil, vowed never to hide it and to make sure he knows he is perfect just the way he is.
"I confess that for some time it was very difficult to see and feel the eyes of society flickering my son with looks of pity, contempt, scare and sometimes disgust," Giraldelli said.
"But even though it is not easy, my husband and I act normally and we will always show him as he is.
"If someone feels revulsion, curiosity or fear, we try to make him understand that he, despite his mark, is a normal boy who is much loved, just like others."
In a bid to celebrate her son's uniqueness, the mother asked her makeup artist friend to recreate Enzo's birthmark on her face.
She hoped that by wearing the makeup for a day she could better understand the prejudice her son faces and was surprised at how it made her feel.
"After the makeup was complete I was very moved because I felt like the most beautiful woman in the world," she explained.
"When I got home, Enzo's reaction was complete joy - even though he did not completely understand.
"After the photos I went to work with the makeup on.
"Several people looked at me with many different looks, but I was very calm because I felt like the most proud mother in the world."
Born in May 2017 via c-section after a scan revealed his umbilical cord was wrapped around his neck twice, Giraldelli revealed that she initially thought Enzo's birthmark was a "little bit of dirt" but said that when she realised that it wasn't, she was just grateful he was born healthy and crying.
Instead, the mother knew from that point on that she needed to become stronger, fearless and brave to help her son tackle the obstacles that he may face as he grows up.
After sharing the images of her wearing the makeup online, Giraldelli says she was overwhelmed by number of supportive comments she received.
"The words of comfort, encouragement and the wonderful comments were so many that my emotions just took over," she said.
"I believe countless mothers had these same feelings when they saw the picture with my son."
Join our new commenting forum
Join thought-provoking conversations, follow other Independent readers and see their replies