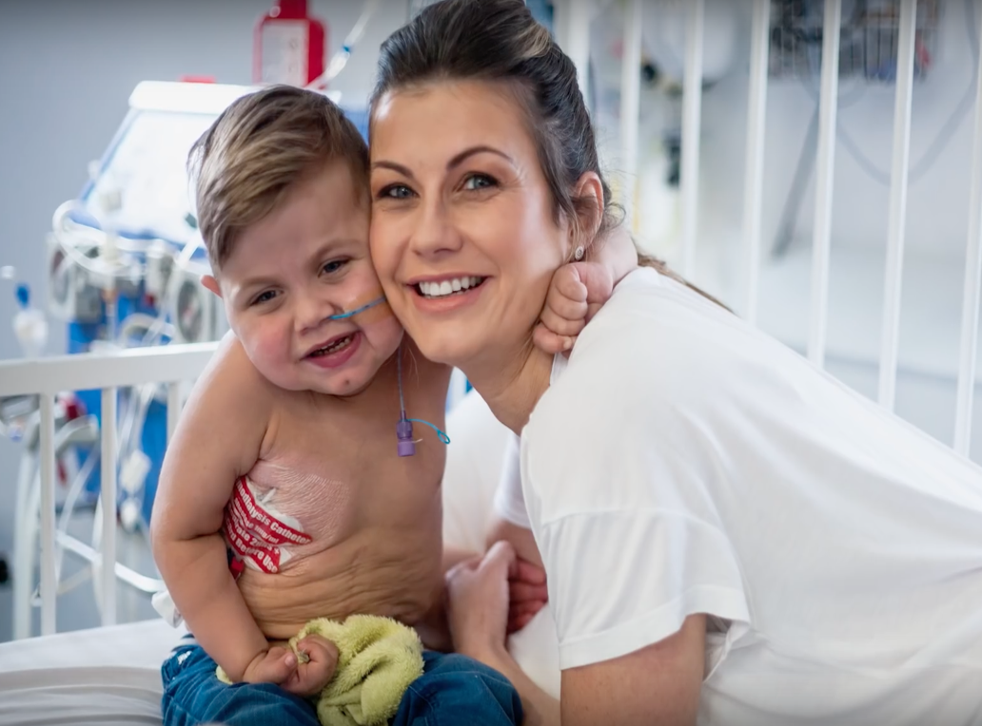 Selfless mother donates two organs to save her son's life
'I was told that my baby wouldn't survive'
A devoted mother has risked her own life to undergo a double organ donation for her four-year-old son.
Sarah Lamont, from Ballymena, Northern Ireland, recently donated one of her kidneys to her little boy, Joe, and just months later surgeons also removed a section of her liver.
Diagnosed with two aggressive organ diseases before his first birthday - polycystic kidney disorder and congenital hypatic fibrosis, a form of liver disease – doctors were concerned that Joe might not survive as his kidneys were so enlarged they took up his whole abdomen and crushed his lungs.
As such, the little boys kidneys were removed when he was just a few days old and he has been on dialysis ever since
Concerned that her son was "missing a huge part of his life", the selfless mother took matters into her own hands and elected herself for organ donation.
"We waited for the call to come and it never did," she told Barcroft TV.
"Then I thought, 'If I can give a lobe of my liver, and Joe can receive a kidney, why can I not give both?'
"I'm so glad that I can help my little boy. It's an amazing feeling."
In January 2017, Lamont donated a lobe of her liver and, just seven months later, she underwent a kidney transplant.
For the transplant Joe was admitted to Birmingham Children's Hospital, while his mother was taken to Queen Elizabeth Hospital Birmingham.
During the procedures, surgeons removed Lamont's kidney before it was couriered four miles via ambulance to surgeons ready to transplant it into Joe.
Now several months into recovery Joe is said to be the healthiest he's ever been, and has even been ale to go swimming for the very first time.
And, while he might be on medication for the rest of his life, Lamont says his quality of life has improved 100 per cent.
"I'm just so glad I was a match, because I think something would've happened if not. He could have died.
"Joe is doing amazingly. He's grown a lot and has so much energy now. You wouldn't recognise him."
Register for free to continue reading
Registration is a free and easy way to support our truly independent journalism
By registering, you will also enjoy limited access to Premium articles, exclusive newsletters, commenting, and virtual events with our leading journalists
Already have an account? sign in
Register for free to continue reading
Registration is a free and easy way to support our truly independent journalism
By registering, you will also enjoy limited access to Premium articles, exclusive newsletters, commenting, and virtual events with our leading journalists
Already have an account? sign in
Join our new commenting forum
Join thought-provoking conversations, follow other Independent readers and see their replies