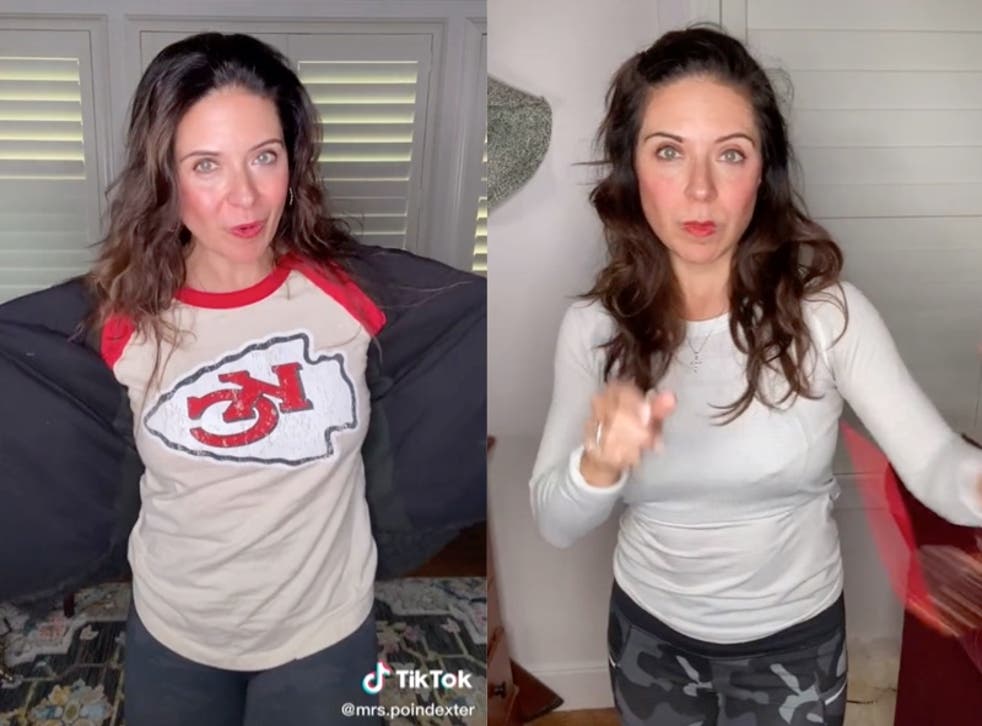 Mother-of-three says her sons were expelled from Catholic school because of her OnlyFans account
She says fellow parents at the school anonymously sent photos from her OnlyFans to school principal, bishop and church
A mother who uses OnlyFans has spoken out after her three sons were reportedly expelled from their Catholic school over her presence on the adult platform.
According to Crystal Jackson, from California, she created an OnlyFans account in 2019 as a way to spice up her relationship with her husband Chris Jackson.
However, according to the mother-of-three, who goes by Tiffany Poindexter, or Mrs Poindexter, on the app, where she told People she makes more than $150,000 a month, her pictures were eventually leaked to Sacred Heart Parish School in Sacramento, where her children went to school.
After her photos were sent to the school's principal, Theresa Sparks, Jackson told KCRA that she received an email informing her that her children were no longer allowed at the Catholic school.
"Your apparent quest for high-profile controversy in support of your adult website is in direct conflict with what we hope to impart to our students and is directly opposed to the policies laid out in our Parent/Student Handbook. We therefore require that you find another school for your children and have no further association with ours," the email reads in part, according to the outlet.
According to Jackson, the expulsion came after an issue with her OnlyFans first arose in July, when a fellow parent from the school found her account and shared it with his wife.
From there, the mother-of-three claimed that a group of parents from the community took it upon themselves to advocate for her children to be expelled from the school, with the fellow parents reportedly sending photos from Jackson's OnlyFans to the principal, bishop and church.
"Their whole strategy from day one was: 'I'm gonna take you down,'" she recalled to People. "It was gut-wrenching, having them send my photos to school saying: 'This is disgusting and this is gross.'"
However, according to Jackson, the school's decision to expel her children only hurts the couple's three boys, aged eight, 10 and 12.
"My kids are really good and all this is doing is hurting them," the 44-year-old told People. "Take me down, that's fine, but leave my kids out of this."
Jackson also defended her presence on the site, explaining to the outlet that the photos she and her husband post have ultimately strengthened their bond.
"It has made our relationship so much more better in the intimacy part and the bond of our marriage has gotten stronger," she said.
As for where the couple's children will attend school now, Jackson said that she had hoped they could continue going to Catholic school, although she doesn't "see that happening".
"Our goal is to put them back in Catholic school but I don't see that happening. They won't allow them in this diocese, and is this really the place for them to be?" she said. "It's clear that they said we don't want you."
In a statement to KCRA, Sparks declined to discuss the situation, telling the outlet: "We cannot discuss the status or circumstances of any member of our school or parish community."
The Independent has contacted Sacred Heart Parish School and Jackson for comment.
Join our new commenting forum
Join thought-provoking conversations, follow other Independent readers and see their replies