Mum shares birth photos to give hope to pregnant women battling breast cancer
'It's been an emotional rollercoaster'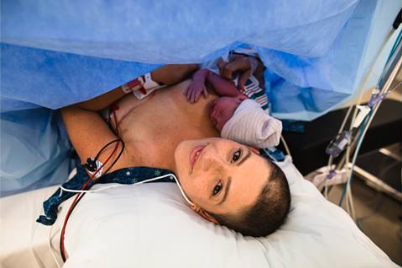 A mum has shared photos from her birth in a bid to give hope to other pregnant women battling breast cancer.
After finding a lump on her left breast, Maria Crider, from Florida, was hit with the news that she – already a mother to two boys – had been diagnosed with breast cancer.
11 weeks pregnant at the time, the incredibly tough mum embarked on a gruelling battle to save her life and that of her unborn baby.
Able to receive treatment during her second and third trimesters, the 27-year-old underwent a unilateral mastectomy, several rounds of chemotherapy and radiation before finally giving birth to her son Logan through a planned caesarean in April.
"It's been an emotional rollercoaster," she told HuffPost.
The powerful moments shared by Crider and her husband, Brandon, before, during and post-delivery were captured by birth photographer Bonnie Hussey who, after hearing Crider's story, offered to do the session for free.
Emotionally charged, the raw photos show the brave mum preparing for surgery, the exact moment Logan was born and the very first time they got to hold their baby.
But, perhaps those that are the most striking are the images that show the new mother nursing her newborn with her mastectomy scar still clearly visible.
While Hussey admits that she rarely posts about client's birth stories, Crider insisted that she share images from her birth in the hope of reaching other women going through the same experience.
As someone who sought encouragement in private Facebook groups like "Kick Ass Cancer Mamas," Crider says she felt it was important to share her story with others.
"I want it to give them reassurance that you can go through certain treatment while pregnant."
She added, "Logan is proof, and he's just one of hundreds of babies born after chemo."
Join our commenting forum
Join thought-provoking conversations, follow other Independent readers and see their replies