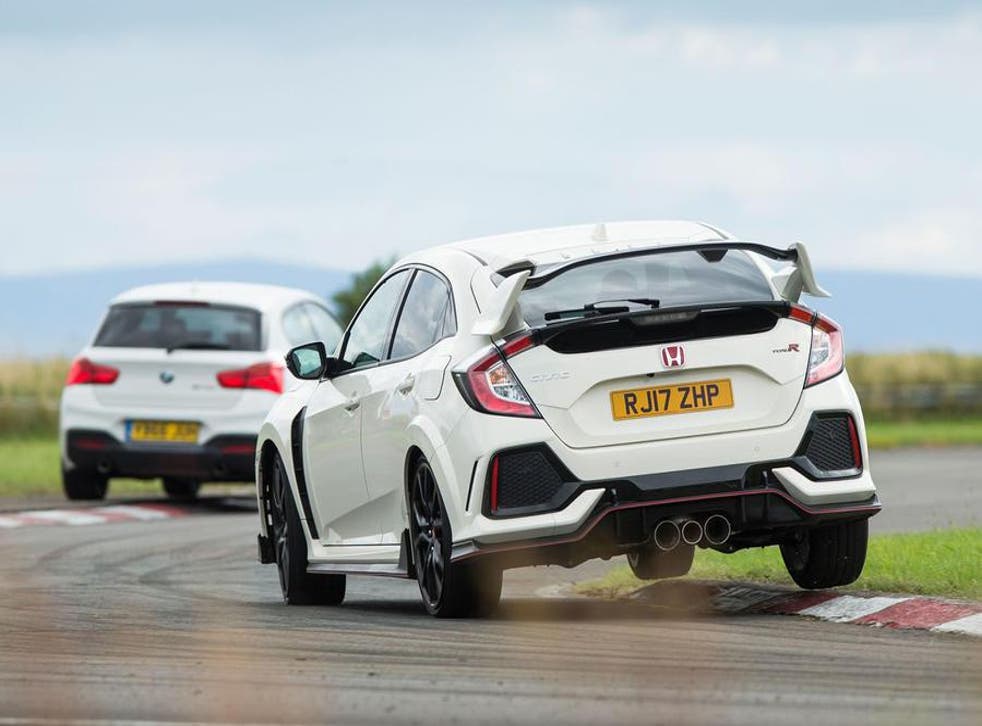 Affordable driving greats: BMW M140i versus Honda Civic Type R
The best Civic Type R ever takes on a BMW with a spec sheet to die for
This contest can't be right, surely? In the bright white corner, BMW's M140i: mighty six-cylinder engine, rear-wheel drive, great weight distribution. In the slightly creamier white corner, the new Honda Civic Type R, four-cylinder engine, front-wheel drive, based on a workaday family hatch.
Honda has worked very hard on this new Type R, but expecting a Civic to beat an M140i still seems like a bridge too far.
Even before you look at the BMW's spec sheet, the physical reality of the German car is just so right. The steering wheel comes out to meet you in your low-slung seat. The 335bhp 3.0-litre turbo motor is refined, responsive and sharp. You're getting big-car performance in a compact hatch. For more involvement, we'd take the manual gearbox over our test car's 8-speed auto, which builds a small delay into every paddle-operated up or downshift.
The classic BMW rear-drive format should really deliver on road and track, but the M140i struggles a bit when you start to really lean on it. The connection between the steering and the front axle doesn't feel as direct as you might hope, and the ride is unsettled unless you've selected the softest damper setting. Even so, the car feels top heavy, the body tipping and tilting and always feeling like it might topple over. Stroking it along the road works better than grabbing it and sticking it into into corners.
Not having a limited-slip differential doesn't help either, particularly if you're driving on a damp track. Sometimes the car will fire out of a corner in a predictable manner, sometimes it will click over into unexpected oversteer. You're never quite sure what you'll get.
The Type R feels good straight out of the box. Foible-free, it empowers and encourages the driver to give it the beans immediately, a welcome sign of a well-engineered chassis. As speed builds and the limits are approached, it just gets better. Of these two, it's much the more natural performance car.
BMW M140i versus Honda Civic Type R

Show all 11
Less praiseworthy are the Honda's overstyled bodywork and (considering the price) ordinary cabin. They've greatly improved the seating position by lowering it, however, and the actual seats are as good as it gets short of fixed-back racing items. You'll wait a while for the turbo to come on song, but once it does it's genuinely quick, assisted by a superb manual gearshift action.
It's a shame that you still can't mix and match on the chassis/engine configurations, because the ideal combo would be the sharper throttle map with the softest suspension setting. Because that mix isn't available, you end up leaving it in Comfort mode rather than Sport or +R in order to enjoy the best ride quality and the flowing compliance and grip it gives along a fast road.
The Type R is wonderfully fast around a track, beating many much more powerful cars in our multi-car test and doing so in a fun way with a degree of throttle adjustability, a clawing differential and brakes that won't quit. Sometimes you wish it wasn't quite so big, for example on small B-roads, but that's a small quibble. This is the best Civic Type R so far. It's a huge step forward for Honda and – for some at least, most shocking of all – it's a better steer than the six-cylinder, rear-drive M140i.
Honda Civic Type R
Price
 £32,995
Engine 4cyls, 1996cc, turbo, petrol
Power 316bhp at 6500rpm

Torque 295lb ft at 2500-4500rpm
Gearbox 6-spd manual

Kerb weight 1380kg 0-62mph 5.7sec (claimed)
Top speed 169mph

Economy 36.7mpg (combined)
CO2/tax band 176g/km, 34%
BMW M140i
Price
 £31,875

Engine 6cyls, 2998cc, turbo, petrol
Power 335bhp at 5500rpm

Torque 369lb ft at 1500-4500rpm
Gearbox 8-spd auto

Kerb weight 1505kg 0-62mph 4.6sec (claimed)
Top speed 155mph
Economy 39.8mpg (combined)
CO2/tax band 163g/km, 29%
Tony Middlehurst is a writer for AutoCar.
Register for free to continue reading
Registration is a free and easy way to support our truly independent journalism
By registering, you will also enjoy limited access to Premium articles, exclusive newsletters, commenting, and virtual events with our leading journalists
Already have an account? sign in
Register for free to continue reading
Registration is a free and easy way to support our truly independent journalism
By registering, you will also enjoy limited access to Premium articles, exclusive newsletters, commenting, and virtual events with our leading journalists
Already have an account? sign in
Join our new commenting forum
Join thought-provoking conversations, follow other Independent readers and see their replies