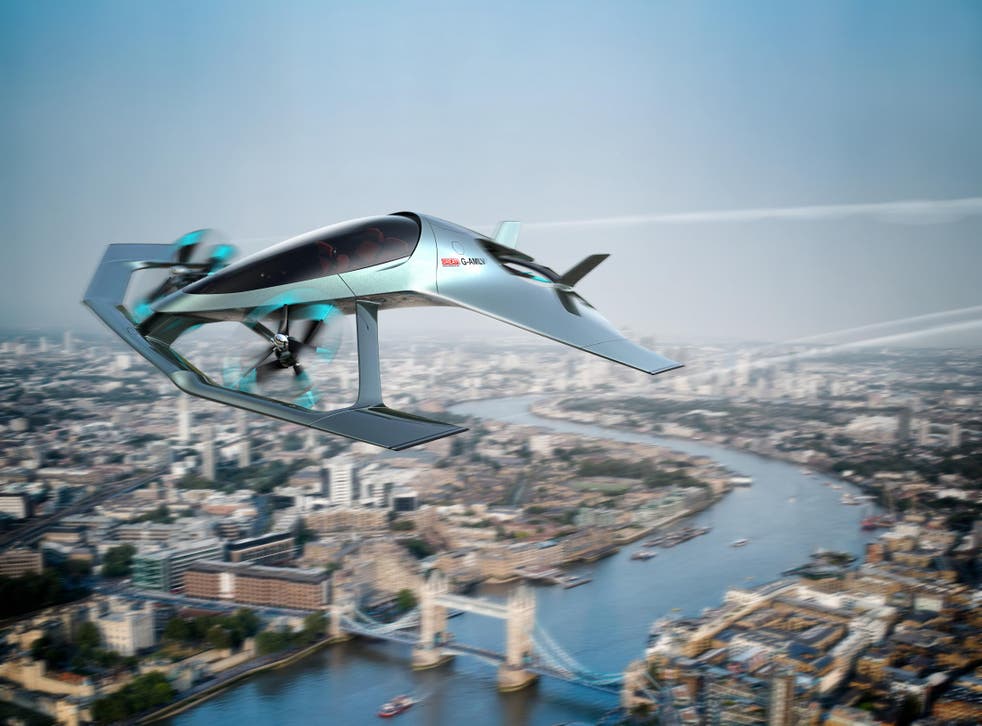 Aston Martin launches plane concept aiming to provide 'luxury personal transportation'
Could the Volante Vision Concept become a viable alternative to the 7.57 from Marlow? You may need a Double-O licence, reckons Sean O'Grady 
Flying cars have long been dreamed of, but rarely made remotely practical. That, despite some realistic looking images, hasn't changed with the new Aston Martin "Volante Vision" concept. It is destined, perhaps, for a future James Bond movie rather than your daily commute. And despite the storied name attached to it, it is in fact a light aircraft rather than a "flying car".
Still… it's intriguing as such contraptions always have been, and it at least looks the part. Aston Martin have worked with Cranfield University, Cranfield Aerospace Solutions and Rolls-Royce plc (the air engine company, not the limousine maker) to look forward to one possible path for "luxury personal air mobility".
Thus, for urban use it features vertical take-off and landing (VTOL) capabilities, something the British aerospace industry has pioneered since the 1960s and the Hawker Harrier fighter jet. It's green too, at least to an extent, as it is conceived with hybrid power, combining an internal combustion engine and an electric motor, for inter-city rather than inter-continental travel.
Indeed, in a little historical twist, one notable Cranfield alumni was Ralph Hooper, who attended the College of Aeronautics at Cranfield in 1946 and went on to become one of the country's most important post-war aircraft designers, creating the Hawker Harrier jump jet, which first flew in 1964.
Aston Martin president and CEO Dr Andy Palmer said: "With the population in urban areas continuing to grow, congestion in towns and cities will become increasingly demanding. We need to look at alternative solutions to reduce congestion, cut pollution and improve mobility. Air travel will be a crucial part in the future of transportation, the Volante Vision Concept is the ultimate luxury mobility solution.
"Humans have always spent on average, one hour commuting to and from work. The distance we live from our workplace has been determined by the methods of transportation available. The Volante Vision Concept will enable us to travel further with our hourly commute, meaning we are able to live further away from where we work. Cities will grow, and towns that are today too far away from cities to be commutable will become suburban."
Some critics might add that congestion might merely move from the ground to the skies as "personal air mobility" grows more affordable, though either way it seems a distant prospect.
As the maker of such fine cars as the Aston Martin DB11, the new Vantage, the DBS Superleggera and Aston Martin Valkyrie hypercar project, as well as the classics featured in the Bond films, Aston Martin chief creative officer Marek Reichman is proud of the work his firm has done on the concept: "We have a unique chance to create a luxury concept aircraft that will represent the ultimate fusion of art and technology."
Join our new commenting forum
Join thought-provoking conversations, follow other Independent readers and see their replies