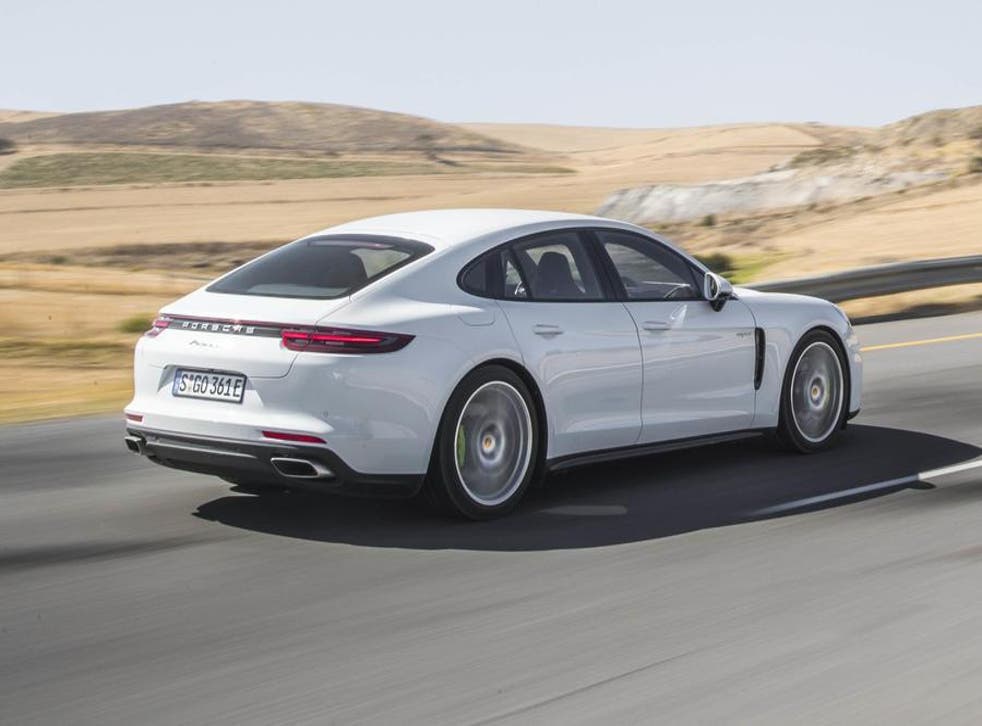 At the wheel of a hybrid Porsche Panamera
Can plug-in Panamera usurp diesel as range's best-seller?
Sarah Bradley
Monday 23 January 2017 11:02 Comments
Designed to appeal more to the head than the heart, the 'sensible' new Porsche Panamera 4 E-Hybrid laughs in the face of its more hairy-chested stablemates when it comes to sensible running costs. It's no slouch on the street, either. The best of both worlds? We drive it to find out.
The 4 E-Hybrid's predecessor accounted for 20% of UK Panamera sales, so the future bodes well for this latest version, which is better in virtually every measurable way. Oh, and in case you're wondering, '4' refers the number of driven wheels, while 'E' denotes the model's plug-in status. The brand-new, electrically boosted, 2.9-litre V6 twin-turbo boasts 456bhp and 516lb ft from 1100rpm. That results in a 4.6sec 0-62mph sprint, against its predecessor's 5.5sec.
Other improvements include a 30-mile electric-only range, against 22 miles, while the more powerful, 134bhp motor will propel the Porsche up to 87mph, not 84mph, before the petrol engine cuts in. Of course, the official economy figure of 95mpg is headline-grabbingly high; just don't expect to achieve that in the real world.
You might have to pinch yourself to believe that the purchase price is genuine as well; the new model is £79,715 compared with the preceding Panamera E-Hybrid's £88,967. That's nearly £9000 cheaper than the Panamera 4S, which is 22bhp less powerful.
The E-Hybrid is a delight of silent composure in electric-only mode, which is good news for those city commuters who may never have to use the petrol engine. Unfortunately, when said in-house-designed internal-combustion powerplant does cut in, it's far from refined. Its very gruffness doesn't encourage you to hold on to the revs, which is hardly the traditional Porsche way.
Handling prowess isn't what you might expect, either, mainly thanks a kerbweight of 320kg more than the standard Panamera 4's. Fast, steady corners are gripped well, but the steering lacks feel and is not particularly responsive when grip does start to loosen.
In short, the harder you drive the E-Hybrid, the further from its comfort zone it wanders. Cruising is where this Porsche excels, thanks to the standard-fit air springs and sumptuous cabin, with its ultra-high-definition instrument and infotainment screens.
We will have to wait until later this year to compare the E-Hybrid with its most closely ranked, and much-anticipated, stablemate, the replacement for the previous V6 diesel. That model was the range's best seller, so some fans will want to hold on until the newcomer's arrival before making their buying decision.
Until then, the E-Hybrid makes sense if viewed not as a traditional Porsche, but more as an eco-conscious luxury car that the owner doesn't intend to drive too hard – and one that benefits their pocket at the same time. If you can live with its dynamic shortcomings, it may be the model for you.
Porsche Panamera 4 E-Hybrid
Price £79,715 (range starts at £59,746)
Engine V6, 2894cc, twin-turbo, petrol, plus electric motor
Power 456bhp at 5250rpm
Torque 516lb ft at 1100rpm
​0-62mph 4.6sec
Top speed 173mph
Gearbox 8-spd dual-clutch automatic
Kerbweight 2170kg
Economy 88.5mpg (combined)
CO2 56g/km, 11%
Rivals: BMW 640d M Sport Gran Coupe, Tesla Model S 75D
Register for free to continue reading
Registration is a free and easy way to support our truly independent journalism
By registering, you will also enjoy limited access to Premium articles, exclusive newsletters, commenting, and virtual events with our leading journalists
Already have an account? sign in
Join our new commenting forum
Join thought-provoking conversations, follow other Independent readers and see their replies