Audi Q2 1.0 TFSI

Show all 6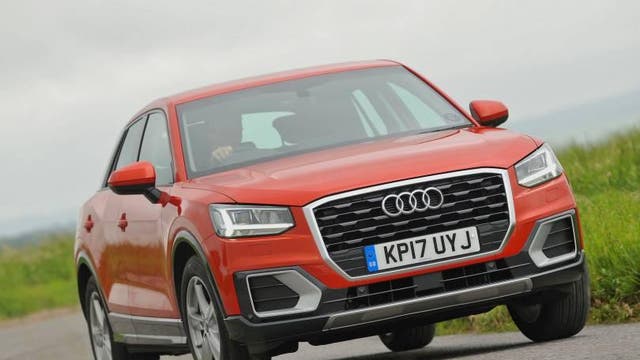 Audi Q2 1.0 TFSI: reviewed
Is the cheapest Audi Q2 the hidden bargain of the range?
Audi's smallest SUV, the Q2, is proving to be a bit of a hit. With prices starting from just over £21,000, it's within reach of many people and its successful blend of premium quality with funky stand-out crossover styling seems an enviable combination.
Most buyers are taking 1.4-litre petrol and 1.6-litre diesel models. But what is that cheapest entry-level model, with its three-cylinder 1.0-litre turbo petrol engine, actually like – and can those spending bargain basement cash still pick up a quality car? We decided to find out.
One thing is for sure: SUV buyers don't need to default to diesel these days. Modern turbo petrol engines are little masterpieces, and the Q2's micro-sized 1.0-litre is no exception. Only when you first put your foot down will you feel a little hesitation: once the revs are over 2000rpm, it's surprisingly strong and linear. Just remember to use the gearbox to keep it in the zone: that's why Audi fits a six-speeder as standard.
Refinement is also better than you may think – and probably better than a comparable diesel. It's virtually inaudible in town, and the distant throb it makes is quite sweet; you'll hear it during acceleration but it settles down again once up to speed.
The Audi handles well, with variable steering giving it a nippy, agile feel, and minimal body roll keeping things tight in corners. The ride can be unsettled on urban roads as a result, but it's rarely crashy and it proves a stable motorway cruiser.
There's surprising space within the smallest Audi SUV, with a pushchair-sized boot and a roomy front cabin. Rear seats aren't quite as spacious, but should be OK for children. Audi's trademark top-line quality is in plentiful evidence and the well-designed dash is clarity itself to use. This is a real feel-good car inside.
Equipment levels are strong, with DAB, Bluetooth and USB port ensuring strong connectivity. This is bolstered by smartphone users having easy access to their devices through Apple CarPlay or Android Auto.
It may be the cheapest Audi Q2, but the 1.0 TFSI is no poor relation. It feels no different to pricier models inside, and it's just as much fun to drive. It still seems like a genuine large SUV downsized into a pint-sized package.
Our preference ultimately still would be for the 1.4 TFSI if you cover lots of miles on the motorway, or drive a lot with passengers, but for most other people, there's no risk saving money with the 1.0 TFSI. Just make sure you check out an even cheaper relation to the Audi before you sign up – the Seat Ateca SUV, which costs from just £18,340…
Audi Q2 1.0 TFSI
Price from £21,360 
Engine 3cyl, 999cc, petrol 
Power 114bhp @ 5000rpm 
Torque 148lb ft @ 2000rpm 
Gearbox 6-spd manual 
​0-62mph 10.1sec 
Top speed 122mph 
Official economy 55.4mpg 
CO2, tax band 117g/km, 22%
Join our new commenting forum
Join thought-provoking conversations, follow other Independent readers and see their replies