Blenheim Palace car show: Stunning collection of machinery at classic and supercar event
A stirring setting for a display of some of the most gorgeous cars ever built – and one or two yet to be built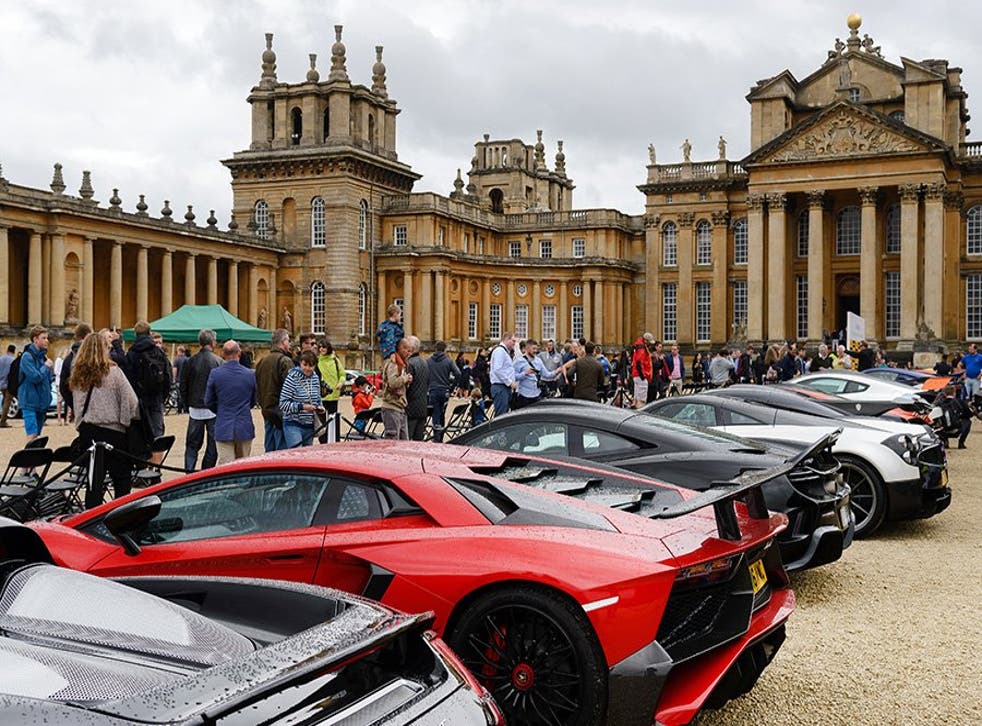 Fresh from hosting Donald Trump, Blenheim Palace is readying itself for some more loud and colourful personalities – with a stunning collection of machinery at the Classic & Supercar Show, on Sunday 2 September.
While not as grand or as long as the more famous Goodwood events, Blenheim won't be short of attractions or elegant backdrops at this 18th-century monument to the English aristocracy, built for the Dukes of Marlborough and, in 1874, birthplace of Winston Churchill.
A stirring setting, then, for a display of some of the most gorgeous cars ever built, and one or two yet to be built; and, if any of your visiting party aren't really all that much into their cars, then they can always float off and look at the flowers, the antiques and other stuff that doesn't go around on four wheels.
For this year's event, "in excess of 1,000 of the world's rarest and most powerful cars" will descend on the old Oxfordshire pile, with the Pirelli Prestige & Performance Competition a central attraction staged within the Great Court. In its fourth year, the Blenheim event is carving out a niche as "the UK's only concours-style event for 'modern classics'".
Some 80 of the most spectacular of these across eight classes will be vying for the coveted Pirelli "Best of Show" award.
One of the stars at Blenheim is certainly a novelty, and an exotic one too – the world's first electric hypercar, the Vanda Dendrobium. While production models such as the Tesla and the BMW i8 sports car have showcased the possibilities for performance electric motoring, exploiting the extraordinary acceleration from rest that electric propulsion delivers, none have yet promised as much as this dramatic concept.
The car has been developed in Singapore, in conjunction with Williams Advanced Engineering, and named after an Asian orchid. It's as technically daring as it is stylistically audacious, and as modern as its surroundings will be historic.
For the Pirelli Prestige & Performance Competition there will be a special Porsche 911 class, modestly widening the appeal of the show from the plutocratic to the merely rich. The Lamborghini V12s category, meanwhile, will see an Aventador S, SV and Roadster lining up alongside a favourite poster car, the Countach, all complemented by a clutch of Diablos, Murcielagos and a late Series III Espada.
Visitors will also be invited to gawp at and/or place an order for the new Aston Martin GT, a flagship model that supersedes the Vanquish S. Naturally, the new car has epic performance courtesy of its 5.2-litre twin-turbo V12 which produces 725PS and 900Nm of torque, allowing for a top speed of 211mph and blistering acceleration that will see 0-62mph in just 3.4 seconds and 0-100mph in 6.4 seconds.
If that's not quite special enough, then you can also go full bespoke with McLaren Automotive: the limited run McLaren 570GT MSO Black Collection (just 100 examples worldwide) may offer some dark inspiration.
About the only thing that will be missing at this show, possibly, will be a Bristol Blenheim, a truly rare sports coupe manufactured in tiny numbers by the eccentric Bristol car Company, before they went bust. Apart from that, everything from a Bugatti to a Miura will be all present and correct.
Not for the envious.
Details of how to enter the Pirelli Competition can be found at blenheimclassicsupercar.com/pirelli-competition; general admission tickets to the event are available at blenheimclassicsupercar.com
Register for free to continue reading
Registration is a free and easy way to support our truly independent journalism
By registering, you will also enjoy limited access to Premium articles, exclusive newsletters, commenting, and virtual events with our leading journalists
Already have an account? sign in
Register for free to continue reading
Registration is a free and easy way to support our truly independent journalism
By registering, you will also enjoy limited access to Premium articles, exclusive newsletters, commenting, and virtual events with our leading journalists
Already have an account? sign in
Join our new commenting forum
Join thought-provoking conversations, follow other Independent readers and see their replies