Car review: The Alfa Romeo Giulia Sprint is a very lovable car
Some of us fret for the future of Alfa Romeo, but the new Giulia Sprint is a beautiful-looking car with an indoor symphony of good taste, writes Sean O'Grady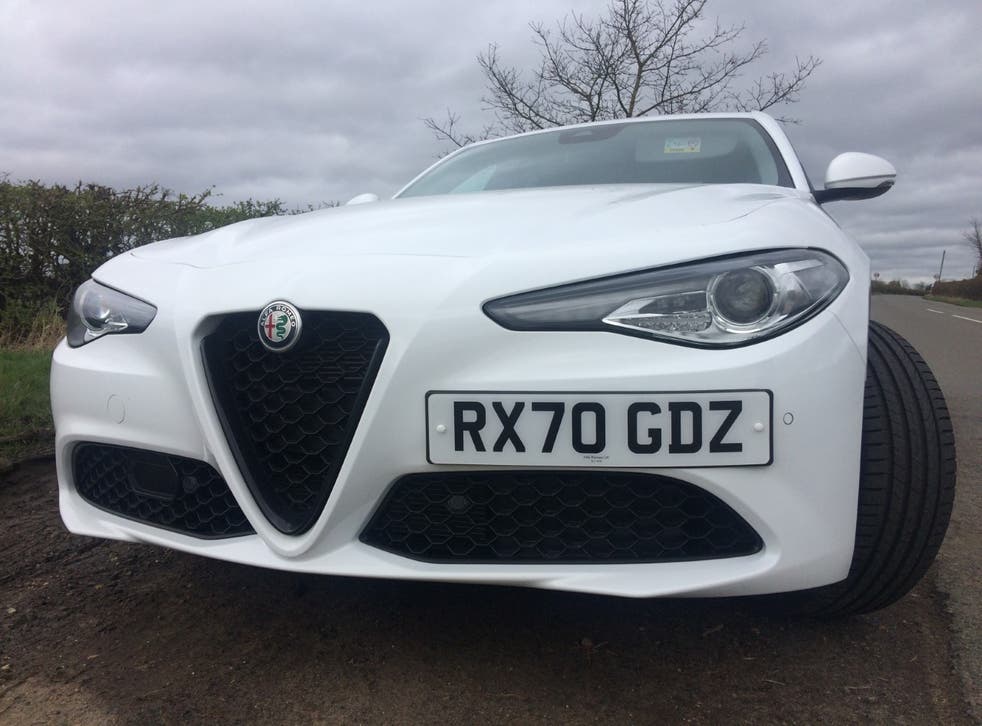 The Alfa Romeo Giulia Sprint is the sort of cool car that everyone loves, but no one seems to want to buy. In 2019, which we may come to regard as the last full year of human civilisation, the brand sold 3,413 cars with the famous badge planted on the bonnet. That is only a handful more than its Fiat Chrysler group performance stablemate, Abarth, managed to shift, and stands in poor comparison with other mainstream premium smaller players such as Lexus or Volvo (about 15,000 and 56,000 respectively). Bentley sells about the same number of vehicles as Alfa, which at least means that your Italian saloon is exclusive. Which is obviously why you don't see many Alfas around, and why some of us fret for the future of the brand.
It is all a shame, because the Giulia Sprint, for example, is a very lovable car. The basic shape has been around for a few years, but it's had a mild refresh, and still looks wonderfully sinuous and "dynamic", as the advertising copywriters have it. Alfa Romeo, which I guess is not made of money, is quite good at making the best of its older designs by adding stylish touches and evocative detailing to cars that are otherwise familiar, and so it is here. My test car is finished in white, but everything else bar the Alfa badge and number plates is finished in black – the big alloy wheels, the traditional "moustache" grille, "smoke-effect" rear light clusters, rear exhaust and diffuser, the "Sprint" script on the wing... Even the door mirrors and windows are as darkly tinted as a Group 4 security van. The starkly monochrome finish makes the thing look like a concept-car mock-up or a magazine graphic. They've done a great job there, I must say.
Indoors, it's a symphony of good taste, black leather, and a new, more up-to-date control screen – partly touch, partly operated by a rotary dial in the console, which is OK and probably safer than doing the whole thing like an iPad.
Of course none of that would be much use if the Giulia didn't go, and stop, as well as the Alfisti demand, and indeed it does. The Sprint model is about in the middle of the range, being one of the faster two-litre petrol models before you graduate to the more furious V6 versions with their carbon fibre options. So it is quick to accelerate, responsive, and has some fine engineering, which means that – for most drivers out on our public roads and obeying the highway code – it can entertain as readily as the likes of a BMW 320 (though I admit that is a formidable machine indeed). The chassis and suspension have been especially well engineered, featuring expensive features and aluminium componentry, and the torquey engine sounds wonderful, though probably a bit grumbly for those who put refinement first (try a Lexus in that event). The Giulia is, like its German rivals, rear-wheel drive, which is what a proper sports saloon ought to be, though it is easy to forget because Alfa was using front-wheel drive, Fiat-sourced drivetrains for so long. Given that most things sound more exciting or charming in Italian than they do in English – such as olio (oil), giri (revs) and pattumiera (bin) – what they ought to do is find a way of putting some graphics along the side that scream "trazione posteriore". On second thoughts, that might be the exception to the everything-sounds-better-in-Italian rule.
Read More:
It's all down to money, really, and whether you're prepared to join the generations of motorists who've been content to believe that Alfa Romeo has left behind its reputation for making unreliable cars sold by couldn't-care-less dealers. If it's someone else's money, or you're mad on style and love cars, and just don't care much about financial stuff anyway, then an Alfa Giulia can make your life complete. If not, then Honda's revamped CRV is now on sale.
Join our new commenting forum
Join thought-provoking conversations, follow other Independent readers and see their replies