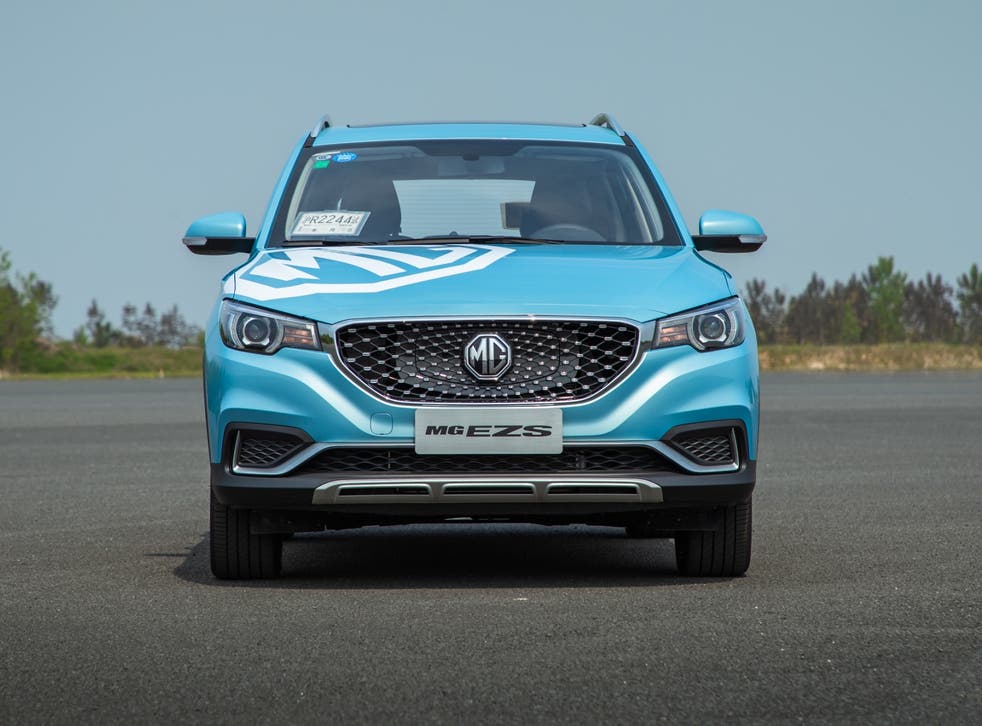 Car Review: MG EZS – the Great Chinese Electric MG adventure
The classic British racing marque has struggled of late, but the new electric-only model adds some interest and it could be a bit of a game changer, believes Sean O'Grady
So, the world's first electric MG. Designed and made by its new corporate owners in China, rather than Abingdon or Birmingham. A small SUV, not a traditional roadster. It is also a thoroughly modern vehicle, which MGs haven't been since about 1970. Is MG the brand of the future?
The storied octagon badge is still defiantly there on the steering wheel, and on its nose. Driving it in and around Shanghai feels an odd experience, and not just because of the usual eerie silence of a battery-powered vehicle (well, eerie to the uninitiated – you soon get used to it). It's just a bit incongruous: British motoring history, but revived in a vast land of skyscrapers and towering industrial might, but that not so long ago hardly made any cars at all, and those that were on the road were often as not Hong Qi (Red Flag) saloons with frilly lace curtains reserved for the Party apparatchiks. So quite a thing really, the Great Chinese Electric MG; it might have been a Dan Dare sci-fi storyline in 1960.
Not a bad thing, either, because it does its bit to save the planet and reduce our dependence on fossil fuel. A more effective act than gluing yourself to a lorry, anyhow. The promised range for the MG EZS, on the older industry NEDC standard, is about 200 miles, and that's not bad at all. if you suffer from "range anxiety" you do need to ask yourself how many journeys in excess of that you've made by car recently. The claimed top speed is around 110, which seems about right, having tried it on a track.
The EZS enjoys all the clear advantages of a contemporary electric vehicle. It has an excellent turn of speed from a standing start for example and it handles pretty well, helped by stowing the battery pack under the floor, giving it a lower centre of gravity and a marginally sportier feel. It also copes well with the sort of rutted, decaying roads we put up with in Britain. It's a little chippy in the back, to be honest, and it is prone to lose its composure on really pitched, bouncy surfaces, but on the whole it's all quite civilised in there.
Charging time is the usual long wait off the mains – 7 hours or more – but only 40 minutes from a fast charger to get it up to 80 per cent "full", the optimal time/power match. You can of course get a fast charger attached at home, presuming you've the right space outside, with a government grant cutting the cost, as well as a generally low taxation regime. The price is yet to be announced, but given its origins it ought to be a value-for-money proposition, both on purchase or lease costs plus those low running costs. The current petrol-only range starts at about £12,000. Eliminating potentially troublesome mechanical components should also reduce garage bills for repair and servicing far into the future.
They are definitely going to make a right-hand-drive version, and MG, now owned by the Shanghai Automobile Industry Corporation,​ SAIC, could use the boost such a special niche player could give them in the British market, which isn't as in love with the modern version of the car as the classic one.
Since the Chinese salvaged various of the remains of the British car industry after the old MG Rover went bust in 2005, they've tried to trade on MG's proud British heritage and its record on racing, stretching all the way back to 1924. They've even used the original full name, Morris Garages, in their marketing material.
I'm not sure about all that Union Jack stuff, but never mind. Looking at the all-electric version of the MG ZS on its own terms, as a cheerful small Chinese alternative to other electric players in the market, as well as conventional petrol or diesel alternatives, it starts to make some sense.
Actually, it's mostly about value. It's a quite handsome little thing, though a bit generic – it is quite difficult to tell the plethora of these models apart. The bold grille, which has little sign of a family resemblance to older MGs, works well in giving it some identity and the whole thing is generally well proportioned, though the wheels look a bit undersized in the wheel arches.
The ZS has been available with conventional petrol power for a couple of years now and mostly ignored. The electric-only model adds some interest and it could be a bit of a game changer.
No doubt the MG EZS is not as accomplished as recent battery-only rivals such as the Hyundai Kona or Kia Niro, and it is up against the relatively familiar Nissan Leaf hatch; but a highly competitive price and strong warranty cover would allay some fears about such a novelty of a car. If so, then MG may be about to make proper comeback. It deserves to.
Join our new commenting forum
Join thought-provoking conversations, follow other Independent readers and see their replies