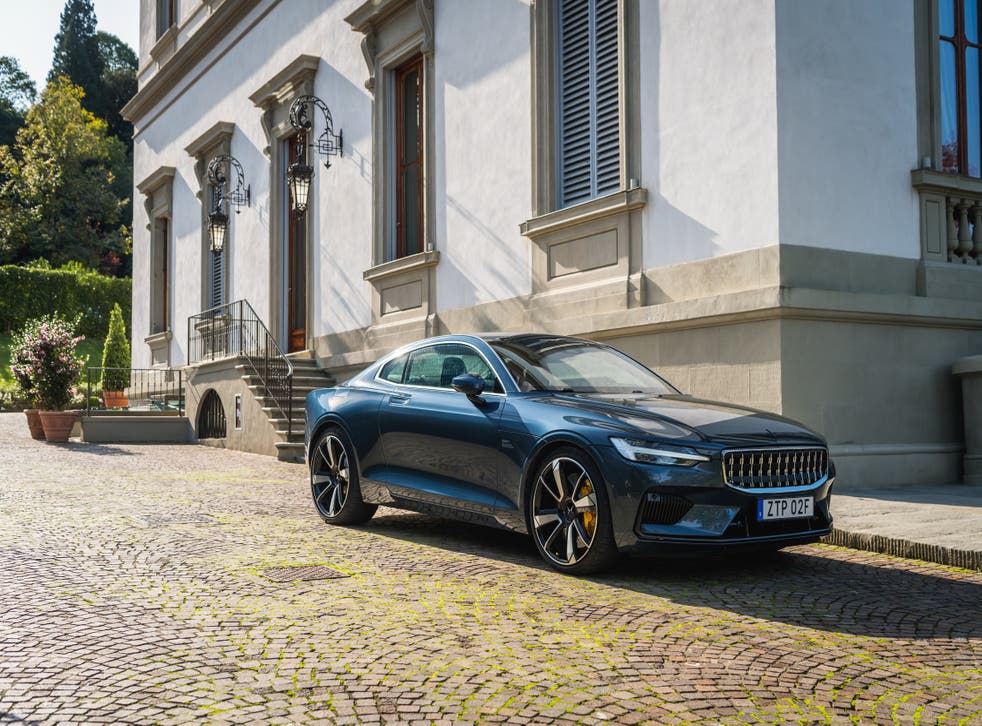 Car review: Polestar 1 – luxury GT for the accomplished lip-reader
This hybrid uber-Volvo delivers astonishing performance, writes Sean O'Grady, but a £139,000 price tag, left-hand drive only and a fairly pitiful electric range will limit its appeal on this side of the Channel
Sad as it is, I've always had a thing about posing around in fancy cars. It's not something that you'd really want to admit, but I find the reactions of others to what is, after all, just a piece of machinery endlessly fascinating. Never actually owning any of the vehicles that get gawped at with me inside gives me the reassurance that when someone clearly mouths the word "t**t" in my general direction they're wrong, because in real life I'd never be seen dead in, say, a Ferrari Monza SP1, even if I could afford one, which of course I can't. So there.
However, it can be disturbing. The Polestar 1 is the first product from a new brand created by Volvo and its Chinese parent Zhejiang Geely. Polestar used to be the "performance" wing of Volvo but has now evolved into a standalone electric make in its own right, except the Polestar 1 is actually a petrol/electric hybrid. There's a great deal of tech and design in there familiar to any Volvo driver, such as the large portrait-format screen and it looks very much like a Volvo, and specifically a sports coupe version of the S90 limousine, which is basically what it is. The fastback styling is inspired by the much-loved P1800 of the 1960s (of The Saint cult TV fame) but it's more muscley and reminiscent of a Ford Mustang in fact. Still it looks, drives and behaves like the uber-Volvo it is.
However, the word "Tesla" could be sensed dripping from the lips of interested bystanders in the recent heavily congested streets of London as I waited patiently to inch forward in the kind-of-Volvo Polestar 1. It seems any big handsome unusual electric car is automatically assumed to be the product of Elon Musk's fertile imagination, even when the word "Polestar" is written in nice clear Unica77 typeface on the wings, together with a little technical information. Otherwise the badging is discreet to the point of invisibility, with the nice simple Polestar logo rendered in body colour.
All this means that this very exclusive model is likely to stay that way, and not just because of its £139,000 price tag. Understatement is all very well, but not if you're helping to further build the reputation and fortune of old Muskie. Polestar is not even a household name in Swedish kitchens, I'd imagine. Still, at least they didn't yell "w****r" at me. (Which happens).
Those who despise the mayor of London choose to blame him for the lockdown gridlock in the capital, what with all the pop-up cycle lanes and closed bridges, and they call it "Khanage" (which I note is also the (presumably ironic) name of an Indian restaurant in Ealing. In any case, the Polestar 1 is a magnificent place to observe any amount of Khanage. The interior is as sumptuous and tasteful as you'd expect from a sister brand of Volvo, with nice soft Nappa leather seating, two proper armchairs in the front and two seats suitable for kids in the back. It also boasts, randomly, yellow seat belts and a crystal glass-style starter/gear lever and a Bowers and Wilkins sound system. Plus a rear spoiler you can move up and down if you're really bored.
But it's all much, much better on the move. With the 2-litre petrol engine at the front (turbocharged and supercharged), plus a couple of electric motors at the back and batteries stashed everywhere it delivers astonishing performance, the suspension and transmission well up to the task of managing the 600 horsepower available, and the accelerative heft of 1,000 Newton/metres of torque. In English, that's about the same sort of output you'll find in a V12 Rolls-Royce Phantom. The Polestar should probably be called "Pokestar", given all that.
Even though the bodywork is carbon fibre on a steel platform, making for a relatively light shell, all the motors and batteries still mean it weighs in at about two and a half tonnes, which is Range Rover territory. It's a very fast tank, in other words: it will whisk you to 60mph in a mere four seconds, with only a little drama as it gets a grip on the highway... and soon a (probably) serene 155mph is all yours. Given the Volvo heritage it should be safe, and it has a great deal of autonomy built in, so it shouldn't tire you out.
This grand tourer hasn't quite got everything, mind you. A steering wheel on the right side for British customers, for example, because the cost of the additional engineering isn't justified by the tiny sales volumes. The boot is predictably small, but with the nice touch of having all its electric wiring and associated giblets neatly on show behind a Perspex screen. There are no Polestar showrooms either, if that bothers you, just a "Polestar Space" in the Westfield Centre in London's Shepherds Bush.
It will do about 80 miles on electric power alone, so theoretically at least it is a green option for a commute, if that's what Polestar drivers do, but it's a fairly pitiful range as electric vehicles go (a Kia will give you 240 miles). In terms of its big coupe rivals, it lacks the craftsmanship and sense of occasion of the Bentley Continental GT, say; or the known quality of a Mercedes-Benz; or the cachet and technical accomplishment of the Porsche Taycan; or the trendiness of a Tesla. All are also instantly recognisable for what they are and it's really a shame that Polestar's not got there yet. It might have been better to call it a Volvo Polestar, and then allow the Polestar bit to become more prominent, a bit like what Toyota did with Prius. But who am I to start name-calling?
Join our new commenting forum
Join thought-provoking conversations, follow other Independent readers and see their replies