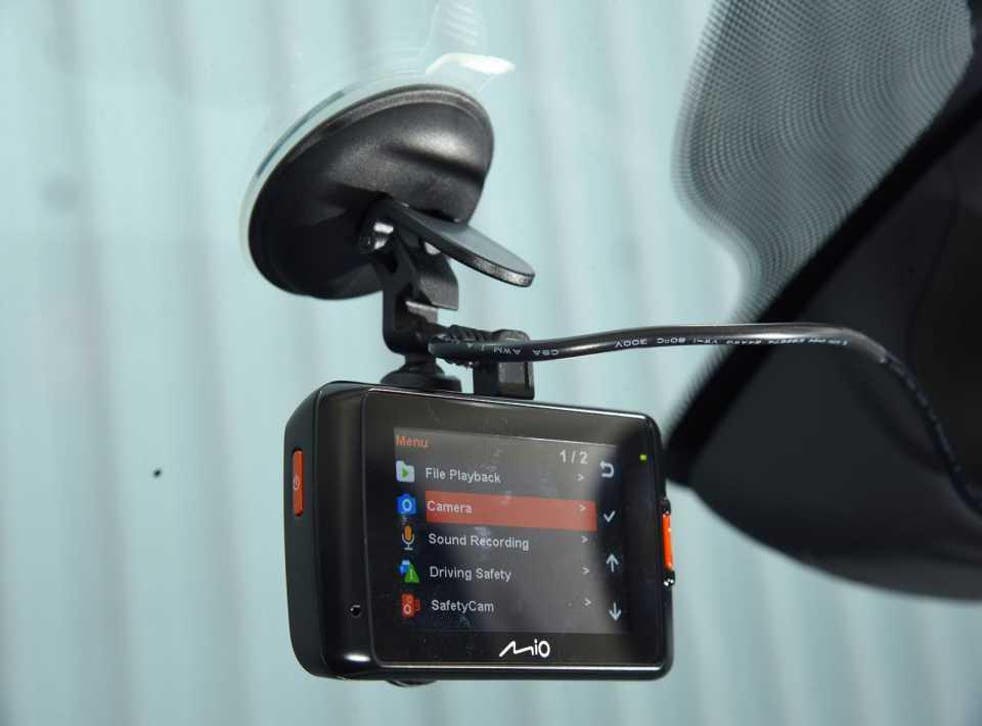 Review: The best dash-cams
Provide yourself with useful evidence for insurance claims and court appearances by fitting a dash camera
Tony Middlehurst
Tuesday 14 November 2017 20:52 Comments
Dash cam are small, forward-facing cameras that will record video footage from behind your car's windscreen. If you're unlucky enough to be in an accident this footage can be useful as evidence for insurance claims or court proceedings.
The cams plug into a car's 12v socket and record on a constant loop as long as the engine is running. They store the footage on a MicroSD card which you'll generally have to buy separately. A 32GB card will hold about around four hours of action and then start to 'write over' (ie re-record over) the earliest material .
Even cheap dash cams often have sensors that will detect any big changes in g-force, such as might be experienced in an accident, and will store the important footage immediately before and after the crash in a separate folder to protect it from unwanted over-writing or deletion.
Not all insurance companies offer a 'dash cam discount' but some will knock up to 20% off your premium as long as the camera is permanently fitted in the car and linked into its fusebox.
The least expensive dash cams start at around £45 but you can spend over £300. We've tested a selection of cameras that come in under £150 because for that price you can get good value equipment that will do a good job on the basics and throw in some desirable extra features. The best cameras in this bracket will record in 1080p 'high-def' resolution and will include wi-fi, sat-nav, motion detection and smartphone apps.
The prices shown here were the best we found online. They don't include postage.
---
7. Garmin Dash Cam 30 (3 stars)
Price £88.70
Garmin's 'no frills' 30 dash cam looks pretty swish, but its 1.4in screen is very small and the safety features that appear in the dearer 35 model aren't present. Recording is crisp in 1080p resolution and you can adjust the settings using the buttons on the side. The unit will take MicroSD cards of up to 64GB capacity but overall we felt that other, more fully-featured dash cams represented better value.
6. RAC 05 (4 stars)
Price £114.98
One of the best things about the RAC 05 dash cam was the clarity of its ultra high definition 1296p recording, which is unusual in this price bracket. That means you can easily see numberplates. The downside is that the standard video file size is quite big, but you can adjust the size by reducing the quality setting. It will take up to 64GB of film on a suitable memory card.
A big array of safety features includes speed camera alerts and forward collision warning, and it will even tell you your average speed along average speed-monitored roads, along with changes in speed limits, and you can change settings via the buttons.
The worst thing about the RAC 05 is its fiddly and flimsy mounting arm.
5. Roadhawk Vision (4 stars)
Price £127.46
Unusually, the Roadhawk Vision has no display screen. That makes it very small and discreet in your car but you can only tell if the frame is properly set up via the easy to use (and free) app is very easy to use and lets you preview the image it sees, control settings on it and download footage directly from the camera.
Instead of a sucker it has an adhesive sticker, and it's not packed with safety features, but as a subtle dash cam it's superb thanks to up to 1296p recording quality and good recording in low light conditions. Not cheap, but the price does include an 8GB memory card, and you can buy and use cards that go all the way up to 128GB.
4. Mio MiVue 688 (3 stars)
Price £129.64
Another 1080p camera, the Mio MiVue 688 has built-in GPS so locations are recorded with the footage. It also has safety camera warnings that are updated every year for no extra charge. Small buttons are a bit fiddly but the one-touch manual recording function is handy, as is a parking mode that allows it to detect an impact when you're out of the car with the engine off – useful for touch parking incidents. Screen resolution isn't brilliant and the mounting arm is stiff.
3. JooVuu X (4 stars)
Price £69.99
Another simple 'stick on and go' no-display camera like the Roadhawk Vision, so again worth considering if you want something small and unnoticeable. Like the Roadhawk, adjustments are few: you'll need to download the app to alter settings. We found the JooVuu app to be pretty laggy and hard to connect.
On the plus side, the 1080p recording quality and picture clarity are excellent. We liked the £5 CPL filter option which reduces screen reflection glare and boosts picture quality in daylight. Adjustment on the adhesive mount is easy.
2. Next Base 412GW (4 stars)
Price £109.00
Next Base has a great name for dash cams, and the 412GW tells you why. It records in 1440p for superb footage quality, settings adjustment is easy, and it has a big 3.0in screen with speed limits and other safety displays. The quality of the unit is excellent and you can easily move the camera in and out of its suction cup-attached mounting.
The screen's touch-sensitive buttons work well, but we'd prefer traditional physical buttons. You can operate its functions with the buttons or via an app.
1. Next Base 312GW (4 stars)
Price £99.00
The 312GW sits in the middle of the Next Base range, with good quality 1080p recording, a 2.7in screen and physical buttons on either side of the unit. Again the screen buttons are a bit fiddly, so you might prefer to operate it via the free app, but overall it's a fine product with many of the 412GW's good features, just not its big screen or high resolution.
It will only support memory cards up to 32GB, but up to four hours recording should be enough for most drivers. For a simple, reliable and decent quality alternative Next Base offers an even cheaper 112 Go.
---
Verdict
1. Nextbase 412GW
2. RAC 05
3. JooVuu X
The JooVuu X is conveniently small, simple and high-quality dash cam. The RAC 05's super high-quality recording and array of safety features put it slightly above the JooVuu, but above them both comes the Next Base 412GW. It combines excellent recording quality, user-friendliness and features with super value. We think it's worth paying the little bit extra over the Next Base 312GW.
Register for free to continue reading
Registration is a free and easy way to support our truly independent journalism
By registering, you will also enjoy limited access to Premium articles, exclusive newsletters, commenting, and virtual events with our leading journalists
Already have an account? sign in
Join our new commenting forum
Join thought-provoking conversations, follow other Independent readers and see their replies