Audi A4 Avant v BMW 3 Series Touring v Mercedes-Benz C-Class Estate: Three premier estates road tested
Three premium junior exec wagons from Germany, made by companies which seems to watch each other obsessively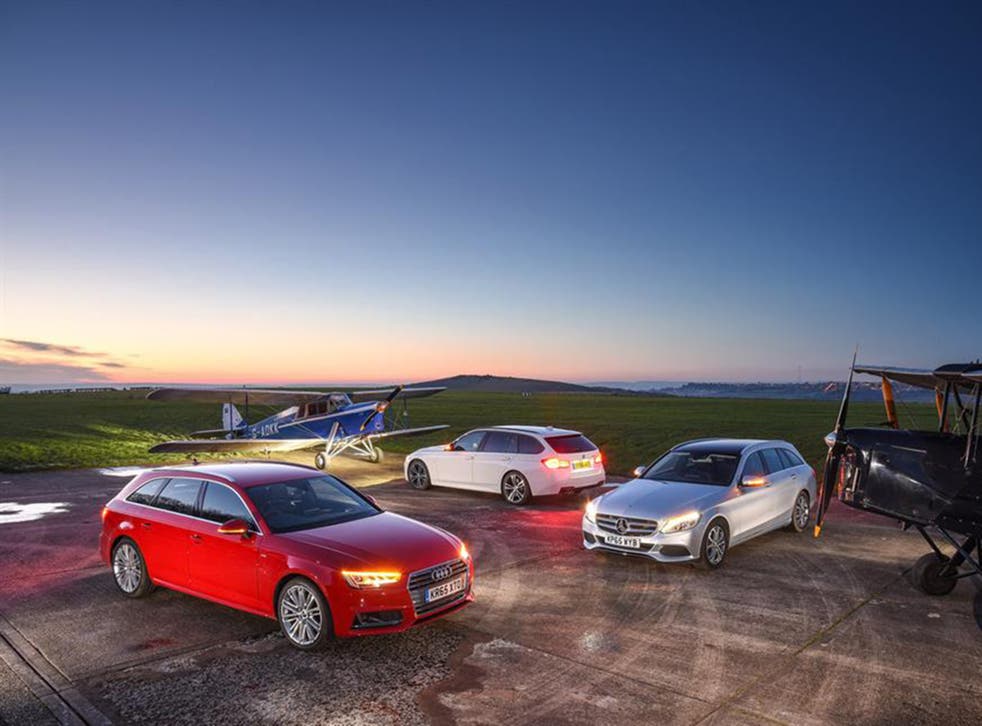 See if you can guess which of these three we're describing. It's a premium junior exec wagon from Germany, made by a company which seems to watch almost obsessively to see what the other two in this group are up to.
So far, we could be talking about the Audi A4 Avant, BMW 3 Series Touring or Merc C-Class Estate.
Let's give you a few more clues. It has about 500 litres of cargo space with the seats up, or three times that with them down. It costs in the mid-thirties. Fuel consumption is in the mid-sixties. Care to take a punt?
Going to have to dig deeper, then, aren't we? But pay attention, because the differences between these cars come down to fine margins.
Unsurprisingly, they're all good to drive, especially on a cruise. The 3 Series is the least hushed, but even on M Sport suspension it rides comfortably – and if you're a keen driver, it's the most rewarding of the group.
The A4, on the other hand, is the most refined vehicle here, and its overall dynamic skills put it ahead of the C-Class. Again, though, none of these cars will offend you.
It's similarly close inside. Out of three extremely premium cabins, the Audi offers the best blend of space and hewn-from-rock build quality. The 3 Series has the best seats, but Mercedes is the most generous manufacturer of the three with the kit it gives you – to spec the others up to a similar standard would cost you around a couple of grand extra.
We were surprised by a few creaks from the Merc's dashboard, however, whose air of solidity yielded beneath a firm thumb on some of its buttons. Talking of buttons, though, the C-Class has one in the boot to drop the back seats in a one-shot movement – though overall it's the A4 whose cargo bay is best shaped to make the most of the space it gives you.
We're still dealing with fine margins there, and the same goes when you look at the cost of ownership and find that the Merc is the cheapest over three years. The BMW is the most expensive, thanks to higher projected depreciation.
Which leaves the A4 Avant in the middle on that score, though over the piece it's Audi that takes a very narrow victory. None of these cars will disappoint you, and each in its own way does something the others can't match. For an all-round blend of class, practicality and driving pleasure, though, it's yet another feather in the cap of Audi's excellent new A4.
Register for free to continue reading
Registration is a free and easy way to support our truly independent journalism
By registering, you will also enjoy limited access to Premium articles, exclusive newsletters, commenting, and virtual events with our leading journalists
Already have an account? sign in
Register for free to continue reading
Registration is a free and easy way to support our truly independent journalism
By registering, you will also enjoy limited access to Premium articles, exclusive newsletters, commenting, and virtual events with our leading journalists
Already have an account? sign in
Join our new commenting forum
Join thought-provoking conversations, follow other Independent readers and see their replies