India's 'Amby' notches up half century

Show all 2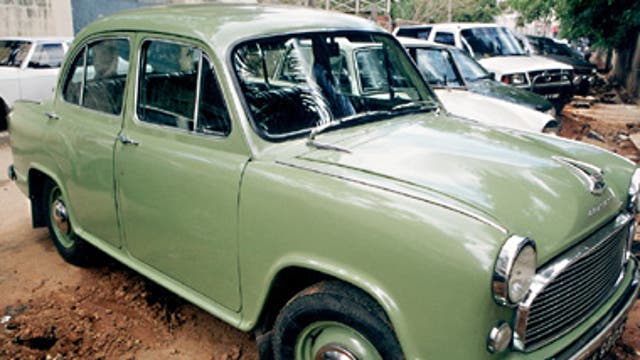 India's 'Amby' notches up half century
The Ambassador, a relic of Empire based on a Forties Morris, is still being built in India.
Chris Duggan
Tuesday 15 August 2006 00:00 Comments
Funny how the odd British car and an occasional Fiat, well past their sell-by dates, wash up in India.
In these pages, Lance Cole recently told how the last 12,000 Rover SDIs were quietly dumped in Madras, where they were given engines from "India's ancient Ambassador".
Much happier is the story of the 1950s Morris Oxford Series II and III, reemerging as that very Ambassador. It's now reached its half century of continuous production. The chunky Ambassador still trundles off the Hindustan Motors (HM) assembly line in Uttarpara, West Bengal. Actually, the first made-in-India Oxford was the Landmaster; it was rebranded the Ambassador in 1957.
"The Ambassador is very worthy. It is still a symbol of power in India," says Hindustan Motors' manager of corporate communications, Soni Shrivastav. Less worthy is the Ambassador's step-sister, the HM Contessa. In 1980, HM bought the scrapped 1970s Vauxhall Victor from General Motors and rechristened it the Contessa. "Spine crunchingly awful!" says a reviewer on the website autoindiamart.com.
HM now assembles fewer than 100 of these lead-sleds a year, and an "improved trunk compartment that matches international standards" in the Contessa GLX is unlikely to stave off extinction. And Indian roads have crushed the life out of the old Rovers and Vauxhalls; only Premier Automobiles' Padmini has come close to matching the Ambassador for longevity and resistance to change.
The Padmini is a foreign car that went native and acquired an Indian character. India's first affordable, middle-class people's car, the Padmini looks like a boxy but shapely Sixties rally racer; it metamorphosed from the discontinued 1963 model Fiat 1100D.
Premier Autos kept the Padmini's body and running gear virtually unchanged for 25 years, finally replacing it with a shoddy Soviet Lada. This effectively finished Premier Autos, which had made cars in Bombay/Mumbai since the Raj. The heroes of classic 1970s and 1980s Bollywood films often drive Padminis.
And a million Mumbai cabbies can't be wrong: unlike the rest of urban India, where the Ambassador taxi rules, Mumbai's swarm of black and yellow taxis consists entirely of aged, recycled Padminis.
With 150 million nouveaux middle-class Indians opting for the latest Suzuki-Marutis, Tata Sumos and Hyundai Zips and Zings, what chance do Contessas and Padminis have? But, impressively, the Ambassador survives, like a living fossil. As the motoring journalist Hormzad Sorabjee says: "A half century on, and it is still the best car to see India on the move."
Indian state and central government account for a quarter of sales, although production is down to 15,000 Ambassadors a year. Now, heavily polluting older models of the car are being banned from Indian cities. To maintain its taxi dominance, HM has fitted Ambassadors with optional LPG and CNG fuel systems.
Bucket or bench seats are options. Choose the bench, Shrivastav says, "and if the driver isn't too fat, you can squeeze four people in front." The Amby still uses the robust 1949 Morris rear axle, giving it great rough-road stamina and supporting the heavy armour often required in government models. Hindustanmotors. com proudly recounts the attempted assassination of Andhra Pradesh state chief minister N Chandra Babu Naidu in his Ambassador: "The blast was so powerful that the chief minister's car was thrown several feet in the air and fell off the road after overturning. Clearly, the chief minister escaped because of the sturdy protection his car offered him."
Wretched build quality at one point nearly finished the HM Ambassador. Lore has it that before HM underwent its 1998 "millennium modernisation", the carmaker was still stamping out Ambassadors using badly deformed 1957 panel dies; new cars often had to be stripped and rebuilt.
HM's production-line modernisation spawned the popular Ambassador Classic 1800 ISZ model, powered by an EU emissions-compliant Isuzu engine. In India, a top of the range Ambassador Grand 1800 ISZ goes for about 500,000 rupees, while a Classic 1800 ISZ is a hefty 820,000 rupees - £9,500 - at Britain's only HM dealership, Merlin Garage in South Wales. Merlin's owner David Darrel has sold Ambassadors to Karma Kabs in London.
In the photographer Raghubir Singh's foreword to A Way into India, his Phaidon book of Ambassador photos, he writes: "Lizard-like, it has shed its colonial coating of Morris Oxford to don Hindustani colours. If one thing can be singled out to stand for the past 50 years of India and its closed economy, now open and moving into the new millennium, it has to be the Ambassador. It is the solid part of that India that moves on, even as it falls apart, or lags behind."
Let's hope the HM Ambassador notches up another 50 years. It is the world's oldest surviving mass-produced car and - Hero bicycle and Enfield Bullet motorcycle aside - it's the last great set of Indian wheels still rolling.
Register for free to continue reading
Registration is a free and easy way to support our truly independent journalism
By registering, you will also enjoy limited access to Premium articles, exclusive newsletters, commenting, and virtual events with our leading journalists
Already have an account? sign in
Join our new commenting forum
Join thought-provoking conversations, follow other Independent readers and see their replies