Motogiro d'Italia: Racing green
For five frantic days Tim Luckhurst tried to keep up with the veterans of Italy's beloved bike race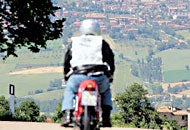 A few years ago he heard about Italy's oldest motorcycle road race, the Motogiro d'Italia first run in 1914. Carl wondered what it would be like to compete over 1300 kilometres of sinuous B-roads on a tiny 1950s motorcycle. Six months of patient research located the remains of a 1955 Moto Rumi 125cc "bicarboratore." Carl shipped it from Italy to his home in northern California and lovingly sorted every nut, gear and widget into its proper place.
Last month he shipped it back and on May 24th his pride and joy took its place beside 120 other vintage Benellis, Ducatis, MV Agustas, Gileras and Moto Morinis on the start line of Motogiro 2005. From Cattolica on Italy's Adriatic coast it then raced through Romagna, Marche, Umbria and Tuscany for five frenetic days before crossing the finish line beneath the medieval walls of Gradara.
As an opportunity to admire the design genius that rescued Italy's motorcycle industry from the ruins of fascism Motogiro is sumptuous. These small motorcycles pushed 1950s technology to its limits to achieve high performance on very limited budgets. Motogiro celebrates them by admitting no motorcycles with engine capacities above 175 cc to its vintage racing class.
Machines such as the Benelli Leoncino (little lion) and Ducati Motobi look almost comically tiny until they are kicked or bump-started into life. Then they emit a roar that bounces off walls with the percussive force of an artillery barrage.
There is an art to racing machines with only four gears and top speeds of barely 60mph. It involves pegging the throttle fully open and stopping for nothing short of a brick wall. Vintage racers, some, like Carl Liebold in their thirties, others septuagenarian veterans of postwar Motogiro contests blend reckless courage with astonishing riding skills.
James "Patois" Forrester first raced on a Harley Davidson in his native America in the 1960s. Now based in Paris he rides the Motogiro every year. "With these bikes you have to work hard. You can't just grab a handful of throttle and go. You risk your life on the hairpins but its such fun to beat the young guys on modern sports bikes round the corners."
I followed "Patois" through the Bocca Travaglia Pass as it winds like an adder reclining on a pyramid through the heavily wooded mountains above Citta di Castello. I was riding a 2005 Ducati Multistrada 620 with gazelle-like handling and state of the art brakes. He pitched into corners at terrifying lean angles on tires no wider than a modern pushbike's, overtaking between vehicles to maintain speed on the up-slopes. A potent blend of skill and hair-raising bravado kept me behind him for several miles before a long sweeping bend exposed the reality of a six-fold difference in power output and half a century of suspension improvements.
"Motogiro gives classic bike enthusiasts the opportunity to thrash old motorcycles on glorious and challenging roads" says the editor of Classic Bike magazine Hugo Wilson, who rode a 1950s Ducati 125 into an impressive third place in his class at Motogiro 2005. "You ride through wonderful countryside with the encouragement of the local population, the approval of the police and the reassuring support of a team of mechanics. And the sun shines too. It's classic bike heaven."
There is an additional element: the sheer romantic nostalgia of competing against riders who raced in the Motogiro when these vintage bikes were new. Hugo Wilson admits. "Being overtaken by Giuliano Maoggi, who won the Motogiro in 1956 and is still riding, was a real treat. It must be like a Manchester United fan being invited to join a knockabout football game with George Best and Dennis Law at Old Trafford."
But you do not have to own or ride a vintage motorcycle to take part. Since the race was reintroduced in 2001 - for the first time since the Italian government banned it on safety grounds in 1957 - a touring class has permitted motorcyclists s to follow the route on modern machines.
Kevin Kemplen from north London participated on his Ducati Monster 600. "I only passed my test in 2003. For me Motogiro has been fantastic. How else could I get to ride across Italy with a Carabinieri escort stopping the traffic and pushing ahead with his blue light flashing? My riding has improved ten fold."
Experienced riders relish the adventure almost as much. Independent reader Matthew Collins "enjoyed it enormously," riding his Kawasaki Z1000 and plans to return next year.
Richard Hammond of Ontario in Canada did that this year on his 1959 Ducati Turismo 175. In 2006 he plans to bring his wife to the Motogiro on honeymoon. "Its such fun to blast through a fourteenth century town with your exhaust sound blasting back off the castle walls. Motogiro is like going back in time."
Carl Liebold's precious 2-stroke Rumi did him proud. The love and attention he lavished on it were rewarded with five days of smooth running that kept him near the top of his class throughout the check points and special ability trials that measure the progress of contestants.
He was just beaten in the 125cc class by Hugo Wilson, but Carl will be back next year to try again.
Details of Motogiro d'Italia and how to participate in vintage or touring classes can be found at
Join our commenting forum
Join thought-provoking conversations, follow other Independent readers and see their replies