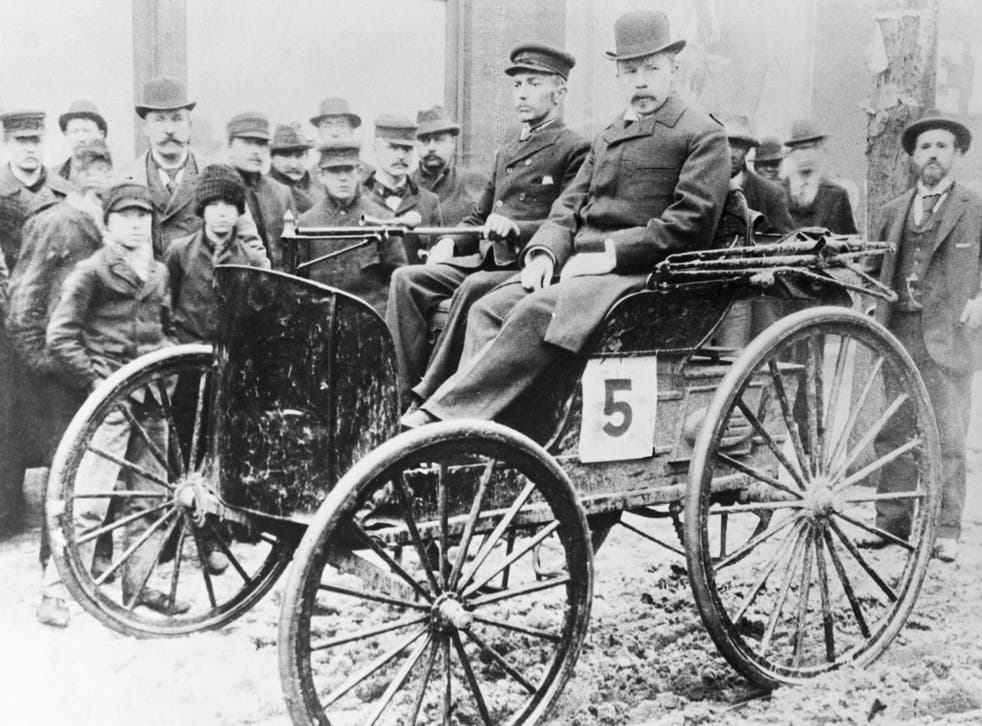 The Duryea Motor Wagon: Rhodri Marsden's Interesting Objects No.89
The Duryea brothers' motor car was a $70 buggy equipped with a 2-cylinder engine
Rhodri Marsden
Friday 27 November 2015 23:52 Comments
The world's first competitive motor race took place 120 years ago today. Well, kind of. The pioneering Paris-Rouen trials had run just over a year earlier, but its organisers had declared beforehand: "Ce ne sera pas une course". (Not a race.) The "Chicago Times-Herald Race", however, evidently was.
In 1893, J Frank Duryea had built a motor car with his brother Charles, a $70 buggy equipped with a 1-cylinder engine. This race, however, required something more powerful, and the brothers upgraded it to a 2-cylinder, 2-stroke machine. With the race set for 2 November, the Times-Herald's editor, HH Kohlsaat, announced a four-figure "prize for motors". Nearly 90 contestants applied to enter.
Come the big day, however, only two cars were ready: Duryea's and a Benz car driven by one Oscar B Mueller. The race was postponed, but on the day of the re-run two of the vehicles were prevented from entering the city by police. The race finally got under way at 8.55am on 28 November with a field of six, including two more Benz vehicles and two electrically-powered two-wheelers. With sub-zero temperatures and treacherous driving conditions, the course was shortened from 100 to 54 miles (Chicago to Evanston and back).
The two-wheelers failed to get up the first significant hill. One of the Benzes hit a horse and left the race. Mueller lapsed into unconsciousness due to exposure. The steering arm of Duryea's car broke off and had to be replaced by a blacksmith, and with 12 miles to go one of the cylinders malfunctioned. This was repaired by Charles Duryea, who travelled alongside in a horse- drawn sledge.
Frank Duryea eventually won in a sloth-like time of 10 hours 23 minutes. "At no time," he recalled triumphantly in his autobiography, "were we compelled to get out and push."
Register for free to continue reading
Registration is a free and easy way to support our truly independent journalism
By registering, you will also enjoy limited access to Premium articles, exclusive newsletters, commenting, and virtual events with our leading journalists
Already have an account? sign in
Join our new commenting forum
Join thought-provoking conversations, follow other Independent readers and see their replies