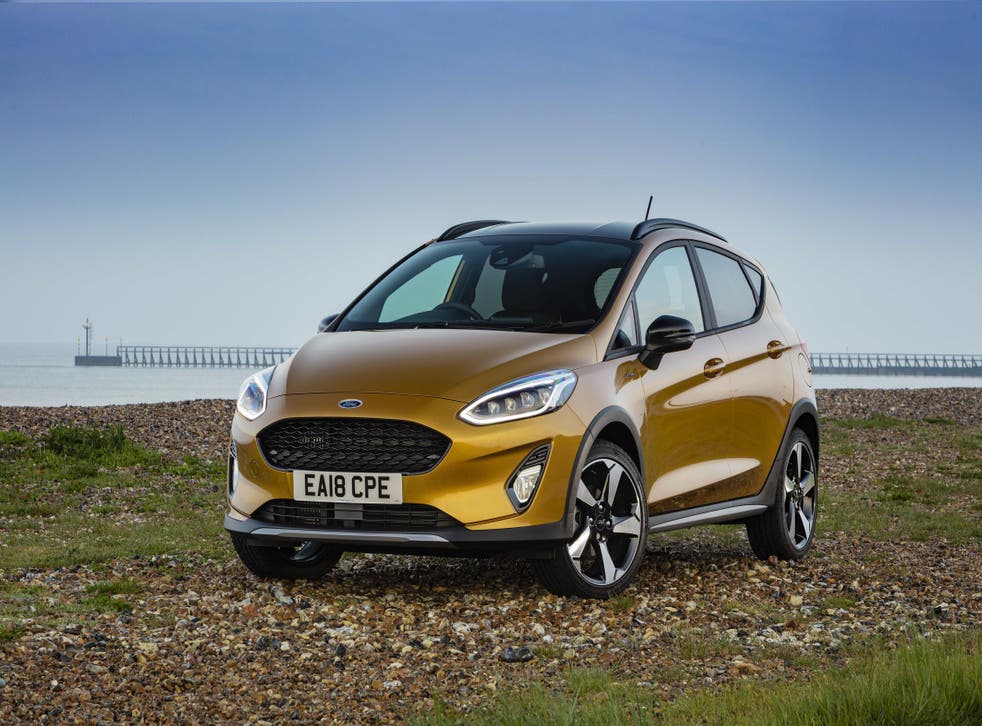 Ford Fiesta Active car review: Good price and a great drive
Britain's most popular car gets an SUV makeover
Friday 31 August 2018 16:34 Comments
What's the difference between a Ford Fiesta and a Ford Fiesta Active?
The answer is about 18mm or, for the post-Brexit generation, let's say three-quarters of an inch.
That's the increase in the car's ground clearance and height, and they've stuck on some faux SUV plastic protective cladding, all to help you navigate, say, a rough area for parking in a country park, or maybe making your way into a building site or other potholed area full of hazards.
So, come to think of it, the Ford Fiesta Active is actually quite well suited to British roads generally, which, we should remind ourselves, were once the best and are now one of the worst in Europe.
Obviously, after Brexit we'll be able to measure the depth and width in traditional imperial measurements rather than the Napoleonic measures imposed on us since 1973.
The Fiesta Active is ideal personal transport in more ways than one. This is the seventh or eighth generation of the Fiesta, which arrived in 1976, depending on how you count the many redesigns and facelifts over the years.
It has been at or near the top of the British sales charts ever since. Indeed, with more than four million sold, the model is the bestselling British car ever.
So obviously you see quite a few around, not always wearing their years well, admittedly, but impressive that scabby examples from the 1990s can still scrape the MoT test. It is a very familiar name, of course, but the ubiquity maybe leads us to take it a little for granted.
Me too. There was a highly successful American Ford advertising slogan that ran: "Have you driven a Ford lately?" The ad plugged into that tendency people have, without keeping up with reality, to make assumptions about a brand.
The latest variant of the Fiesta is far better than I was expecting too, belying lazy assumptions of my own. It has sharp handling, is lively and responsive, and is one of the most enjoyable cars I've had to drive in a while.
It is also surprisingly comfortable, given its comparatively modest size and wheelbase. The cabin is well trimmed, and I quit liked the hardwearing cloth seats, in line with the Active's pseudo SUV character. The sat nav was a bit fiddly though.
It is a city car, but is obviously more than capable of dealing with longer journeys, with the flexibility and space to match. Of course all of its main rivals are pretty much able to do the same – Vauxhall Corsa, Nissan Micra, Renault Clio, VW Polo – but the Ford has a very impressive blend of character and quality. I like it, as you can tell, and you'd be pleasantly surprised too if you were handed the keys to one as a holiday hire, or you went ahead and welcomed a Fiesta Active into your life as a permanent companion.
The drawback is, again, much the same as with so many of its competitors – a sophisticated three-cylinder motor that has to work too hard and feels overstressed, which it is. Fitting small cars with their cylinder engines rather than the conventional four cylinder set-up is the clever way engineers have found the Holy Grail – excellent performance and excellent economy.
So you get the fuel economy from a small capacity unit, but with turbo-charging it will also accelerate. To my suspicious mind, this sounds too good to be true. It is a little reminiscent of the diesel propaganda we were fed a few years ago, which, again, was about cutting fuel bills with no loss of power or refinement. We know how that turned out.
I'm guessing that this Fiesta may well prove less durable than its predecessors, simply because its engine will blow up prematurely, long before its galvanised body starts to corrode. It will be true of some other manufacturers' products as well.
As ever, the Fiesta, in whatever form, will be a default choice for many buyers, but with such choice available it seems a shame people aren't more curious about alternatives. On balance, I'd prefer a more conservative set-up than the Fiesta's three-cylinder engines (it comes in various levels of power output), and look for something with a trad four-cylinder petrol engine and a reputation for reliability. Thus, I would always recommend the overlooked Suzuki Swift Sport as a very likeable and sporty alternative to the Fiesta, and no less "active" as far as the owner's concerned. Cheaper, too.
Register for free to continue reading
Registration is a free and easy way to support our truly independent journalism
By registering, you will also enjoy limited access to Premium articles, exclusive newsletters, commenting, and virtual events with our leading journalists
Already have an account? sign in
Join our new commenting forum
Join thought-provoking conversations, follow other Independent readers and see their replies