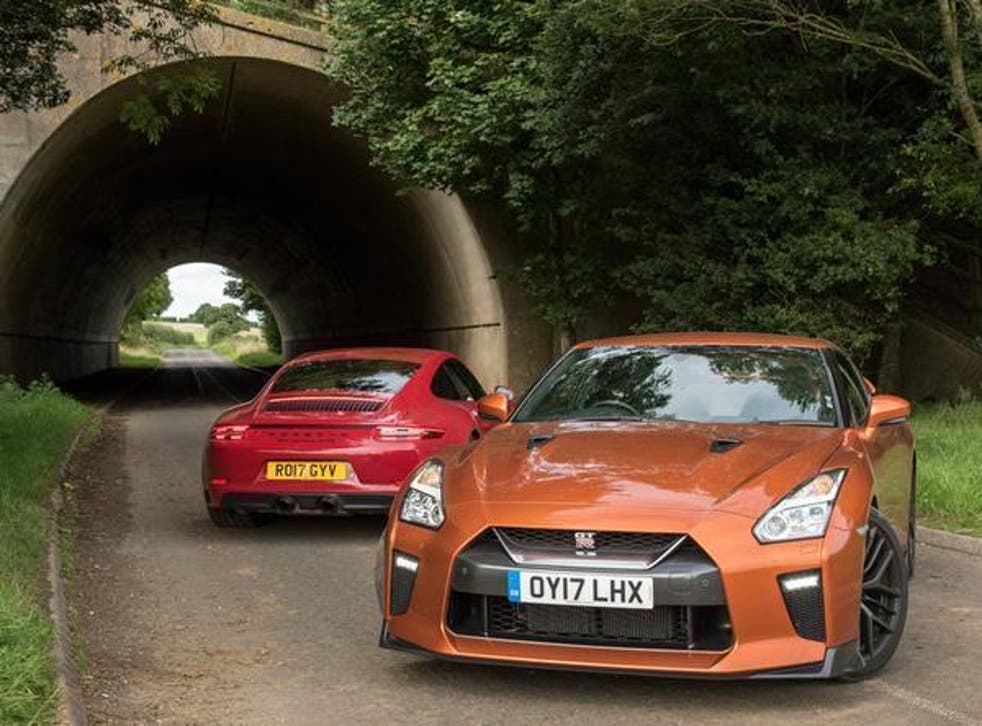 GT sports cars: Nissan GT-R v Porsche 911 GTS
Which is the best GT sports car of our pair?
If you've got £100,000 to spend on a sports car, you have plenty of options. The obvious candidate has the words Porsche and 911 somewhere in its name, so that's what we've chosen to test here, but we've put it up against something of a curveball – the Nissan GT-R.
The two models take very different approaches. While technology abounds in both, the bombastic GT-R is more old school than sophisticated. It chooses huge turbos and old-fashioned hydraulic assistance over the 911's turbo efficiency and electric power steering. Both feel great, but which feels the best?
We're driving along the motorway towards our rendezvous point in typical Porsche serenity when the bright orange GT-R first thunders into view in our rear-view mirror. Its aggression and mean intent are in stark contrast to the 911's lush, sophisticated calm; in GTS form, the latter's 450hp, rear-wheel drive and seven-speed manual gearbox – which has improved immeasurably from when the transmission was first launched – are something to savour.
The Porsche feels elegant and pure, and regardless of the lack of all-wheel drive there's plenty of traction. There's still plenty of excitement to the experience, though, and we wonder how the Nissan can possibly compare.
First impressions aren't great. In contrast to the Porsche's cabin, the GTR's features too-high seats and shiny plastics on the dash. It's not unlike an aged Nissan taxi – a feeling that is only enhanced by its proximity to the 911 here. To be fair, though, that's not where the car's strengths lay; let's fire it up!
Quite simply, it has the most brutal and vicious sort of acceleration imaginable, which is unexpectedly intoxicating given the GT-R's unfair reputation as being somewhat soulless. It is charismatic and demanding, and its abilities and general prowess have noticeably increased over the years. Its steering feel and braking sensitivity show the Porsche the way to go, and we soon start bonding with it.
Nissan GT-R v Porsche 911 GTS

Show all 16
The Nissan is a big car, but the sheer intensity of the hard-charging driving experience is aided by uncommon agility courtesy of clever new Bilstein dampers. This is a mind-bogglingly talented machine, and the thrills it instils are on another level compared with the Porsche. The admittedly old-school experience is enhanced by the odd mechanical clonk, but it all feels nothing less than heroic.
That's hardly to say the 911 disappoints, though. Its engine is simply brilliant, and even if it doesn't offer the same thrills in the furthest rpm reaches, it's far more capable throughout the rev range in real-world driving conditions. And whereas previous non-turbo Porsches could feel like they had more rubber than engine power, the extra muscle of the turbo engines makes it easier to sense what's going on when really pressing on. Contrary to what you'd perhaps expect, that extra degree of adjustability and excitement make the 911 feel even more alive than before.
It's nowhere near as angry as the Nissan, which will outpace its German rival under pretty much every circumstance. It demands far more effort and concentration, challenging your driving skills but bringing out the very best of you if you're up to it. It will quite happily let you know if you're not… This gives it a brilliant, all-encompassing edge that will appeal to a very select few – but for the rest of us, its negatives will outweigh its sheer blissful exuberance. The sub-Porsche quality and dated cabin only add to the model's occasionally superannuated feel.
In the latest GTS turbo guise, on the other hand, the 911 has evolved to a new high. It's thrilling when you want it to be, yet also easy to live with and astoundingly genteel. When it comes to the latter point in particular, the Nissan doesn't even come close. It's definitely the best sports car candidate for your £100,000.
NISSAN GT-R RECARO (MY17)
Engine: 3,799cc twin-turbo V6
Transmission: 6speed dual-clutch auto, four-wheel drive
Power: 570hp@6,800rpm
Torque: 469lb ft@3,300-5,800rpm
0-62mph: 2.8sec
Top speed: 196mph
Weight: 1,752kg (kerbweight)
MPG: 23.9 (NEDC combined)
CO2: 275g/km
Price: £84,525 (Price as tested £86,300 comprising £1,775 for Katsura Orange paint)
PORSCHE 911 CARRERA 2 GTS (991.II)
Engine: 2,981cc, twin-turbo flat-six
Transmission: 6speed manual, rear-wheel drive
Power: 450hp@6,500rpm
Torque: 405lb ft@2,150-5,000rpm
0-62mph: 4.1sec
Top speed: 193mph
Weight: 1,525kg (EU including 75kg driver)
MPG: 30.1 (NEDC combined)
CO2: 212g/km
Price: £95,795 (Price as tested £108,033 comprising £1,877 for Carmine Red paint, £2,391 for Alcantara Package GTS Carmine Red in conjunction with GTS interior package, £1,772 for LED headlights including Porsche Dynamic Light System Plus, £1,128 for ParkAssist with reversing camera, £1,592 for rear-axle steering, £2,324 for GTS interior package, £387 for auto dimming mirrors with integrated rain sensor, £312 for Light design package, £329 for heated multifunction steering wheel, £126 for ISOFIX on front passenger seat)
Sarah Bradley is a writer for PistonHeads.
Register for free to continue reading
Registration is a free and easy way to support our truly independent journalism
By registering, you will also enjoy limited access to Premium articles, exclusive newsletters, commenting, and virtual events with our leading journalists
Already have an account? sign in
Register for free to continue reading
Registration is a free and easy way to support our truly independent journalism
By registering, you will also enjoy limited access to Premium articles, exclusive newsletters, commenting, and virtual events with our leading journalists
Already have an account? sign in
Join our new commenting forum
Join thought-provoking conversations, follow other Independent readers and see their replies