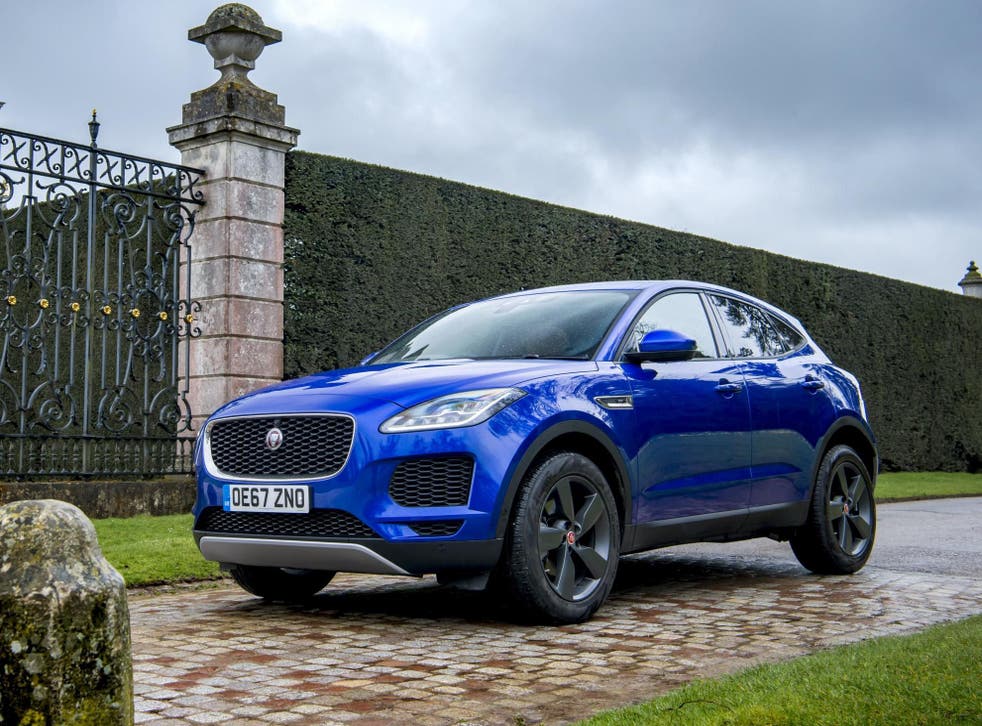 Jaguar E-Pace: A step ahead of an increasingly generic SUV pack
A stunning blend of tradition and advanced design
The Jaguar E-Pace is a thoroughly modern Jaguar. It is, as you can see, a sporty SUV, and genuinely so, and, thus, fashionable. It comes in trendy colours, such as a vibrant "Ceasium Blue", and the striking, because underrated, "Borasco Grey" of my test car, a shade that was last in vogue in around 1962 but, like solid white, well into a revival.
The E-Pace's styling is very "now", very Jaguar and very successful, if anything a step or two ahead of an increasingly generic pack – this is a very crowded part of the market. Ian Callum, jaguar chief stylist, and the best in the business, supervised the look, so no wonder really.
It looks even "better in the metal" than in the pictures, with its haunches and sharp creases giving it the "dynamic" look, the vague impression of imminent movement even when you know it's just a hunk of metal on wheels in a corner of the Lidl car park (incongruous, I know). It has a beetleish air, and proportions that seem just right.
Underneath all that costumery is a Range Rover Evoque chassis, everyone's favourite baby SUV, still covetable and still selling well even after years on the market. The Jaguar, admittedly, can't match it for appeal, but it looks pretty successful all the same, and certainly a happier blend of form and function than its premium rivals. The Mercedes-Benz GLC, for one, should go hang its head in shame
The Jaguar is modern in other ways too. It's a globalised car. So strong is demand that they've run out of space for it in the UK, and have outsourced production to Magna Steyr in Austria (and the E-Pace will soon also be made in China). Although my acquaintance with the car was too short for it to make its presence felt, the "Smart Settings" look especially promising.
These, supposedly, mean that the vehicle will "learn" about our personal preferences, in driving style, tastes in music, ideal ambient temperature, and that sort of stuff. Jaguar claim that this is driven by algorithms and marks the arrival of artificial intelligence in their cars. I'm tempted to mock, but that wouldn't be fair. As with most expensive cars nowadays, there are switches to move the transmission, brakes and engine settings from eco through comfort to sport settings. They work well.
What is for sure is that the E-Pace features advanced, British-engineered and manufactured "Ingenium" engines, with a new 200 horsepower petrol model filling out the middle of the range, and you can specify your E-Pace as a diesel too.
The base models feature front-wheel drive only and a 2-litre diesel unit, but you do get the best part of the technology, plus all the safety features and that gorgeous styling for the cash. More expensive models get a variable four-wheel drive system, which moves the power fore and aft according to driving style as well as terrain – so you can go drifting if you want. Like almost every Jaguar Land Rover produce, most E-Pace models have an impressive range of off-road driving aids, though it will rarely, if ever, see combat. Such is fashion: 10 years ago they said the SUV was doomed. Now look.
Inside this Jaguar is pretty and pretty contemporary too. It has a "wrap-around" feel for the driver, and, with the higher driving position, gives you feeling of being in control. But I was taken most of all by the old-fashioned leather finish, which recalls the best of Jaguar's past, strongly reminiscent of how they used to finish off Mark II Jags and the like, back in the good old days (the Inspector Morse one, in case you'd forgotten). Along with the usual black and white, there are attractive tans, and a shade of red, which, a half-century ago, they were unafraid to call "oxblood". That would never do nowadays, and I note, with approval, that Jaguar Land Rover is pioneering "vegan" materials in its cabins. But still, oxblood is such an evocative, not to say descriptive term for the shade, don't you think?
Now, you get this beautiful, sporty, entertaining comfortable car from about £30,000 cash, with the faster, posher versions moving on up past the £50,000 mark. Which is bags, so it is also what very few people do nowadays – pay full list price up font. Business customers, if they're lucky enough to be able to specify the model, just pay the tax on the benefit, lucky them.
Personal customers are more likely to subscribe to a PCP plan, which, if it works well, means you can park this delightful envy-generating status symbol outside for about the same as a fancy gym membership.
A quick check of the current Jaguar offers revels that an E-Pace can be at your disposal (to use, if not own) for a £5,345 deposit and 36 monthly payments of £299. (I'm not being paid to push these finance deals, by the way, I was just curious, and tempted.)
When you're through with it then you just hand the keys back, or roll it over for another new Jaguar/Land Rover, or hand over, well, £18,034, and it's all yours, properly. Or you carry on with a newer one.
On the plus side of these PCP schemes, you don't carry any of the risk of the model suddenly starts to lose value for any reason (eg VW dieselgate), you can get a lot of car for your money, and you can simply keep rolling over the deals until you yourself run out of road, if you get my drift.
On the minus side – and this is not confined to Jaguar – you need to mind that the charges for "excess" mileage or dings and dents aren't excessive.
Thus, as with so many other cars bought on PCP plans, the financial engineering is almost as impressive as the artificial intelligence and the mechanical engineering, and the main reason why the streets seem to be full of some very expensive machinery these days. I wouldn't choose a PCP plan myself, because I'm too conservative and too cautious, and because, frankly, it looks too good to be true. So I'll never be able to run an E-Pace. That hurts.
Join our new commenting forum
Join thought-provoking conversations, follow other Independent readers and see their replies