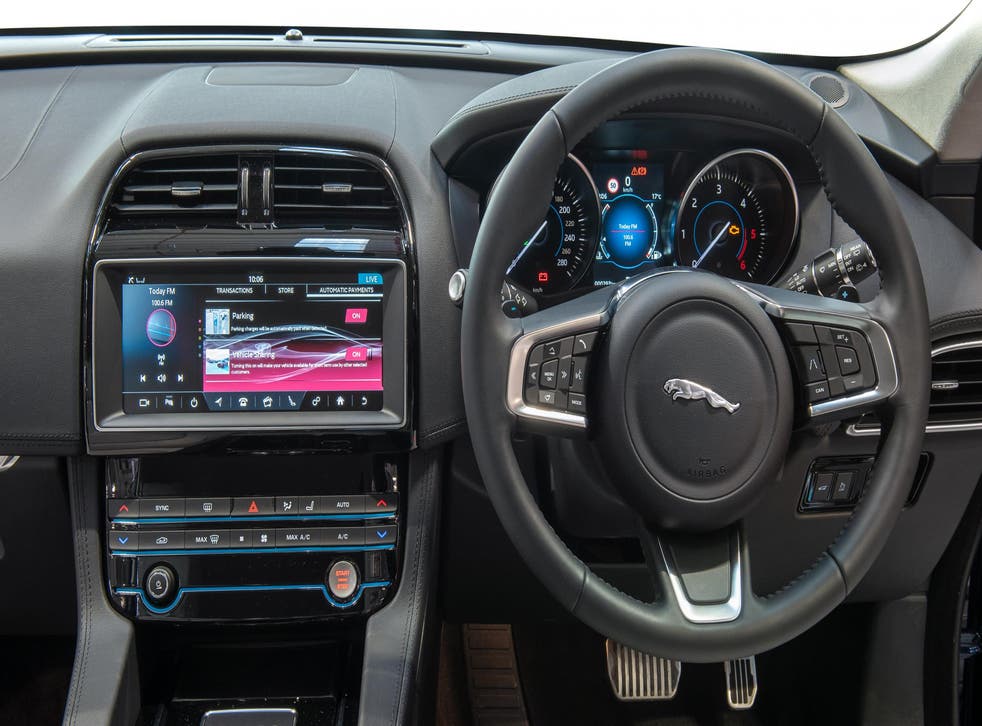 Mobile piggy bank: Jaguar Land Rover's 'earn as you drive' concept
'Smart wallet' technology will allow Jaguar and Land Rover drivers to redeem credits for rewards such as coffee, discovers Sean O'Grady, or conveniently use them to automatically pay tolls, parking fees and for smart charging electric vehicles
You've probably heard of the Celtic Tiger; now it is time to welcome the Celtic Jaguar. A Jaguar car, in other words, that is so smart it will pay your bills, earn you bitcoins and warn you about the next pothole, an especially valuable asset on Britain's rugged roads. The technology is on test at the new Jaguar Land Rover (JLR) software engineering centre in Shannon, County Clare.
"Connectivity" is one of the most important trends in the automotive sector, with virtually every company packing ever more sophisticated software into cars that will be able to connect seamlessly with their drivers, with central information sources and indeed with other vehicles on the road. It is something that younger users – buyers and leasers – are increasingly demanding.
Hence the push by JLR's owners, the Indian-based Tata Group, to instal "smart wallet" technology in their upmarket, aspirational cars. Drivers earn credits by allowing their cars to automatically report useful road condition data, such as about traffic congestion, accidents or potholes direct to navigation providers or, say, local authorities. This can be sensitive data, with many concerns about privacy; but a proportion of motorists will feel relaxed about providing the data, and they will be given this modest reward in return. The key to acceptance is probably for car makers to harvest such details in an open and transparent way, and with some financial return to the drivers who volunteer it.
The idea is that Jaguar and Land Rover drivers could then redeem these credits for rewards such as coffee, or conveniently use them to automatically pay tolls, parking fees and for smart charging electric vehicles. At any rate, smart wallet removes the need for drivers to hunt for loose change or sign up to multiple accounts to pay for a variety of everyday services. In effect your car turns into a mobile piggy bank.
Connected services are part of JLR's Destination Zero vision – zero accidents, zero congestion and zero emissions. More and more manufacturers are setting themselves ambitious targets of this sort – Volvo for example have a goal to ensure no accident fatalities suffered in one of their products by next year. Toyota says they will strive to slash average CO2 emissions per vehicle by 90 per cent by 2050 in comparison with 2010 levels.
Smart wallet uses the latest cryptocurrency technology and JLR has partnered with the IOTA Foundation to harness "distributed ledger" technologies to make and receive these payments. Unlike other similar systems, due to its structure, it requires no transaction fee to operate and over time transactions will get faster across the entire network, forecast to include some 75 billion connected devices by 2025. Drivers could also top up the smart wallet using conventional payment methods.
The advanced connected technology is being trialled at the new JLR software engineering base in Ireland, where engineers have already equipped several vehicles, including the Jaguar F-Pace and Range Rover Velar, with smart wallet functionality.
Russell Vickers, JLR software architect, said: "The connected car technologies we are developing will be transformative and truly turn your Jaguar or Land Rover into a third space, in addition to your home or office. In the future an autonomous car could drive itself to a charging station, recharge and pay, while its owner could choose to participate in the sharing economy – earning rewards from sharing useful data such as warning other cars of traffic jams."
Holger Köther, director of partnerships at the IOTA Foundation, added: "Our distributed ledger technology is perfectly suited to enable machine-to-machine payments for smart charging, parking and tolls, in addition to creating opportunities for drivers to earn their own digital currency. We are excited to partner with Jaguar Land Rover in implementing its IOTA-powered car wallet, delivering a major convenience benefit for their customers worldwide."
Join our new commenting forum
Join thought-provoking conversations, follow other Independent readers and see their replies