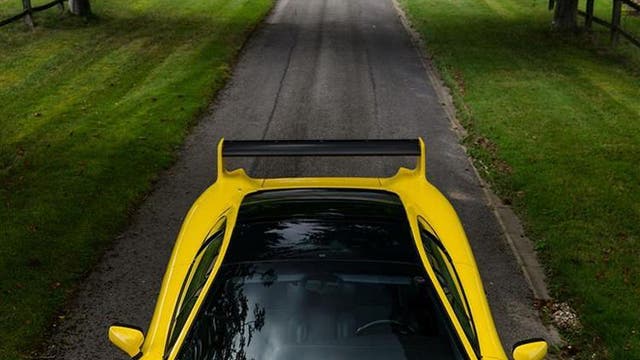 Jaguar XJ220 S: an "affordable" classic supercar?
Why buy a Ferrari F40 when you can have this for half the price?
Any supercar that looks as modern as this Jaguar XJ220 does, nearly thirty years after the first one was shown to a goggle-eyed public at the 1988 NEC Motor Show came off, deserves a place in history.
The XJ220 story would fill a book. It was supposed to have a big V12, but emissions considerations meant it ended up with a version of the 3.5 V6 turbo used in the all-conquering MG Metro 6R4 rally car. Relatively speaking, the 6R4 motor sounded like a bag of spanners, but in terms of extra compactness and lower weight it was actually quite a good thing.
When the first XJ220s finally began to be delivered in 1992, the price had gone up from £290,000 in 1990 to £420,000 – coincidentally (or maybe not) the same amount that's being asked for the car you're looking at here. Back in the early '90s there was a lot of kerfuffle with deposits and disgruntled buyers, and in pure money terms, based on the still not stratospheric used values, it would appear that those bods on the original new car list were right in thinking it was a bit overpriced back then.
There's no doubt it was a lairy thing, its deceptively comfy ride betrayed at higher speeds by understeer that suddenly gave way way to snap oversteer. But we're talking about a unique combination of sophistication and madness that was at one point the world's fastest production car. Who wouldn't like to rock up to their local car show in this beastie?
This one here is even more special than the boring old 550bhp, 0-60 in 3.6secs, 212mph, regular-model XJ220. Six powered-up S models were homologated for racing by the well-known British outfit TWR. These bigger-turbo S cars made 690bhp at 7900rpm and 526lb ft of torque at 5,000rpm, good for a 2.7sec 0-60 and 0-150mph in 15secs, quick by any standards. All that through a beefy manual gearbox.
This is indeed a 690bhp car. It's not clear whether this is one of the TWR homologators, or whether the S-level tuning work was carried out by equally respected Jaguar specialists Don Law Racing. Either way it's a win. Besides the mech tuning you get carbon body parts, competition brakes, split-rim BBS wheels, a straight-through exhaust and a humongous wing. The car comes with a full Don Law service history covering its 16,000 miles. It's had a 'deep boot upgrade' and a deeper fuel tank fitted too, taking it up to 100 litres.
It's worth mentioning that in early 2012 an XJ220 S went for $230,000 (equivalent to about £150,000). Two years after that, a non-S went for £160,000. So they may be a happening thing. Alternatives? Well, you could pay at least £800k for a Ferrari F40 and try to forget about the extra 200bhp you would have had with the Jag.
Tony Middlehurst is a writer for PistonHeads.
Join our new commenting forum
Join thought-provoking conversations, follow other Independent readers and see their replies