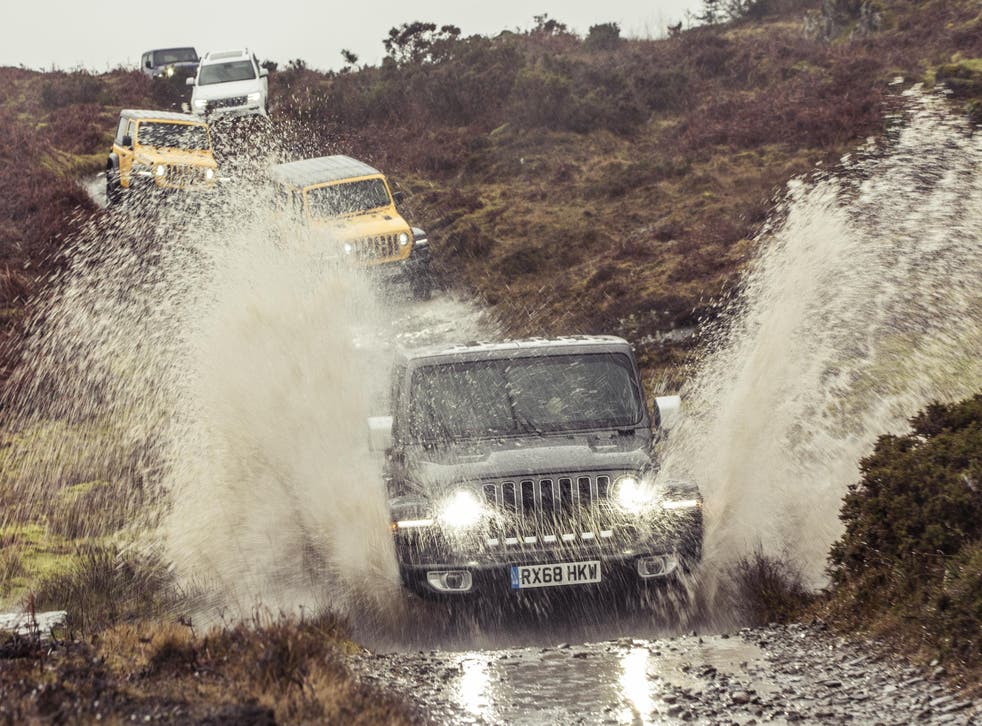 Jeep Wrangler Overland: Rough and tumble tank to go to war in
The new Wrangler has those familiar, venerable, looks that means so much to car buyers of a romantic disposition – but is that enough for the rest of us, asks Sean O'Grady
Just in case you were in any danger of forgetting that the Jeep helped win the Second World War, and that the Wrangler of today is its direct, albeit distant descendant, they've plonked a little profile image of the 1941 original on the windscreen, on the alloy wheels and other odd little places around the car. It's like one of those games where you have to spot the hidden shapes in a drawing. They've also taken the opportunity to plonk "Overland" badges on its flanks, a genuflection to the Willys-Overland Motor Company, who won the original contract to manufacture a General Purpose – GP, hence "Jeep" – for US forces, a rugged vehicle capable of taking whatever the Axis powers could throw at it from the Ardennes to Iwo Jima. Or from the halls of Montezuma to the shores of Tripoli, as the US Marine Corps hymn has it.
The Willys-Overland company long since relinquished control of its 4x4 operations, eventually to Chrysler and, now, Fiat Chrysler Automotive, that unlikely transatlantic alliance born of the financial crisis of 2008. They didn't see that coming when they were invading Sicily in 1944. Still, I imagine that the average motor pool GI from three-quarters of a century ago would recognise the Jeep Wrangler of today instantly. It's retained the trademark (literally) seven-slat grille, those oversized wings, the narrow pillar box-style windscreen, the narrow doors with external hinges, and the generally rugged, instantly recognisable looks. Those are, indeed, valuable design cues, and well worth preserving.
Just like the Land-Rover Defender (1948), soon to be reborn, and the new Mercedes-Benz G-Wagen (1979), the newly redesigned Jeep Wrangler trades on a few basic qualities. First, those familiar, venerable, looks that means so much to car buyers of a romantic disposition. All three of these SUVs are unrivalled for the loyalty, even fanaticism that they inspire in their "base", and you really don't neglect that kind of solid sales support. Like Mercedes-Benz G-Wagen and the little Suzuki Jimny that looks like a shrunken version of it, the Wrangler has a flat utilitarian-style dash in the cabin, along with the obligatory grab handles so you can hoist yourself into the thing – anyone with mobility issues will find it very difficult to gain entry for such a tall car.
That brings us to the second feature of the Wrangler – vast proportions. I wouldn't say it was bloated, quite, but it is even bigger than it looks, and stands much higher than Jeeps of the past, or indeed its smaller more modern feeling siblings such as the Compass and Renegade. Basically, the five doors works well as a vast country estate, almost literally in terms of the acreage it covers, but it is pretty unpleasant to pilot around town. You develop a new-found respect of the anticipatory skills of bus drivers, with the bulk of your Jeep presenting a similar impediment to urban progress. The Jeep has a reversing camera and sensors that beep when you get too close to an obstacle, which is a bit too often. Check out that gigantic front bumper too, good for ramming trees I guess, but not so pedestrian-friendly.
The Jeep, for all it rudimentary airs, does have some creature comforts, as you'd hope for in a £50,000 vehicle. There's air conditioning, cruise control – though not adaptive and no lane-assist feature – a DAB radio, plus heated steering wheel and front seats, just like the US Army never had. The aluminium-effect fittings and leather add to the sense of moderate luxury. On the other hand, the Jeep lacks the most up to date driver aids – lane assist and adaptive cruise control with automatic braking, for example. It's no match for a modern Land Rover or Lexus, say, for style, taste and, possibly, quality.
As with the Defender, the Jimny, the G-Wagen and many other SUVs, the Jeep excels off-road, and even has a proper double gear stick arrangement, so you, the driver, are in control rather than some box of electronics. For normal road use you can put the Jeep into rear-wheel drive, which helps a bit with fuel economy, and there's the usual choice of off-roading low and high gears, all via an automatic box. There is all the 4x4 ability there that anyone would need, for fun or serious usage.
Also in common with its principal counterparts, however, the Jeep is painful to drive at nothing more than about 60mph. It is like a Transit van, but without the same degree of refinement. It is slow – the price you pay for its generally lower gearing that it needs for its role as a workhorse – it rolls around, again the downside of its fine off-road ability, and it's pretty noisy in there, though the excellent sound system compensates for that up to a point. Big four-cylinder diesel engines aren't designed to be refined, and the Jeep's unit, though adequately powerful, is no exception. Bu then perhaps the whole point of Jeep Wrangler is to be a bit rough and tumble. Two-door and even tougher 4x4 options are also available depending on your taste.
The roof comes off in three sections, which is quite the novelty, and the windscreen will fold flat, another amusing throwback to the car's origins. I also enjoyed playing with the split rear door. I know, pathetic, but there we are.
The Wrangler, then, is a fairly uncompromising car, and, frankly, a bit of a toy unless you're a farmer or an emergency service worker. Everyone knows that the cheapest little 4x4s on the market, such as the SsangYong Tivoli or Dacia Duster, will do about 80 per cent of what the biggest, baddest roughest ones will do, but for about a quarter of the price. I'd buy a Tivoli and spend the rest on an Abarth 124, but that's me. For some people, only a Wrangler will do. They'd go to war for one.
Join our new commenting forum
Join thought-provoking conversations, follow other Independent readers and see their replies