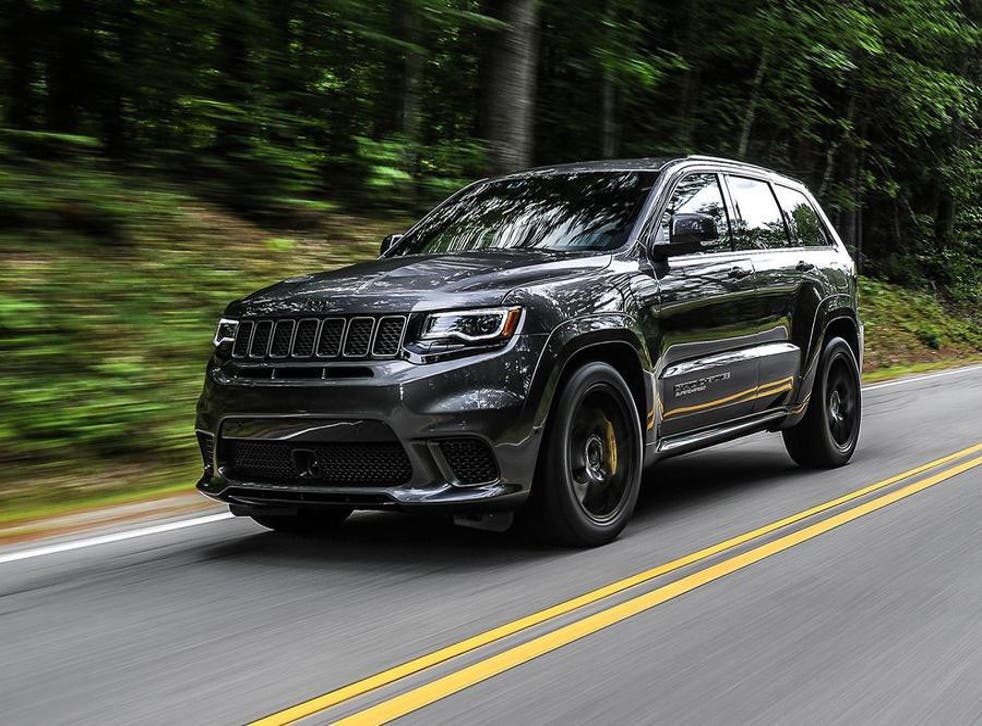 Driven: Jeep Grand Cherokee Trackhawk 2018
A 697bhp SUV? Why not? Jeep's Trackhawk is more user-friendly than you might think
What are the Americans good at, automotively speaking? Well, they make good, big, comfy SUVs, and they also like the odd insanely powerful muscle car.
Put those two skills into the blender and here's what comes out. SRT, Fiat Chrysler Automobiles' performance arm, gave itself the job of building the world's fastest SUV. Rather than messing about with smallish, twin-turbo V6s as you'd expect a European firm to do, they simply got hold of a Mopar Hellcat 6.2-litre V8 engine (complete with ginormous supercharger, as already seen in the Dodge Charger and Challenger Demon), and lobbed it into a Grand Cherokee.
That 2.4-litre IHI supercharger alone has more internal displacement than an entire Focus RS engine. The mechanical package puts 697bhp and 645lb ft of torque at 4800rpm (which is actually slightly down on earlier iterations, thanks to a less open exhaust) through a 4WD setup controlled by an 8-speed automatic with manual mode gearbox.
The 0-60mph time is 3.7sec, the 0-100mph 8.8sec, and the claimed top whack is 180mph. That last stat is pretty much determined by the brick-like shape of the vehicle.
External Trackhawk changes relative to the normal Grand Cherokee are quite subtle: they're limited to the odd nameplate and those biggest-ever-used-on-a-Jeep yellow Brembo brake calipers. Euro enthusiasts won't especially rate the quality of the interior, despite its leatheriness and Trackhawk logos, but it offers decent comfort – and besides, buyers in this market are more likely to be interested in the metal bits under the bonnet.
In that respect they'll be pleased by the amount of effort Jeep has put in. The internals have been given quite a rework. This Hellcat V8 has never been required to do business with an AWD chassis before, so the trans, rear driveshaft, CV joints and differential have all been modded and extra cooling added.
We managed a quick blat in the Trackhawk around Nevada's Spring Mountain race circuit. Even our short stint reassured us that, in this application at least, there is nothing to fear in the idea of a tall SUV with monster power.
Your initial qualms are quickly allayed by the surprisingly non-brutal nature of the power delivery. Obviously, tramping on the pedal produces a meaty growl and a healthy slug of acceleration, but away from the jollity of launch control it's all perfectly civilised. It'll even slow up and turn in nicely at the end of a fast straight, thanks to the independent front suspension and Bilstein dampers. Even through a batch of corners there's good stability. It's no Lotus Elise, but for a beast of this size it looks after itself better than you'd expect. You'll get a lot more luggage in it than you would in an Elise – and you'll probably leave it behind at the lights if you use the launch control system. By locking up the supercharger bypass valve, it preloads the blower to unleash torque with a mighty whump. Clever and effective.
So, time for the usual question: who needs a 697bhp SUV? The answer to that is, of course, no-one. But you could say that about anything that over-delivers on everyday/essential transportation needs.
Some tweaks may be made to the US-spec Trackhawks when they arrive in the UK in late spring 2018. We don't know what they might be, but assuming they're positive mods, we're quietly hopeful about the Trackhawk's potential as a serious – and at the same time gloriously unnecessary – performance SUV.
---
Jeep Grand Cherokee Trackhawk
| | |
| --- | --- |
| On sale | mid-2018 |
| Price | TBC ($85,900 in the US) |
| Engine | 6166cc, V8, supercharged petrol |
| Power | 697bhp at 6000rpm |
| Torque | 645lb ft at 4800rpm |
| Gearbox | 8-spd automatic |
| Kerbweight | 2433kg |
| Top speed | 180mph |
| 0-62mph | 3.7sec |
| Economy | 20.4mpg |
| CO2 rating | TBC |
| Rivals | Bentley Bentayga W12, Mercedes-AMG GLE 63 S, Range Rover Sport SVR |
Join our new commenting forum
Join thought-provoking conversations, follow other Independent readers and see their replies