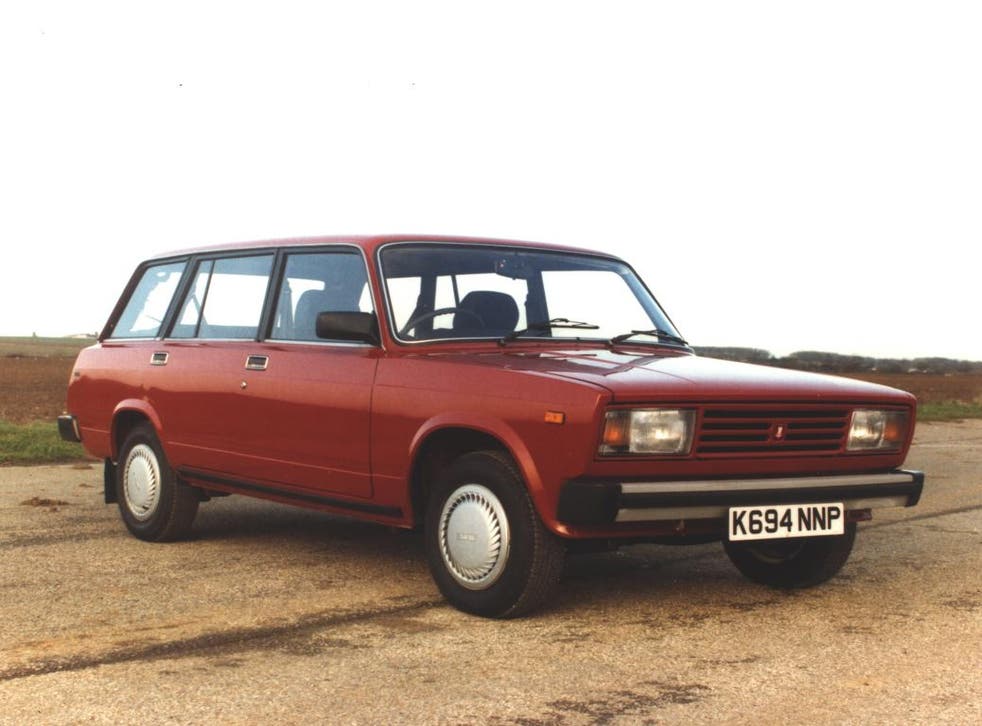 The once popular Lada is now a rarity - but it could become a motoring classic
Once insanely popular but the butt of playground jokes, the Russian built-Lada is now a rarity but one that basks in cult status. A lesson in Ladanomics
Back in the 1990s, in the days when England used to fail to even qualify for the World Cup (seems absurd now), there were about 130,000 Russian-built Ladas registered to drive on British roads. Today, the number has dwindled by 99.9 per cent, to 179. Between 1994 and 2005 – just over 10 years – the number of licensed Ladas fell from more than 134,000 to less than 3,000, a monumental fall from grace. The decline continued, so they are a rare sight now, but there are signs of a mild revival.
The Lada, was first built in the Soviet Union in 1970 by the Russian car giant AvtoVAZ. It spawned a thousand playground jokes but ended up selling more than 20 million worldwide. The VAZ-2101 was modelled on the 1966 Fiat 124 saloon and despite its boxy look and often drab colours, it proved extremely popular. Almost two-thirds of Ladas went on to be sold outside Russia, with more than 300,000 selling in Britain between 1977 and 1997.
So, where did they all go? Although still common enough in Russia, the Lada is now largely extinct on British roads. Sales hit the barriers in the UK when tighter carbon emissions standards meant many Ladas didn't match up to more rigorous green requirements.
But claims "the Lada is empty" may be a little premature, since this piece of motoring history has now taken on classic car status. And for the first time since the height of its popularity in the 1990's, the number of licensed Ladas on UK roads has actually started to rise, albeit from a very low base.
At the beginning of 2017, the number of licensed Ladas on UK roads stood at 165. That had increased to 179 by the start of 2018. And with 679 Ladas registered as 'off the road', there appears to be at least some Lada owners storing their increasingly cultish models away under lock and key, hoping to see values boom, as has happened with many other classic motors from the 1970s, 1980s and 1990s.
Alex Buttle, director of car buying comparison website motorway.co.uk comments: "The Lada is not quite empty, but with fewer than 200 now eligible to drive on UK roads it has become seriously rare. And with the eyes of the world on Russia at the moment, has the Lada's time come? Nostalgia for Ladas is growing and scarcity will drive up prices. Savvy classic car buyers should consider getting one while they still can."
If the Lada isn't sufficiently obscure to pique your curiosity, then perhaps the Lada with a Polish accent can – the Polski Fiat 125P, also known as the FSO. Like the Lada Riva it was based on an obsolescent 1960s design, in this case the Fiat 125. Built by Fabryka Samochodów Osobowych (FSO) mine had quite a comprehensive tool kit and lovely faux sheepskin seat covers. It was horrible. Later it spawned an ungainly rebodied hatchback called the Polonez. Perhaps they deserve to remain forgotten.
Register for free to continue reading
Registration is a free and easy way to support our truly independent journalism
By registering, you will also enjoy limited access to Premium articles, exclusive newsletters, commenting, and virtual events with our leading journalists
Already have an account? sign in
Register for free to continue reading
Registration is a free and easy way to support our truly independent journalism
By registering, you will also enjoy limited access to Premium articles, exclusive newsletters, commenting, and virtual events with our leading journalists
Already have an account? sign in
Join our new commenting forum
Join thought-provoking conversations, follow other Independent readers and see their replies