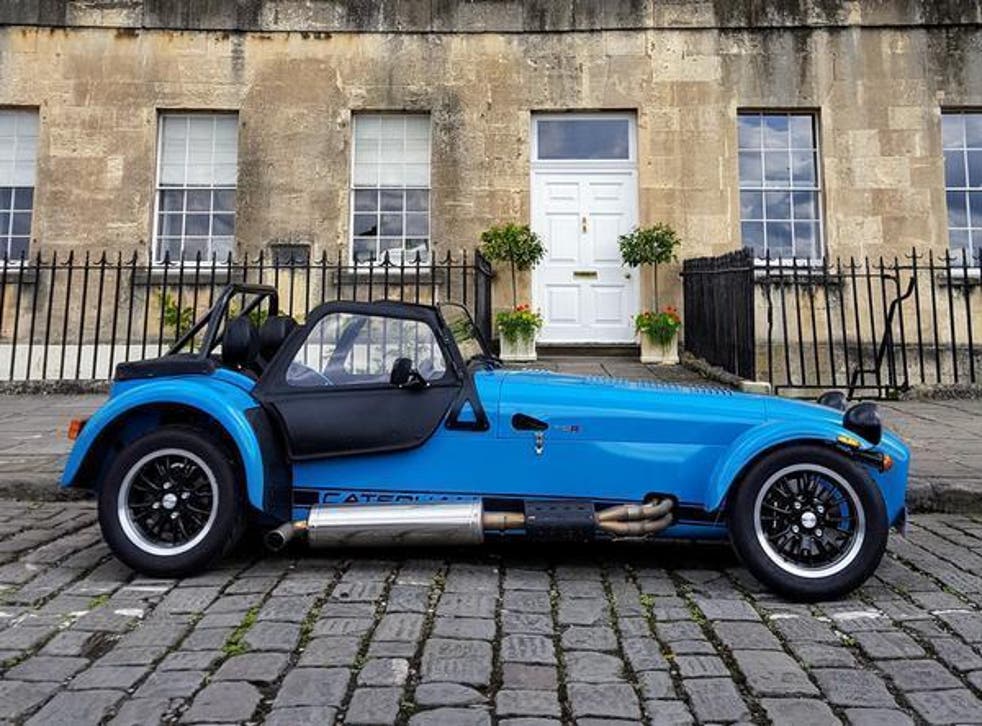 Living with the Caterham Seven 310R
Readers get to experience the thrills of the hot-shot Caterham
It was a simple plan. We and some readers had to build a Caterham Seven 310R. We'd then get to drive it – and so would the lucky readers, seven of them for a long weekend each. And, like many a simple plan, it's proven a good one.
Jan Hutton was one of those lucky readers, someone who described himself as 'a middle aged man yearning back to my days in rusty Mexicos, RS2000s and a few pre-family motorbikes'. The appeal of the 'basic, analogue motoring' represented by the Caterham was therefore more than obvious.
He started day one by making the slightly strange decision to drive through a hot Central London. True, he got a lot of attention and cameras pointed his way, but it was also slow – and he got sunburned on his head.
Finally getting out onto the A40, he could begin to let it go more, which meant letting the revs rise and the engine to start to come alive. The A40 underpass reminded him just what an engine it was and just how great it sounds.
Day two was a lesson learned, with a trip from Berkshire to West Sussex via Hampshire. That should have been delightful, but the British weather decided he didn't need any more sunburn, so it started to rain instead.
At first this was great, as a damp road and a Caterham with a limited-slip diff and a lot of power seemed a fun combination. He found he had so much communication with the car it made control so much easier, everything from the small and alive Mmo steering wheel to the tremendous levels of grip.
Caterham Seven 310R

Show all 10
But after a while the drizzle turned to heavy rain and it seemed a bit less fun. The diff works well but it's really noisy, particularly between 50mph and 70mph, definitely to the level it would affect you if you had to drive this often. But while Jan wasn't finding this the most fun he'd ever had at this point, he was about to make a lot of other people very happy.
It started pouring down, as Jan takes up the story. 'We conceded that it was time to erect the comedy roof - if you ever want to make other road users happy, fitting a Caterham hood in a thunderstorm will do it! Apparently it is easier when warm, an irony not lost on me while trying to stretch the fabric to reach the poppers in a torrential downpour.'
It wasn't too bad once up, but the next day and the next journey, from Berkshire to Bath, he and his passenger decided to deal with some rain in a different manner. Top down, warm hat, heater on, doors on – the result? 'We both agreed that with regular stops a tour could be quite painless, even fun.'
Jan is happy to admit he loved every second in the Caterham. It was also an unbeatable way to start up conversations with strangers, even better than a Labrador puppy. But he's torn as a consequence of actually living with the car for a few days in the real world. That price tag of nearly £39,000 made him think. It's the balance between a car that's so out there you're highly unlikely to find the limits on the road, against the undoubted discomfort and compromises that performance requires. Jan loved it, but he's not sure if the balance is quite right for him.
Caterham Seven 310R
List price new £23,495

Price as tested £38,930, comprising: £2,500 for factory build, £4,495 for R pack, £200 for track suspension pack, £675 for ventilated front brakes with quad piston calipers, £200 for 13-inch Apollo black alloys on Avon ZZS tyres, £1,250 for full weather equipment and side screens, £95 for side screen arm rests, £80 for hood bag, £95 for boot cover in carbon vinyl, £115 for fully carpeted interior, £400 for carbon leather seats, £150 for Momo quick release steering wheel, £300 for heater, £300 for Sequential shift lights, £495 for lowered floors, £900 for high intensity lights with LED daytime running lights, £1,000 for Miami Blue custom colour, £395 for full decal pack, £995 for full paint protection and £895 for on the road package
Graham Scott is a writer for PistonHeads.
Register for free to continue reading
Registration is a free and easy way to support our truly independent journalism
By registering, you will also enjoy limited access to Premium articles, exclusive newsletters, commenting, and virtual events with our leading journalists
Already have an account? sign in
Register for free to continue reading
Registration is a free and easy way to support our truly independent journalism
By registering, you will also enjoy limited access to Premium articles, exclusive newsletters, commenting, and virtual events with our leading journalists
Already have an account? sign in
Join our new commenting forum
Join thought-provoking conversations, follow other Independent readers and see their replies