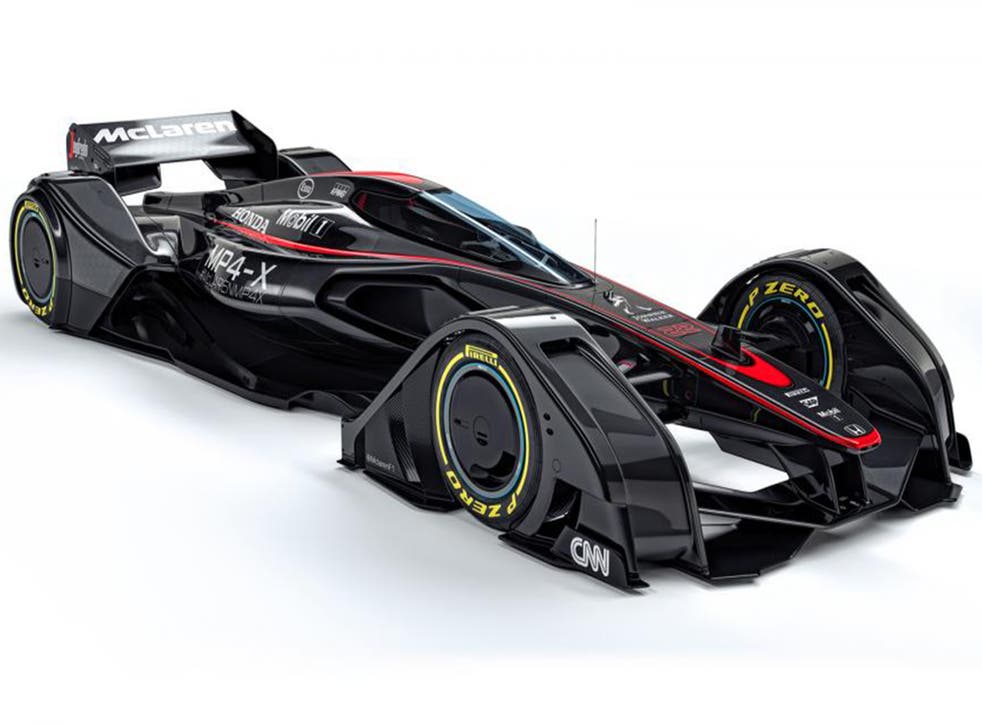 McLaren unveils telepathic racer: Formula 1 car controlled by waves from the driver's brain
The idea is that electrical pulses from the driver's brain are interpreted holographically
An all-electric version of Formula 1? We've already got that, after a fashion, with Formula E.
But the extraordinary MP4-X concept from McLaren anticipates a future in which motorsport at the very highest level leaves the internal combustion engine behind.
It's much more than just an electric racecar, this. It really is a vision into the future of Formula 1 – from a company that ought to know what it's on about when it comes to this subject.
The car's batteries, for example, are integrated into its safety structure and therefore spread around it rather than all being located in one point. McLaren anticipates the use of inductive charging loops in the surface of the racetrack, and the car is also designed to use solar power and regenerative braking.
Nothing too sci-fi so far, then, but how about the throttle, brakes and steering all being controlled by telepathy? The idea is that electrical pulses from the driver's brain are interpreted holographically.
The driver's race suit, meanwhile, will be able to monitor the state of his mind and body – and relay an instant diagnosis of any injuries following a shunt.
While it's doing this, the car itself will be providing its pit crew with data on the damage it has suffered.
And that's not all. The car's body panels are made from an alloy which can alter its shape in response to electrical currents. So, for example, if the driver is idly musing that he needs more downforce to get past the pesky back marker in his way, the car will change shape to provide exactly that.
The MP4-X doesn't look quite like a F1 car as we know it, with its closed cockpit and wheelarches. The latter contain sensors which monitor tyre wear and allow pressures to be altered in real time to suit the prevailing conditions.
Most remarkably of all, none of this is pie-in-the-sky dreaming. All the technology in the car is real and exists today. It's just that most if it is either too early in development to use, or too expensive for even the corpulent world of Formula 1 to afford.
Register for free to continue reading
Registration is a free and easy way to support our truly independent journalism
By registering, you will also enjoy limited access to Premium articles, exclusive newsletters, commenting, and virtual events with our leading journalists
Already have an account? sign in
Register for free to continue reading
Registration is a free and easy way to support our truly independent journalism
By registering, you will also enjoy limited access to Premium articles, exclusive newsletters, commenting, and virtual events with our leading journalists
Already have an account? sign in
Join our new commenting forum
Join thought-provoking conversations, follow other Independent readers and see their replies