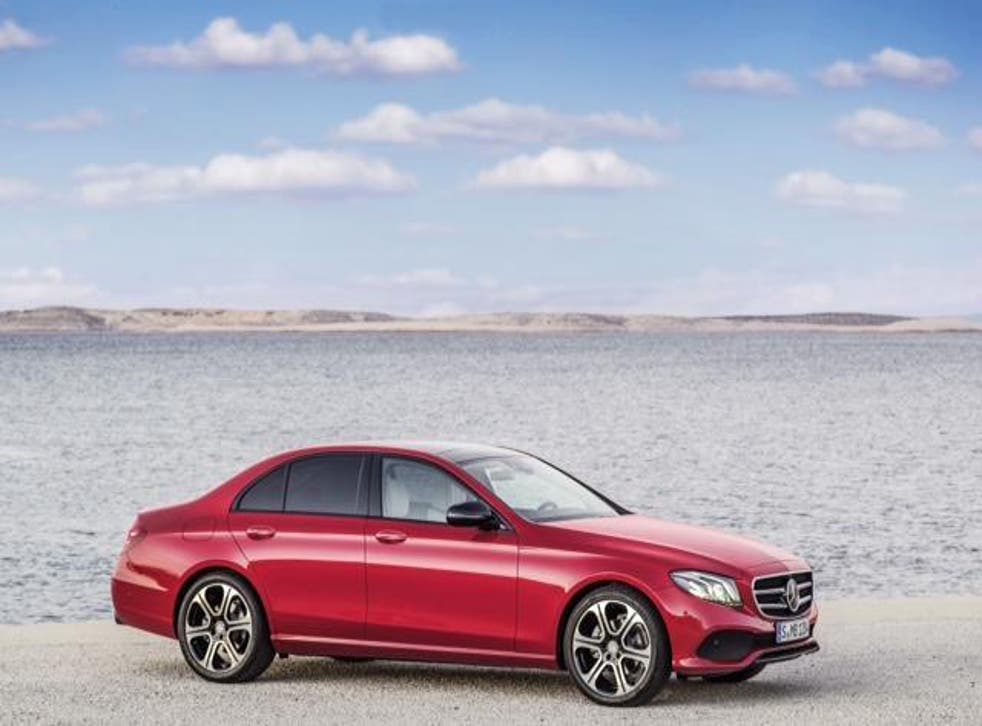 Mercedes-Benz E220d, car review: Reminiscent of past glories
After some serious controversies in recent years, this new model has impressive qualities that suggest Mercedes-Benz are engineering some of the quality back into their cars
Sean O'Grady
Thursday 16 June 2016 10:26 Comments
Time was when, if you wanted a sports saloon you bought a sports saloon; if you wanted a comfy limo, you bought a comfy limo, and if you wanted a car that would do both you'd be thought a little eccentric.
No longer. Or at least for a price: £35,935 in the case of the Mercedes-Benz E220d, the latest iteration of a long Benz tradition, that of the big saloon with a beefy and economical diesel engine. With its "Dynamic Select" set-up, you can choose whether the driving characteristics of your car should be focused on economy, or comfort, or sportiness, or "sportiness plus". You can pick one even when you're on the move, with a fairly rapid response. You can also tailor it to your own individual requirements. I experimented with comfort for everything except the steering, which was left in sport mode. Suited me.
These different personalities are quite distinct so. Of them all, the "Eco" setting is the strangest and slowest, taking you right back to a 1960s classic Mercedes airport taxi: unbreakable but proceeding very much at its own pace. "Sport Plus" is just too frenetic, though handy when you need it, and "Sport" and "Comfort" speak for themselves. It's difficult to believe all these very different engine, gearbox, suspension and steering responses are all there lurking in the electronics of this new E-Class, but driving is believing.
What is constant are impressive qualities that suggest Mercedes-Benz are engineering some of the quality back into the cars. Even by their standards the "Designo Hyacinth Red" paintwork had a rich, lustrous quality to it, as did all of the interior materials and the various, again switchable, digital displays. One disappointment for me was that I found it difficult to find and work the climate controls, which, unusually, are a little less intuitive than the sat nav and entertainment systems. As usual the DAB reception was a bit hit and miss, but that's not the car's fault. I also found the parking sensors were a little hyperactive, alerting me to obstacles while turning that actually didn't exist. No idea why, and more than a bit disconcerting. Tends to shake your confidence in the rest of the car a bit.
Mercedes-Benz have been busily invading every niche and sub-niche and micro-niche of the new car market in recent years, packing in every conceivable cross-breed, mating saloons with SUVs to create some ugly little cross-overs, as well as miniaturised saloon/coupes and gigantic convertibles. Like deranged genetic engineers, they seem unable to control themselves. The process that began with the little and innovative A-Class almost two decades ago must be reaching its conclusion now. Yet the staple for profits is the E-Class, and within that the top-selling 220d variety, now with a new engine too. They have been building this model and its predecessors for many decades now, mostly successfully, with a clear line of ancestry. There were some issues, quite serious ones, with corrosion and spontaneous combustion a few years ago, and hopefully those tales of the unexpected are history now. The new E-Class, apparently solidly built with conservative but not boring lines – the full-on grille sees to that – seems to reconnect Mercedes-Benz more surely with past glories. I hope it lasts, especially the electronics.
Price: £35,935 (£45,595 as tested)
Engine capacity: 2 litre 4 cyl diesel
Power output (hp @ rpm): 194@3,800
Top speed (mph): 149
0-62 mph (seconds): 7.3
Fuel economy (mpg): 72.4
CO2 emissions (g/km): 102
Register for free to continue reading
Registration is a free and easy way to support our truly independent journalism
By registering, you will also enjoy limited access to Premium articles, exclusive newsletters, commenting, and virtual events with our leading journalists
Already have an account? sign in
Join our new commenting forum
Join thought-provoking conversations, follow other Independent readers and see their replies