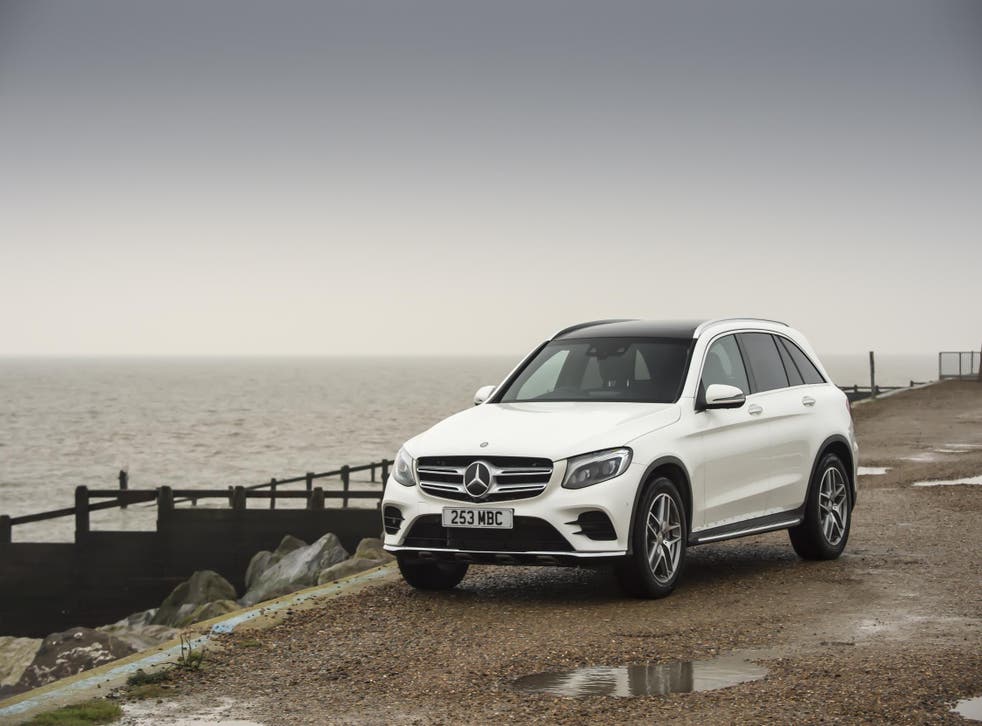 Mercedes-Benz GLC car review: They've added some stilts and running boards to a C-Class estate
Fashionable, if expensive, the car buying public wants compact SUVs
Very mixed feelings about this one. On the one hand, I can't restrain myself from saying that I am sorry the GLC even exists. As you probably don't need me to tell you, this is essentially a C-Class Mercedes estate on stilts. Quite small stilts, but stilts nonetheless. They've done their best to make the saloon's classy and fluent styling translate into SUV-mode, but they've only partly succeeded. This is mainly because the car has running boards, which seem particularly pointless as the car isn't tall enough to need them to get in, and they are too narrow for anything other than show. A £450 option in fact, in aluminium with little studs on them, and utterly silly.
What I'm getting at is that there's nothing wrong with the C-Class as such, and it is only the obsession Mercedes has with filling every possibly niche in the market that has compelled it to create this confection. Or rather, to be fair, the buying public's insatiable demand for SUVs above anything else. For some reason the butch image, the high driving position and, well I don't know what else, seems to act like automotive catnip. Give it a coat of fashionable glossy pure white paint, and a car like that sells itself. Even if the engineers at Mercedes-Benz didn't fancy the project much – I imagine their purity of ideal would be polluted by this sort of cross-over exercise – there wans't much they could do about it if their customers wanted it. And so it was born.
When you get in it (without the aid of a running board), some of your initial revulsion is melted away by the accomplished vehicle it is. Pleasingly, for some of us, the one thing I immediately seek out was there – a CD player, a single slot in the dash that means that my vast back catalogue of outdated audio technology, perhas like yours, can still be enjoyed on the move. Not every car maker is so backward looking, in a good way, which is a shame. The GLC also exhibits the usual virtues of a modern Mercedes. It is extremely refined, even in diesel form, and the interior is as finely finished as anything this side of a Bentley. The "Dymaic" option allows you to flit between Eco, COmfrt, Sport and Sptr+ driving modes, which I think are self-explanatory. Sport suits it best, while Sport + turns a slightly ponderous semi-SUV into the nearest thing you can get this shape to a sports saloon, helped by its relatively low centre of gravity.
If, then, you can overcome your ideological objections, and you can afford it – the list price is about twice the UK annual wage – then I think you won't find much to moan about in a GLC. There is better value in this sector of the market, by which I mean the Nissan and VW alternatives, Qasqai and Tiguan, say, but the Mercedes doesn't seem to me to give much away to its premium rivals, the BMW X3 or Audi Q5, though the Range Rover Evoque lives in a desirability class of its own. The choice, though, of compact SUV crossovers, from SsangYongs to Lexuses, is bewildering.
To me, the GLC grows on you, a bit like meeting a Rottweiler that looks a bit too aggressive for comfort, but you soon discover is a gentle sort of beast and a bit more athletic than you'd think. Even so, it's not for everyone.
Price: £39,595 (£44,180 as tested)
Engine capacity: 2 litre 4-cyl diesel
Power output (hp @ rpm): 204@3,800
Top speed (mph): 138
0-62 mph (seconds): 7.6
Fuel economy (mpg): 56.5
CO2 emissions (g/km): 129
Join our new commenting forum
Join thought-provoking conversations, follow other Independent readers and see their replies