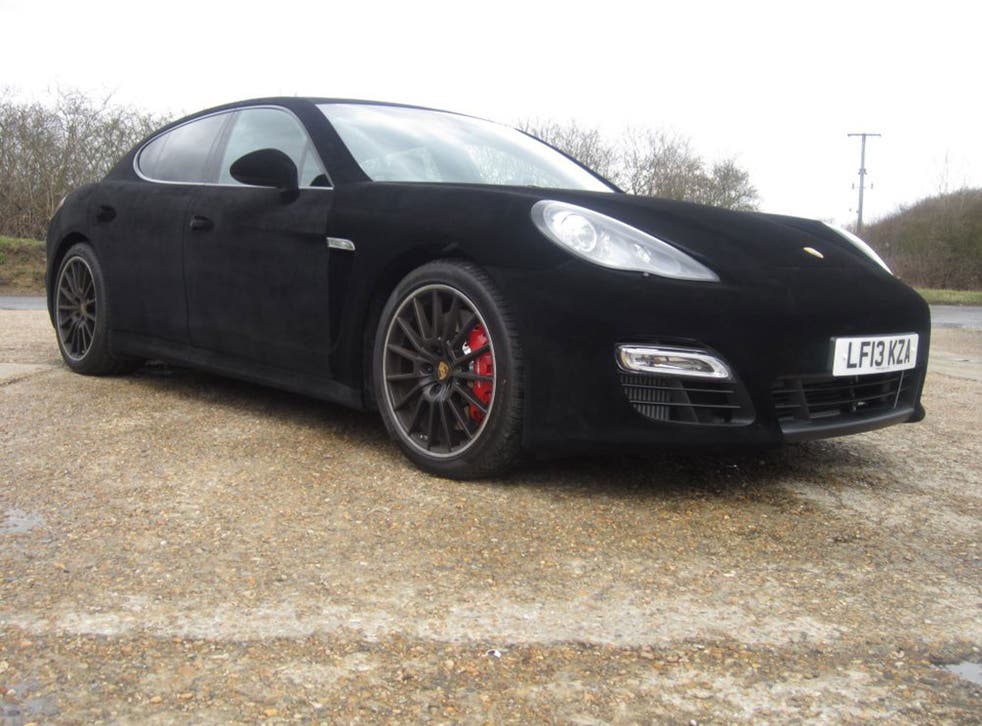 Motoring: Upholster your Porsche for a really smooth ride
We've seen Premiership footballer players in camouflaged Bentleys and Justin Bieber behind the wheel of a chrome-wrapped sports car, but automotive taste has finally driven itself of a cliff with the velvet-wrapped Porsche.
The soft-looking Panamera was snapped by former Apprentice contestant James Lester outside his plush estate agents in Fulham, west London. The picture went viral on Twitter with most users wondering two things. Firstly, who on earth would want to ruin their Porsche with upholstery fabric? And secondly, what happens when a pigeon craps on it?
It turns out it is the first soft-to-touch car of its kind in the country and it's the handiwork of car-wrap firm Raccoon (raccoon.co.uk). "It's a marmite thing of course," says Richard Clark, the firm's managing director. "But the owner loves it and as hard as it is to believe, it's really easy to wash. I just wouldn't suggest running it through a car wash."
Jim Holder, editor of Autocar magazine, isn't impressed: "Each to their own! But it will wreck the paint, nobody will buy it used and the owner could - should be a laughing stock back home."
And believe or not, said owner - who perhaps wisely is keeping his identity secret - isn't an attention-grabbing celebrity or even an over-paid footballer. Is the awful car-wrapping trend becoming more democratic then? Thankfully not; it cost the owner somewhere in the region of £2,500 on top of the £60-100k he'll have paid for the car. Thankfully you won't see it on a Ford Fiesta in your local Tesco car park anytime soon.
Register for free to continue reading
Registration is a free and easy way to support our truly independent journalism
By registering, you will also enjoy limited access to Premium articles, exclusive newsletters, commenting, and virtual events with our leading journalists
Already have an account? sign in
Join our new commenting forum
Join thought-provoking conversations, follow other Independent readers and see their replies