Smile you're on dash-cam camera: More motorists are installing in-car recorders to capture instances of bad cycling and driving
The technology also helps guard against 'crash for cash' scams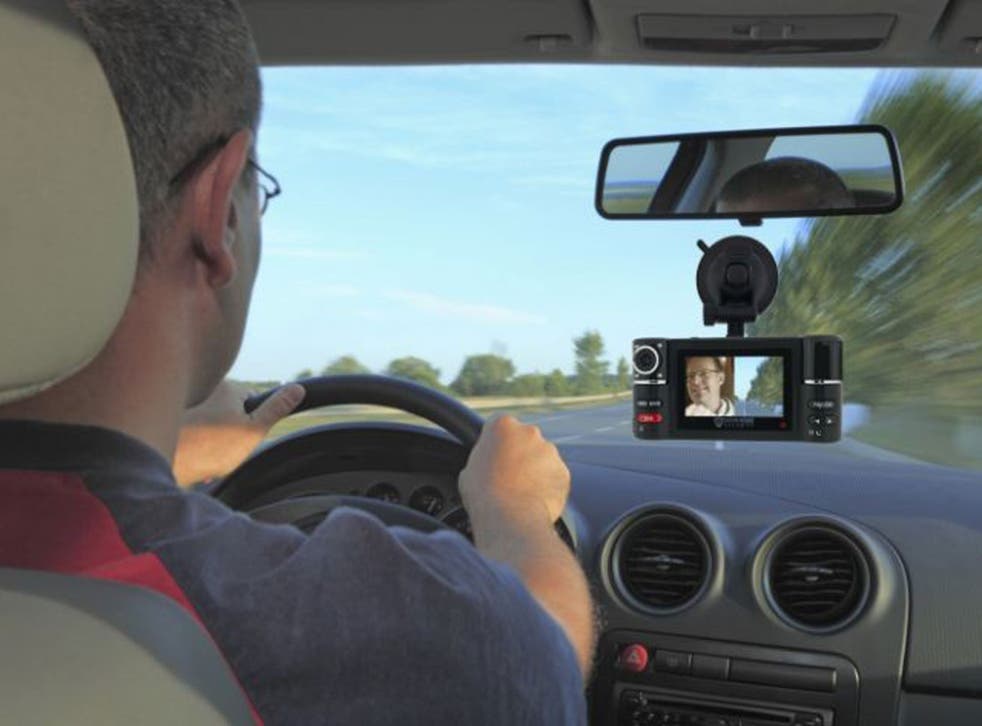 Sales of "dash-cams" in cars are soaring as owners record evidence of clashes and crashes with cyclists and other road users. Cycle helmet cameras have been popular for years, but only now are drivers getting their own gadgets as retailers stock up to meet demand and the RAC prepares to launch its own dashboard camera.
Cyclists regularly post footage online following clashes with drivers and the clips are often used as a basis for police complaints. Scotland Yard launched an investigation last week following a clash between an Audi A7 driver and cyclist in Farringdon, central London, which went viral and has been viewed almost a million times.
However, the growth of dash-cams is predicted to herald a new trend of car drivers uploading footage of bad cycling. Halfords, which extended its range of dash-cams costing from £70 to £200, had a 150 per cent rise in sales over the Christmas period.
Jeremy Clarkson got a flavour of what will happen when he tweeted a picture earlier this month of a cyclist "taking the lane" as he drove behind him in Chelsea in his Range Rover. Clarkson said the cyclist "hurled abuse at anyone who overtook". He later wrote that he received "a cacophony of abuse from people saying that I was somehow to blame, that they had reported me to the police for taking the picture and that I was basically a bastard for driving a car, on a road".
Car owners also hope the accident cameras will help them with insurance claims as many still fall victim to "cash for crash" scams. A new "flash for crash" craze, with seemingly polite drivers flashing an oncoming car to allow them out at a junction before driving into them, has prompted more drivers to consider buying the gadgets.
Halfords in-car technology manager Alec James said: "Following an incident people are often reluctant to admit guilt and risk losing their no-claims discount. In addition, the surge in fraudulent 'crash for cash' claims is causing genuine concern among innocent drivers. The range of recording devices we now offer means that we can provide drivers with the means to produce evidence."
Online sales are also on the rise. Electronics website Digi4u said sales of dash-cams rose 28 per cent in the last quarter of 2013. A spokeswoman said: "The product is particularly popular among taxi drivers who use it to monitor their on-call drives and use the video as evidence in insurance claims in case of an accident."
Dash-cams are popular in Poland, Japan and the US but have yet to catch on in the UK. They are ubiquitous in Russia with drivers using them to guard against police corruption and insurance fraud.
Although the number of drivers with dash-cams is only about 3 per cent in the UK, new research from the RAC shows that four in 10 owners are considering buying one. Almost 60 per cent of drivers said they wanted the gadget to have a visual record of what happened during an accident. The RAC, which is launching its own dash-cam, said that one in five who already own the gadget said they had bought it to guard against 'crash for cash' scams.
RAC insurance director Kerry Michael said: "As long as they are used correctly they are a valuable record of the circumstances that occurred around an accident. With 'crash for cash' crimes unfortunately becoming more prevalent on UK roads, dash-cams could become the motoring gadget 'must have' of 2014."
Police have welcomed this growing popularity. Paul Marshall, Suffolk's deputy chief constable, said: "Increasing use is being made by the public of digital cameras to record evidence of offences which can be used by the police to support prosecutions. This is welcomed by Association of Chief Police Officers as quite often the only evidence available is an eyewitness account which is disputed by the alleged offender."
Drivers are urging insurance companies to give significant discounts for installing dash-cams, but Ian Crowder from the AA said firms were unlikely to do so. He added: "The key question: will they one day become an insurance requirement or will they be built into vehicles at manufacture? I can't see the former happening while the latter may well result from the technology being applied to new cars."
Caught on camera
Police are still hunting the owner of a white Audi A7 who was filmed allegedly assaulting a cyclist who had remonstrated with him after the driver encroached on the cyclists' box at a London junction. The cyclist was one of several waiting in the box on Clerkenwell Road on 23 January. In footage uploaded on YouTube he wheels his bike back and knocks on the driver's window to tell him he should not have pulled forward into the box.
The driver pulls away before the cyclist chases after the car until both pull up at the next lights. The cyclist then shouts at the driver who gets out of his car and allegedly attacks the cyclist. Among many others, Radio 2 presenter Jeremy Vine tweeted the incident and said: "Everyone talking about this. Clearly cyclist was foolish to pick a fight, but Audi man is violent and should be caught." A Met spokeswoman said inquiries are continuing.
Paul Gallagher
Register for free to continue reading
Registration is a free and easy way to support our truly independent journalism
By registering, you will also enjoy limited access to Premium articles, exclusive newsletters, commenting, and virtual events with our leading journalists
Already have an account? sign in
Register for free to continue reading
Registration is a free and easy way to support our truly independent journalism
By registering, you will also enjoy limited access to Premium articles, exclusive newsletters, commenting, and virtual events with our leading journalists
Already have an account? sign in
Join our new commenting forum
Join thought-provoking conversations, follow other Independent readers and see their replies