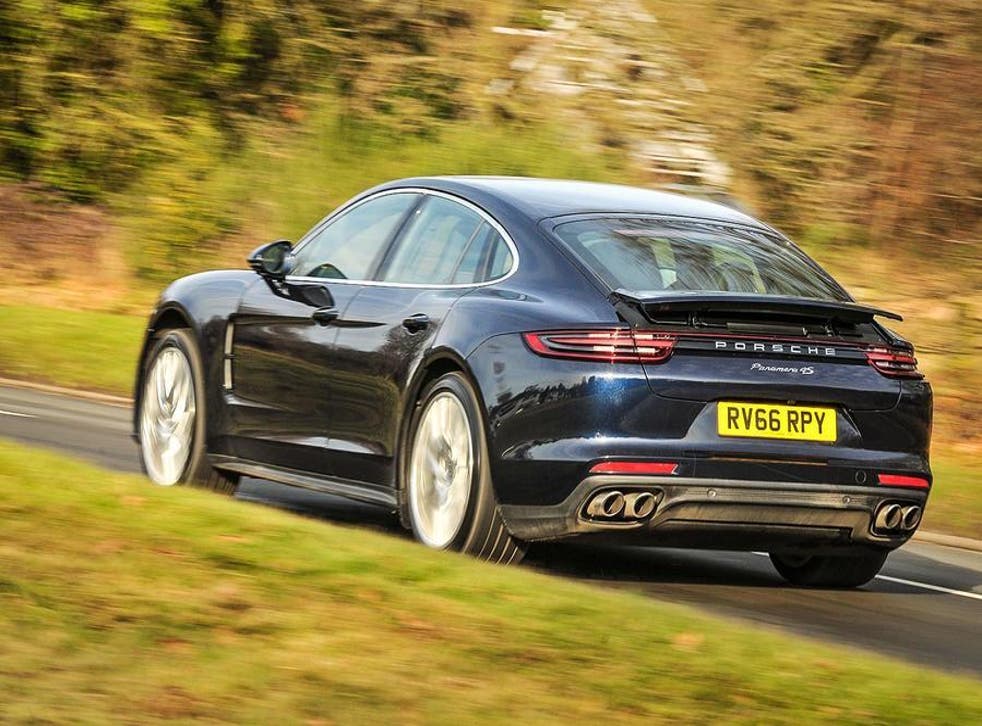 On the road in the Porsche Panamera 4S Diesel
Tempting package combines rapid acceleration with surprisingly good economy
Sarah Bradley
Wednesday 11 January 2017 23:04 Comments
Liveable fuel consumption is perhaps not the first attribute you'd accredit to the Porsche Panamera super-saloon, but that's exactly what the new, 42.2mpg 4S Diesel offers from its 4.0-litre twin-turbo V8.
Aided by a brand new eight-speed PDK gearbox, the 416bhp model is the most efficient Panamera in the range – at least until the E-Hybrid variant arrives later in the year. It has the most torque, too, with a huge 627lb ft kicking in from 1000rpm.
It all rides on a new mixed-material MSB platform. The lighter, more rigid set-up will eventually be shared with the next-generation Bentley Continental GT, and chassis options include three-chamber air-suspension and all-wheel steering.
Despite its still-substantial weight, the new Panamera 4S Diesel belies its four-door status with deceptively rapid acceleration and effortlessly relaxed cruising ability. Refinement in normal traffic conditions is impressive, too, and the unit's slightly gritty, diesel character becomes apparent only when you really press on.
Take it easy, and that 42.2mpg headline figure pleasingly translates to more than 30mpg in real-world driving. Don't expect the same if you put your foot down, though. The new transmission positively encourages the latter, with its whip-fast shifts, aided by the standard-fit, rear-biased, all-wheel drive.
With the stability control switched to Sport or turned off altogether, you can even step out the car's back end – although the chassis soon shuffles drive to the front tyres. With the steering cranked to one side the torque can kick in with quite some force, which can sometimes come as a surprise; the rim may have good weighting and transmit plenty of information about what the nose is up to, but it does filter out more subtle messages.
There are no issues with the sensational way the Panamera can obliterate a road. Its optional air-suspension is soothing in Comfort mode, but progressively tighter and more agile through Sport and Sport Plus. It aces many fast saloon rivals in the way it handles poor B-road surfaces, with no bounce or thumps.
Porsche has taken something of a revolutionary approach with the cabin. A pair of configurable 7in screens flank a traditional analogue rev counter, and there's more than a whiff of stablemate Audi's Virtual Cockpit, even if it's not quite so adaptable and easy to use here. The PCM infotainment set-up is controlled via a good-looking, if still slightly compromised, central 12.3in touch screen. This is complemented by a touch-sensitive black panel that controls things such as the heated seats, suspension and screen demisters.
The Panamera Diesel 4S's cabin will easily carry four six-foot adults plus their suitcases, while the clever optional cruise-control system analyses speed limits, bends and inclines to boost cross-country efficiency.
Viewed as a four-door GT rather than a large, luxurious limousine, the multi-talented new 4S Diesel has few rivals. It can demolish a winding road while remaining extremely comfortable, while its efficiency and cruising range of 600-plus miles are genuinely impressive. However, if fuel economy isn't a priority – and in this price bracket, we'd suggest it probably isn't – why not look at the cheaper petrol 4S? It's a tad faster and even sharper handling thanks to its lighter powerplant, and so makes an even better buy.
Sarah Bradley is a writer for Autocar
Register for free to continue reading
Registration is a free and easy way to support our truly independent journalism
By registering, you will also enjoy limited access to Premium articles, exclusive newsletters, commenting, and virtual events with our leading journalists
Already have an account? sign in
Join our new commenting forum
Join thought-provoking conversations, follow other Independent readers and see their replies