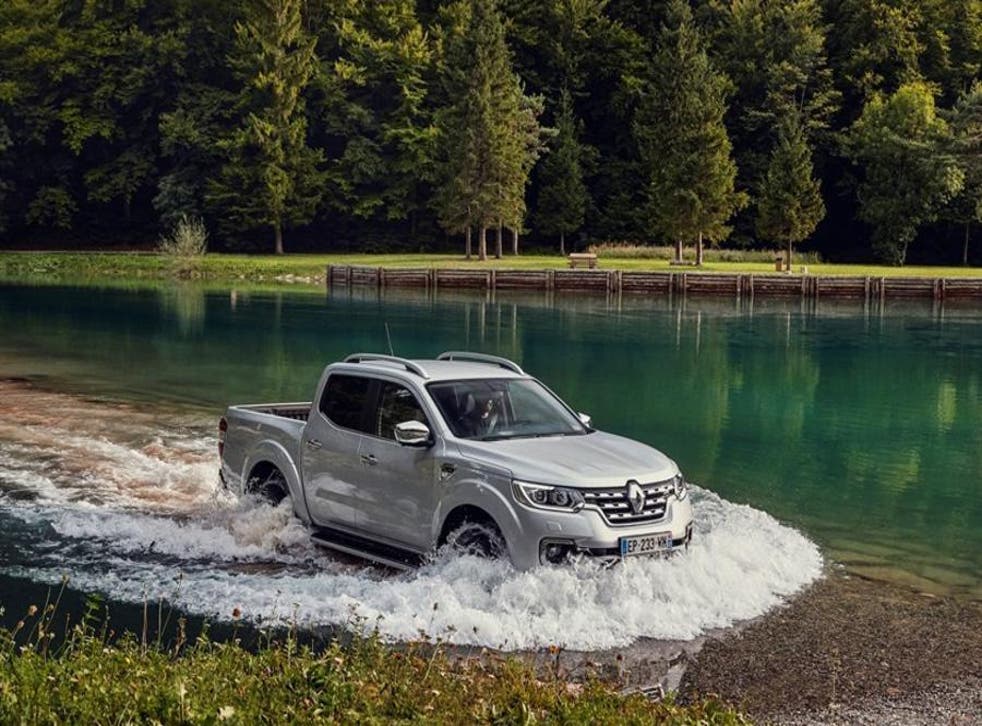 Driven: 2018 Renault Alaskan
An all-new pickup, or just a rebadged Nissan Navara?
As we know, Renault and Nissan are partners these days. Nissan's Navara pickup has been pretty successful, to say the least, so the arrival of a Renault version was always on the cards.
And here it is. One of three models to use the jointly-developed Renault-Nissan pickup platform – the Mercedes X-Class is the other – the Alaskan is powered by the 2.3-litre four-cylinder turbo diesel already used in Renault Master vans. It's available in two flavours: a 158bhp/297lb ft dCi 160, and a 187bhp/332lb ft dCi 190.
On the transmission front there's a six-speed manual or seven-speed automatic, both with selectable four-wheel-drive and a low-range gearbox. More serious off-roaders can tick the option box for a locking rear differential.
Max approach and departure angles are 30deg and 27deg respectively. Max payload is 1035kg, max towing capacity 3.5 tonnes. For those wondering if their motorbike will fit into the rear load deck without dropping the tailgate, the bed dimensions are 1578mm long by 1560mm wide.
Visually, Renault hasn't changed this working vehicle much from the Navara. From behind, only the flattened tailgate picks it out. The front has had a bit more of a Renaulty workover with a new grille, bonnet, headlight and bumper.
Although the Alaskan is aimed at the world, its jumpoff markets will be places like Argentina, Brazil and Colombia, with the Middle East and Europe as the main growth targets where it will compete against rivals like the Toyota Hilux and Ford Ranger.
To succeed, it will need strong off-road skills, and it has them thanks to multilink coil suspension rather than leaf springs. Some traditionalists may bemoan the departure of easily-maintained leaf springs, but rutted gravel tracks and bad roads are easily gobbled up by the coils, and the 4WD system, electronic limited-slip differential and locking rear diff all pitch in to keep the Alaskan rolling in thick mud. Hill descent control and hill start assist complete what is a tough, capable and comfortable package on and off the road.
Pickups with automatic transmissions are growing in popularity, and you'll quickly see why when you try the seven-speed gearbox with the 187bhp engine. 2.3 litres might not seem a lot, but this engine delivers a useful slug of low-rpm torque across the lower end of the rev range works well enough.
The cabin is a neat balance of practicality and comfort, with heated front seats (plus an eight-way adjustable driver's seat) and a good array of storage opportunities.
For Renault, the Alaskan is a 'quick-fix' entry into the burgeoning pickup market, but that's no bad thing when it's so closely based on one of the most comfortable options in the segment in the Navara. As useful off the road as it is comfy on it, the Alaskan is a sensible alternative in an increasingly sophisticated pickup market that's becoming ever more successful at covering the bases of commercial useability and practical family transport.
The Merc X-Class will be appealing to a slightly different audience, especially with its upcoming 3.0-litre V6, but the Navara and Alaskan are going to be doing battle with everyday beaters such as the Toyota Hilux and Mitsubishi L200. A choice between the Renault or the Nissan can legitimately be boiled down to which vehicle's styling you like best.
---
Renault Alaskan 2.3 dCi 190
| | |
| --- | --- |
| On sale | 2018 |
| Price | TBC |
| Engine | 4 cyls, 2298cc, twin-turbocharged diesel |
| Power | 187bhp at 3750rpm |
| Torque | 332lb ft at 1500-2000rpm |
| Gearbox | 7-spd automatic |
| Kerbweight | 2086kg |
| Top speed | 112mph |
| 0-62mph | 10.8sec |
| Fuel economy | 40.1mpg |
| CO2 rating | 183g/km |
| Rivals |  Nissan Navara, Toyota Hilux, Ford Ranger |
Join our new commenting forum
Join thought-provoking conversations, follow other Independent readers and see their replies