2013 Range Rover - First Ride

Show all 3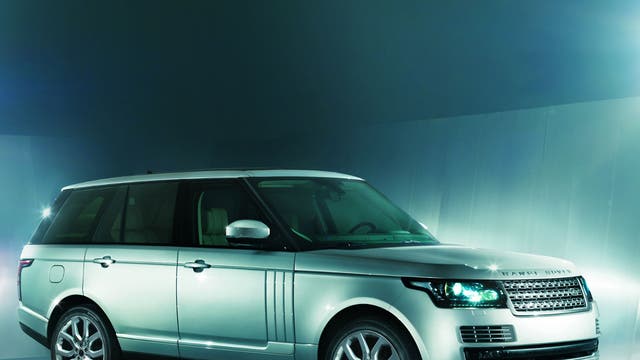 2013 Range Rover - First Ride
The back-seat view proves revealing as David Wilkins has an early on-the-road experience
David Wilkins
Saturday 29 September 2012 01:29 Comments
2013 Range Rover
Engine: 4.4 turbo-charged diesel V8; also available, 3.0 V6 turbo-diesel and 5.0-litre V8 supercharged petrol.
Transmission: eight-speed automatic, permanent four-wheel drive
Power: 339 PS at 3,500 rpm
Torque: 700 Nm between 1,750 and 3,000 rpm
Fuel consumption (combined cycle): 32.5 mpg
CO2 emissions: 229 g/km
Top speed: 135 mph
Acceleration (0-60 mph): 6.5 seconds
Price: Range Rover range from £71,295
Can you really tell how good a car is without driving it? My own view is that travelling in a car without taking the wheel doesn't normally allow you to make much of an assessment at all but this week I found a partial exception to the rule. I don't think anybody outside the company has so far driven the soon-to-be-launched fourth-generation Range Rover properly - or at least if they have, they're not allowed to talk about it yet - but on Wednesday, on the eve of the Paris Motor Show, I had the chance to join the small select group of journalists who have at least had a chance to experience this important new model on the move as a passenger.
This turned out to be a surprisingly revealing exercise - and for three main reasons. First, some of the changes to the Range Rover's driving qualities are so marked that they are readily perceptible to the occupants of the passenger seats. Second, one of the main priorities for the development of the latest Range Rover was to improve the passenger experience so that it could be sold more easily to the sorts of people who prefer to be driven in their cars rather than driving them themselves, so a stint as a back-seat passenger provided a great opportunity to assess an important aspect of the new car's performance. Finally, my driver – and informative guide - was a top Land Rover engineer, Nick Rogers, the Vehicle Line Director for the company's Range Rover models. I doubt anyone knows more about how the new car is put together, or is better qualified to explain its many features.
So let's look at those driving qualities. One of the big changes to the new Range Rover is the adoption of an advanced aluminium body structure that addresses one of the few significant points of criticism of the old car – its weight. The fourth-generation model is a huge 420kg lighter than its predecessor, and the impact of that change can immediately be felt when the car is under way. The old model could wallow a bit but the new one has much better body control and also picks up speed under acceleration with an ease that was absent before. The previous car was fast, but there was always the feeling it was having to use brute force to punch a big square SUV-shaped hole through the air and overcome quite a bit of inertia before it really got into its stride. This lighter, lower and aerodynamically slipperier vehicle is different.
And the back-seat passenger experience? The wheelbase has been stretched by 42mm and all of that and more has gone towards improving rear-seat legroom, which increases by 118mm, or about four inches. If the standard back seat, which is very comfortable, doesn't do the job for you, you can opt for the what Land Rover calls the Executive Class seating option. That provides two individual, separately adjustable rear seats, with a massage function and a centre console that is fully extended into the rear section of the passenger compartment. The company says this car provides a "new level of material quality"; the out-going model, even towards the end of its decade-long life is a standard-setter when it comes to cabin ambience, but it's fair to say that its successor still manages to nudge the game forward quite a bit, with a cleaner, less cluttered dash layout, for example, although the underlying look is quite similar. What motor industry types call NVH – or noise, vibration and harshness – is also improved, thanks to measures such as a stiffer body, better engine mounts, aerodynamic fine-tuning and an acoustic lamination applied to most of the windows. Ride comfort is impressive too – and speed bumps barely register.
In all, the rear-seat passenger experience easily bears comparison with that provided by luxury saloons, and it's revealing that when Nick Rogers talks about competitive benchmarks for the new car, he first mentions models such as the Bentley Continental and Mercedes S-Class rather than, say, Mercedes' GL-Class or the Audi Q7 – although the latest Range Rover can probably be relied upon to maintain its position as the best off-roader among the premium SUVs as well.
The new car builds upon the already formidable systems of the old, with a new automatic version of Land Rover's Terrain Response technology promising to make cross-country driving – untested on this occasion - even easier. Previously drivers would select a Terrain Response setting corresponding to prevailing ground conditions, for example, "mud and ruts", and the car would adjust its ride height, engine mapping and other parameters accordingly. The new model's systems can sense the ground conditions and make the adjustments automatically without any intervention from the driver, although settings can still be selected manually as well.
And after an exhaustive briefing and demos of the new car's other technical highlights such as its adaptive cruise control and powered split tailgate from Nick Rogers, I can hardly wait to get behind the wheel myself. Only that will give the full picture, but on the evidence we have so far, the new Range Rover could be very good indeed.
Register for free to continue reading
Registration is a free and easy way to support our truly independent journalism
By registering, you will also enjoy limited access to Premium articles, exclusive newsletters, commenting, and virtual events with our leading journalists
Already have an account? sign in
Join our new commenting forum
Join thought-provoking conversations, follow other Independent readers and see their replies