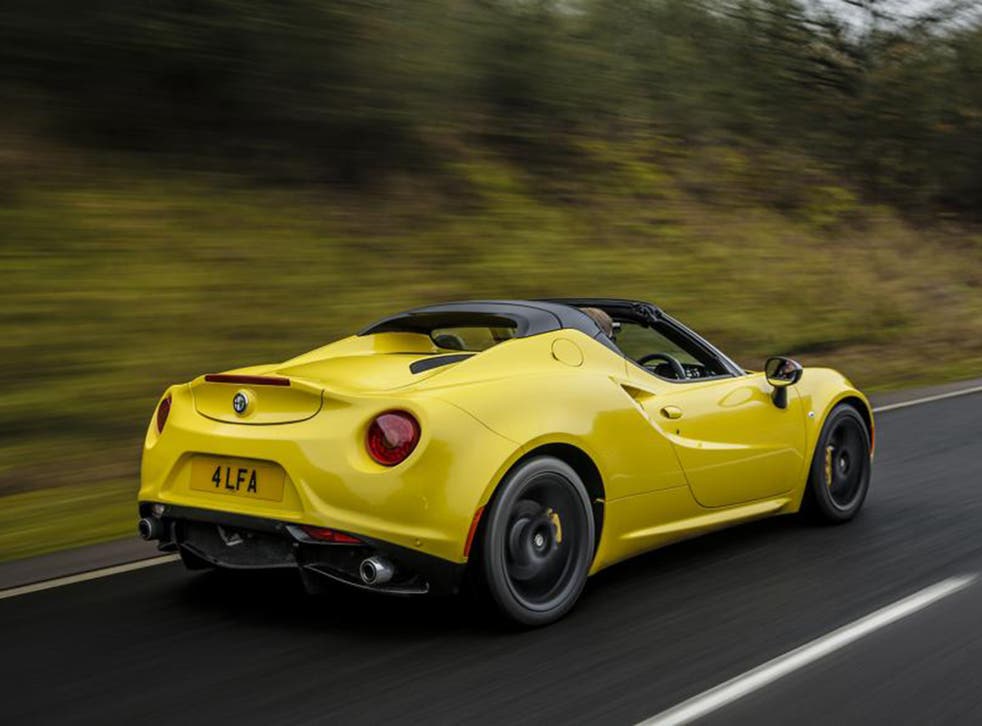 Alfa Romeo 4C Spider, car review: Flawed steering means it can't justify extravagant pricing
The 4C might look funky but that fades into the background under the relentless onslaught from the wheel in your hands
It's normal for convertibles to cost more than the coupes on which they're based. All the extra engineering that goes into keeping a car's body stiff enough has to be paid for, after all.
In the case of the Alfa 4C Spider, there must have been an awful lot of engineering. Because compared to the hard-top version of the same car, it costs an extra £8000.
Given that the car's strength comes largely from its extremely robust carbon-fibre tub, it shouldn't be surprising that the coupe's rigidity hasn't been lost in the translation to rag-top. Still, the fact that the chassis remains taut, lithe and impeccably matched to the 1750cc engine's revvily carefree output is worthy of praise.
So is the driving experience you'll get on a racetrack, with crisply responsive suspension and a seating position that lets you play heel-and-toe games with gay abandon. The 4C's power-to-weight ratio is pretty ballistic, and it feels every bit as fast and nimble as 237bhp and 940kg suggest.
It's just as much fun on smooth roads, too. But when the surface starts remembering that this is Britain, you'd better watch out.
You're expecting some choice words about ride quality here, but that's not it at all. The problem we have is with the 4C's steering.
First of all, the wheel itself is a two-spoke job, and it's awkward to keep a hold of. Combine that with a seat whose base is way too short, and an otherwise excellent cabin is badly let down in a couple of very significant ways.
It would be bad enough if this was, say, a Boxster – the kind of ragtop whose steering itself is basically impeccable. But while you're trying to keep hold of the 4C's wheel, it's being tugged this way and that by every imperfection in the road surface. It only ever settles if what's beneath you is smooth like a billiard table, which means it hardly ever settles – and while it's jiving away in your hands, you can't pay any attention to anything else.
The result is straightforward: No Fun. The 4C might look funky, and there's plenty about it that's just fine, but that all fades into the background under the relentless onslaught from the wheel in your hands.
Combine this with the 4C Spider's extravagent list price and you've got a car whose flaws overwhelm its undoubted virtues. Its hood is very well made and easy to operate, and as rides go it's definitely not short of flair – but the amount of time we spent sat in it and not enjoying ourselves is the opposite of how a sports car should be.
As for that £8000 premium over the coupe, Alfa says it's made a variety of enhancements to the tin-top which might go some way to justifying it. The company doesn't say what they actually are, though. And sadly, when all's said and done it doesn't really matter.

Join our new commenting forum
Join thought-provoking conversations, follow other Independent readers and see their replies