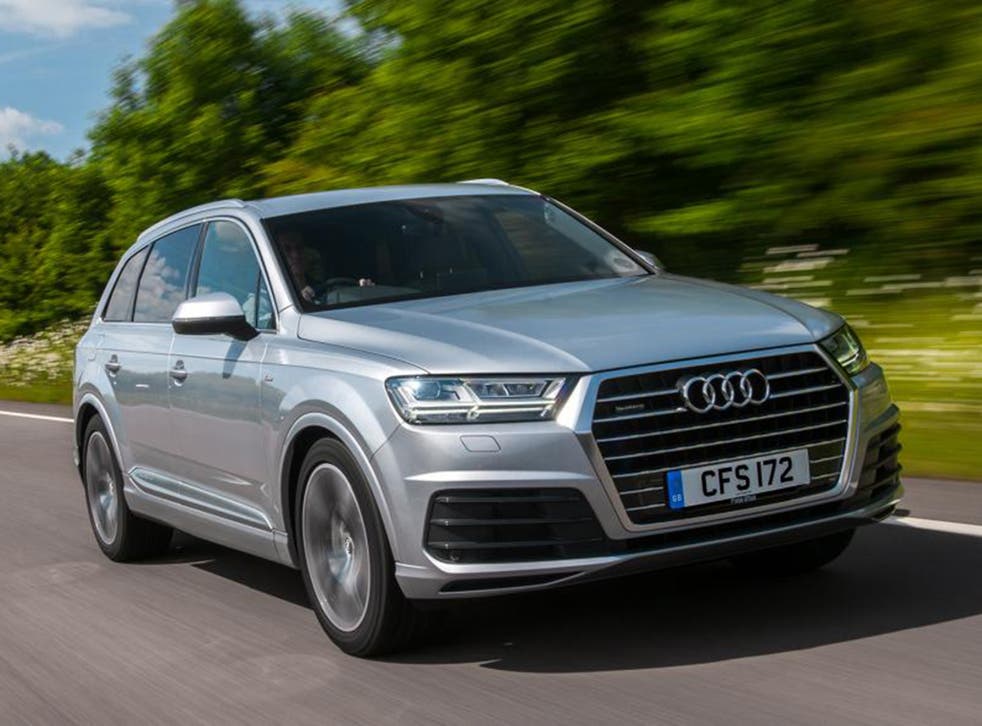 Audi Q7 3.0 TDI 218, car review: Mighty SUV gets new entry-level version
While this is lovely, the main event is lovelier still, and at just £3,000 more the full-fat option is still the one to go for
John Calne
Wednesday 03 February 2016 14:36 Comments
Having launched the Q7 in 268bhp form, Audi has now introduced a version with the same engine tuned to 215bhp. This is the entry-level model, and it's a little slower – though without being what you'd call sluggish itself.
The engine in question is Audi's 3.0 TDI unit, and aside from the differences in tuning the two versions are as good as identical.
This means you get a cabin whose styling, execution and quality are all top-notch. In particular, the multimedia set-up is bang on the money, and the seven-seat cabin really will seat seven – even if each one of them is a rugby playing monster.
There'll still be space in the back for their stuff, too. Kit, boots, teeth, ears, you name it.
In addition, though probably less so with half a rugby team on board, the cabin is very calm, hushed and peaceful. But this is where the less powerful engine does start to show its limitations.
We said the 215bhp engine is a little slower, and we mean a little. There's less than a second in it, and you can still cruise at coming on for twice the UK speed limit if the notion, and a visit to the autobahn, takes you.
The excellent eight-speed auto box, which is common to both engines, sees to that. But what it can't hide is that when you want to use everything on offer, the less powerful unit has to work that much harder.
In a less refined car, you probably wouldn't notice. But the Q7 is so quiet, so smooth and effortless in the way it goes about its business, that the sound of mildly strained effort from below the bonnet feels more out of keeping than it would almost anywhere else.
Otherwise, it's the same car, with the same spec levels and the same options list. Talking of which, our tester had the adaptive air suspension package, which costs £2000 but is worth it.
Thus equipped, the Q7 glides along beautifully – so long as you leave the drive mode selector in Comfort. Try twisting, though, and you'll bust before you know it – ride quality deteriorates, steering weights up without gaining in feel and while body roll does diminish slightly, what you gain in handling doesn't come close to what you lose in manners.
So we have two reasons why this Q7 is more luxury utility than sport utility, and they're good ones. The more powerful version is quieter when going fast but no better dynamically, so why would you spend the extra £3000?
Because it's only £3000, that's why. Which in this sort of territory is a trifle, especially when you look at whole-life costs – which, when you take sell-on prices into consideration, are as near as makes no difference.
This entry-level Q7 is indeed a deeply lovely thing. But the main event is lovelier still, and you can indulge yourself with no guilt. The full-fat option is still the one to go for.
Register for free to continue reading
Registration is a free and easy way to support our truly independent journalism
By registering, you will also enjoy limited access to Premium articles, exclusive newsletters, commenting, and virtual events with our leading journalists
Already have an account? sign in
Join our new commenting forum
Join thought-provoking conversations, follow other Independent readers and see their replies