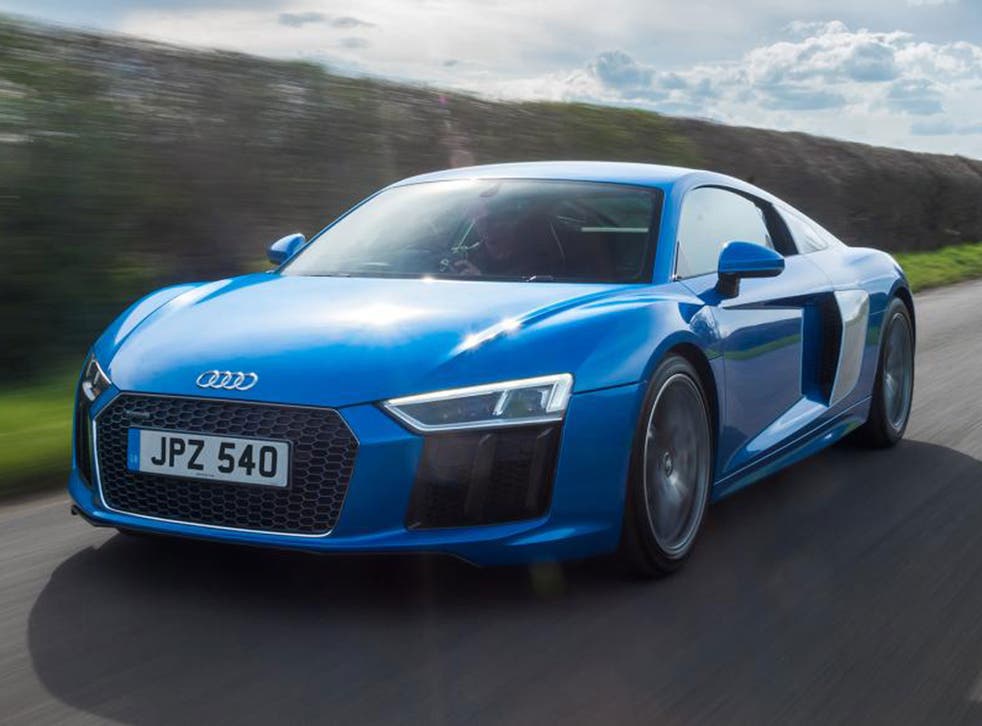 Audi R8 V10, car review: Entry-level supercar remains a mighty beast
The new R8 V10 remains a mighty beast, a practical supercar with one of the really great powerplants
Graham Scott Comments
Most models have an entry-level version, and this is Audi's economy version of the R8. In other makes that might mean no air-con as standard or maybe a small engine only really suitable for running round town. Think of the R8 V10 like that.
This basic R8 compares fairly unfavourably to the more potent R8 Plus of course. There's less power, more weight and, I know you'll find this shocking, you don't even get the ceramic brakes. This is what happens when you save £15,000 over the better-spec Plus.
However, on the plus side, nearly everything else is there. In a world where smaller engines with turbos are replacing big normally aspirated engines (think Porsche), there's a huge amount to be said for the sheer stonking grunt of the 5.2-litre V10. The great, endless churning rolls of torque and horsepower just keep on coming, as the engine wails up the range.
It sounds fantastic as well, and you're very unlikely to notice let alone miss the 70bhp power difference between this and the Plus. Really, 532bhp is on the ample side for a car that, despite its appearances, can be used every day. That's still good enough for a 0-62mph time of 3.5sec and a top end of 198mph. Who, in reality, needs more? And if you're buying the Plus just so you can say it tops 200mph then perhaps you should think about what kind of person you have become.
There's 40kg more weight to lug about and, as mentioned, you don't get the ceramic brakes, but the handling and stopping are still exemplary. It's a full-on supercar and it handles corners like it means it, although if you're a bit of a hero you can induce a touch of understeer.
You can induce oversteer too until the system brings it all safely back in line. The steering works well although it's not perhaps the very best and the big discs all round work extremely well indeed.
Sitting in the luxurious cabin, you notice that it's really quite practical, with great seats, decent boot and storage options and even some bespoke switchgear. Practical and exclusive. On the move, you can see surprisingly clearly around the car, and most bumps and thumps are dealt with quite well. The ride is of course firm but never more. It could be your every-day transport.
The new R8 V10 remains a mighty beast, a practical supercar with one of the really great powerplants. That engine looks even more special as other manufacturers give in and fit smaller, turbocharged engines. Just listening to the wild wail of this V10 and the crackling on the overrun is enough to sway your purchasing decision.
You might feel that saving £15,000 when you get so much anyway is a bargain, or you might feel, depending on your circumstances, that spending £119,520 is quite a bit so what's another £15k to get the Plus? Someone mulling over those conundrums is a happy person indeed.
Register for free to continue reading
Registration is a free and easy way to support our truly independent journalism
By registering, you will also enjoy limited access to Premium articles, exclusive newsletters, commenting, and virtual events with our leading journalists
Already have an account? sign in
Join our new commenting forum
Join thought-provoking conversations, follow other Independent readers and see their replies