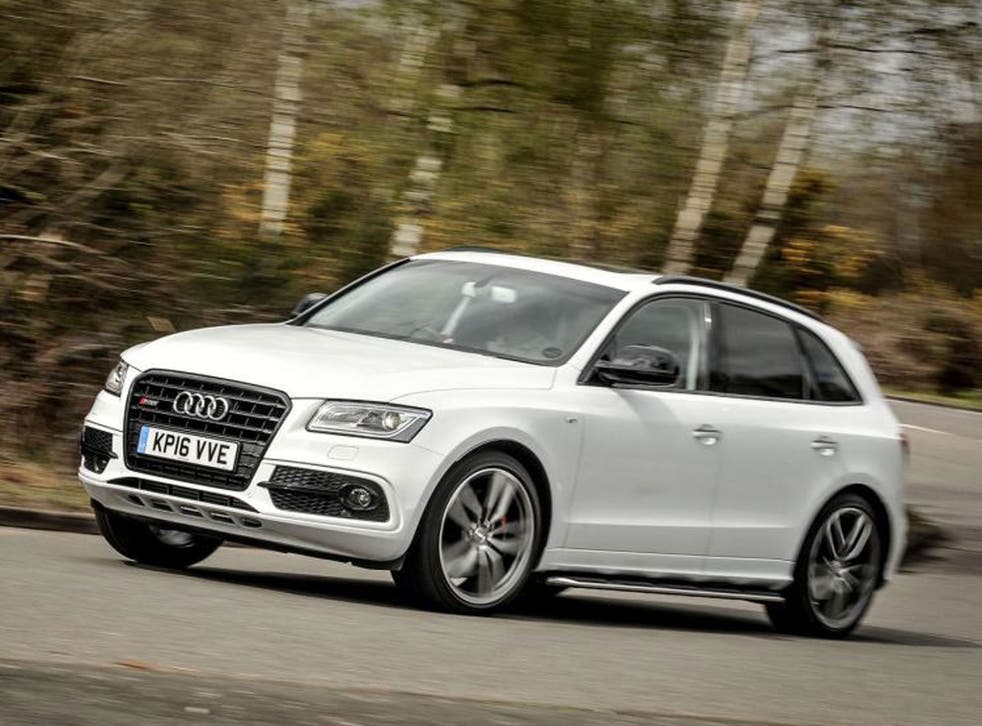 Audi SQ5 Plus, car review: Are the improvements worth the hefty price tag?
It's good, but only in a what-did-you-expect-it's-based-on-the-SQ5 sort of a way
John Calne
Monday 25 April 2016 23:28 Comments
The SQ5 was already an interestingly fast version of the just-facelifted Q5. But now there's an SQ Plus, which is faster still – or at least, more powerful.
Behind the newly styled grille of this performance SUV is a version of the 3.0 TDI engine which delivers 335bhp and 347lb ft. That's a little more than the standard SQ, so bragging rights are yours, but both cars have the same 0-62 time so a certain amount of mocking may be yours too.
The SQ5 Plus has a 3cm lower suspension set-up, though. That would be the same 3cm lower suspension set-up as the standard SQ, then…
So, er, obvious question. Why does this SQ cost £6370 more than than the other one?
Because you get bigger alloys, funkier infotainment, all-round park assist and quilted Nappa seat leather, that's why. Oh, and a sticky rear diff with torque-vectoring smarts.
Is this the thing that makes all the difference? Er, no. However hard you try to push it, all you'll get is understeer. If you're hoping for any adjustability on the throttle (or, in real-world terms, just to be able to smoke the rears like Bo Duke while cackling like a madman), it'll cluck and tut and there'll be nothing to see here.
Nothing to see but a 5.1-second sprint time, though even that only begins to tell the story of the torque wave you're riding as you surge imperiously towards the red line. And nothing to hear but a beguiling engine note (piped through the sound symposer, but nice nonetheless) whenever the mode dial's turned to Dynamic.
All good, then – apart from that it's all exactly the same in the cheaper SQ. So too is the rather easy-going steering, and the fact that the 8-speed auto box sometimes has to play catch-up with your commands. So indeed is the firm but composed suspension, which keeps the body in check without filling the cabin with shuddering jolts.
So it seems that the word 'Plus' relates mainly to what they've done with the price of this SQ5. It's good, but only in a what-did-you-expect-it's-based-on-the-SQ5 sort of a way. You do get more for your money, yes – but everything really good about it is already there on the cheaper one.
Register for free to continue reading
Registration is a free and easy way to support our truly independent journalism
By registering, you will also enjoy limited access to Premium articles, exclusive newsletters, commenting, and virtual events with our leading journalists
Already have an account? sign in
Join our new commenting forum
Join thought-provoking conversations, follow other Independent readers and see their replies