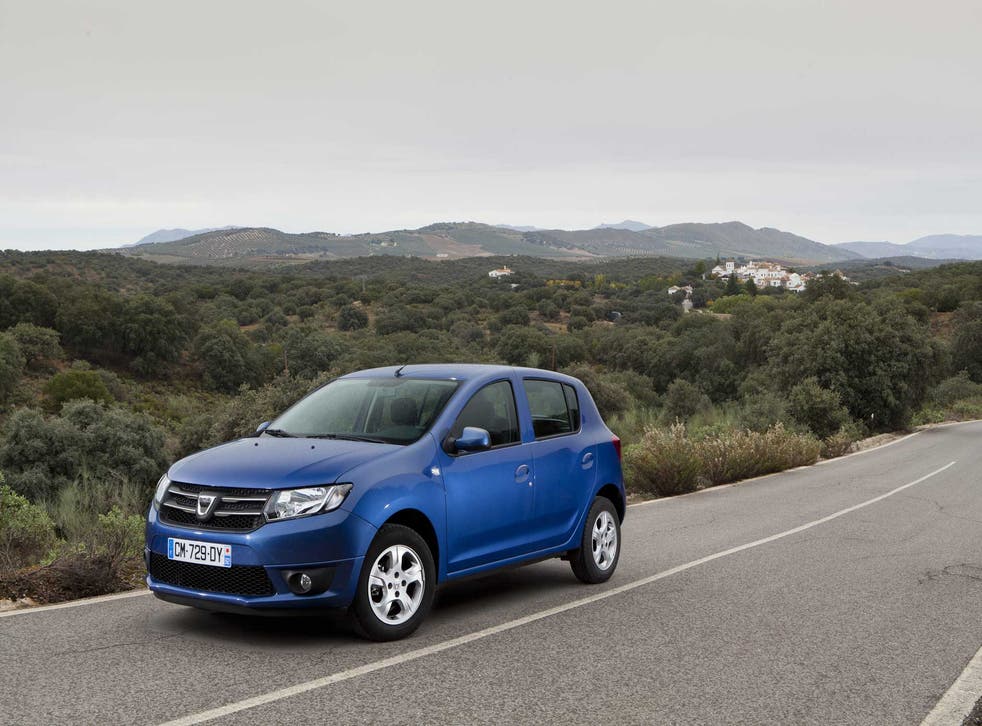 Dacia Sandero Ambiance 1.2
The new Dacia Sandero is the UK's cheapest car. But is it up to the job?
Price: £6,595
Engine: 1,149cc, four cylinders, 16 valves, 75bhp
Transmission: Five-speed gearbox, front-wheel drive
Performance: 97mph, 0-62 in 14.5sec, 47.9mpg, CO2 137g/km
The new Dacia Sandero, built by a Renault-owned company in Romania, is the cheapest proper new car you can buy in the UK. It costs from £5,995, for which you get a five-door hatchback with power steering, decent looks and a three-year warranty.
I must tell you, however, that this low-priced wonder isn't quite the car you see here. There are three trim levels of Sandero – five if you include two Stepway versions with a hint of crossover SUV about them – and the pictured example is in the top Laureate trim. Not only that, the pictured model also has a high-tech, three-cylinder engine producing 90bhp from its turbocharged 0.9 litres, a new engine already seen in the latest Clio.
This Laureate 0.9 TCe 90 costs £8,795, with a further £1,000 required to change the engine to a 1.5-litre diesel with the same power. Suddenly it doesn't seem quite so cheap, and the point of the top-range model seems lost when more sophisticated superminis can be found around this price after a discount.
The Sandero to have, then, is surely the super-cheap one. So, what do you not get? Paint on the bumpers, full covers on the steel wheels, electric windows, central locking, chrome trim around the dashboard, any form of radio, any paint colour other than white. This is truly the anti-materialism model.
However, that this version exists largely as a headline-grabber, and will probably find few takers, is obvious when you discover that a middle Ambiance model, with the same 1.2-litre engine with four cylinders and 75bhp, is just £600 more. Now you get all the items listed as missing above, with only electric mirrors and rear windows, cruise control, driver's seat-height adjustment and air-conditioning standing between this one and the Laureate at another £1,400.
That's the stall set out. What is the Sandero actually like? Could you live with one as part of an economy drive? The Laureate TCe 90 has the same hard dashboard and door trims as the lesser versions, and similarly cheap-feeling switchgear. However, it is acceptable to drive, its turbo engine pulling smoothly, the ride and handling adequate, though sometimes the motion gets choppy, and the more enthusiastically you take a corner, the less responsive the steering.
Then there's the Stepway, offered for test with the turbodiesel engine and giving zestier pace at the price of annoying engine vibrations. The black-plastic wheel-arch extensions, the roof rails and the slightly raised ride height give a convincing look of a faux-4x4, which comes across as more fun, but making your Sandero a Stepway adds another £600. That's fine, but where on the press launch were the cheap Sanderos that everyone wanted to drive?
Nowhere, it seemed, until I made an arrangement with a French Renault representative who managed to find a 1.2 Ambiance – the £6,595 one. It looks the same as the Laureate outside, while the inside is much improved by its two-tone dashboard, which is a lot more cheerful.
The engine lacks the liveliness of the turbo-charged three-cylinder, but has enough energy not to be a liability on a busy road, while the fact that this engine weighs less causes this Sandero both to ride more light-footedly and steer more crisply. I'd go so far as to say it's good fun to drive, with that loping quality small French cars used to have.
In fact, I'd say it's the version to have: there's an honest simplicity about it that is oddly calming – you don't worry about features when you don't have them.
Join our new commenting forum
Join thought-provoking conversations, follow other Independent readers and see their replies