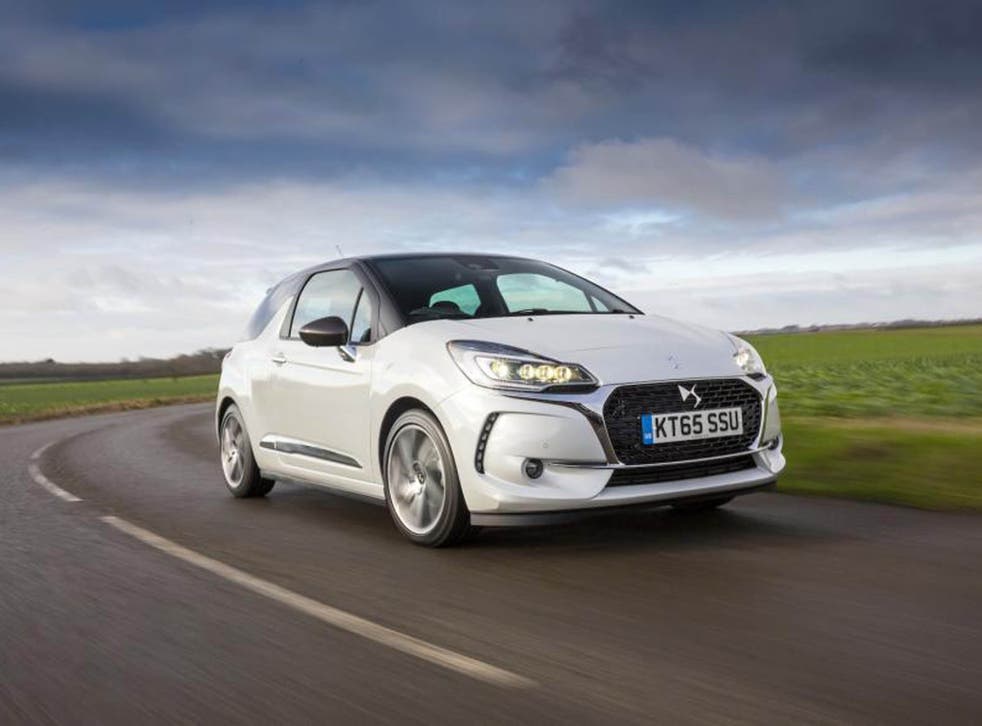 DS 3 PureTech 130 Prestige, car review: The DS gets a mid-life spruce-up
A facelift seemed like the obvious time for a rebrand, so what we have is a DS 3 with groovier styling, more equipment and revised trim levels
John Calne
Tuesday 08 March 2016 23:14 Comments
First there were Citroen DS models, and then there were just DS models. But even after DS was launched as a car brand of its own, Citroen still had the DS 3 on its books.
Now, though, the funked-up supermini has moved over to become part of DS proper. A facelift seemed like the obvious time for a rebrand, evidently, so what we have is a DS 3 with groovier styling, more equipment and revised trim levels. Six of them.
It also gets two new engines. The hotter of these, the 207bhp 1.6 THP, is still on the way, so for now here was are aboard the 1.2-litre, 128bhp triple.
We're driving it in range-topping Prestige form, but for £1900 less we'd recommend sticking with the Elegance model. This gives you cruise, climate and DAB, as well as reversing assist and sports seats, which is all most people will want.
Driving through a six-speed manual box, the engine spins away happily and pulls confidently in gear, delivering an 8.9-second 0-62 time while returning 62.8mpg and 105g/km. That's pacy enough to raise a smile, though it would be a bigger one if the ride and handling were a little better – neither is downright bad, but improved front-end grip, better body control and more feelsome steering would make all the difference.
If that was sorted, the odd ride hiccup would be easier to forgive. So too would the road noise that comes into the cabin on a fast cruise.
Said cabin is quite classy in its design. The switch to full DS badging seems to have brought with it a move to higher quality materials, and the adoption of a 7" touch-interface means there are less traditional controls jostling for attention on the facia.
It's easy to get comfortable, too, and everything you need to lay your hands on is right there waiting for you. The rear seats don't exactly need their own postcode, though – but they do fold down to liberate a creditable 980 litres of luggage space.
The DS 3 is offered in soft-top and hatchback form, with the vehicle we tested listing at £18,795. At that money, you'd need a good reason not to go for the Mini Cooper instead – but while it's not as entertaining to drive, this former Citroen is trying its hardest to give you as many as it can.
Register for free to continue reading
Registration is a free and easy way to support our truly independent journalism
By registering, you will also enjoy limited access to Premium articles, exclusive newsletters, commenting, and virtual events with our leading journalists
Already have an account? sign in
Join our new commenting forum
Join thought-provoking conversations, follow other Independent readers and see their replies