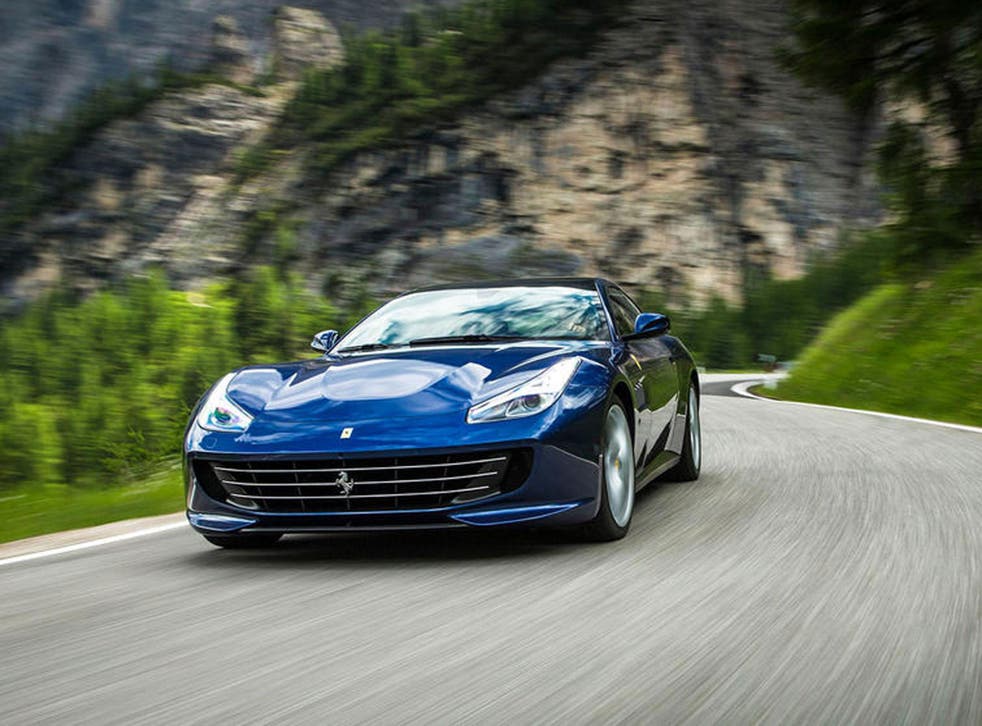 Ferrari GTC4 Lusso, car review: Facelifted FF combines supercar performance with hatchback practicality
With four seats and an 800-litre boot, this is not your average Ferrari
John Calne
Thursday 07 July 2016 00:09 Comments
The GTC4 Lusso is a new name in the Ferrari range. It's not an entirely new vehicle, though; rather, it's a facelifted FF.
As facelifts go, though, it's quite a thorough one. The 6.3-litre V12 engine now makes 680bhp and 514lb ft, which goes to all four wheels via a complex system that decouples the fronts at higher speeds, and there's a version of the rear-wheel steering set-up Ferrari has developed since the FF was new.
Also new, or at least heavily revised, it the vehicle's styling. It looks more purposeful than the FF, and the rear body has been reshaped – giving it a bit of the age-old 'breadvan' vibe.
But it's no van inside. 'Lusso' is Italian for 'luxurious', and that's just what it is, with classy materials, comfortable seats and vastly improved dashboard ergonomics. It's a proper four-seater, too – it would be snug if everyone was six feet tall, but no way is the back just for children.
The second row even folds to create an 800-litre cargo space. Yes, this is a practical family hatchback. Just, one with a V12 engine.
This sounds like a hearty baritone warming up for La Traviata rather than a banshee tenor bringing the house down with the loud bits from Turandot, but the underlying promise of mighty, thundering power is forever lurking beneath the surface. At the sort of speed you don't need a Ferrari for, the gearbox isn't hunting and jolting and the ride isn't fussing and bumping, so you're fine and the kids sat behind you aren't about to throw up on the back of your head.
But when you go for the gas, your practical family hatchback opens its throat and bellows. It almost weighs two tonnes but it takes off with instant purpose, and the faster you get the harder it seems to keep puling. The engine wakes up and the gearbox wakes up with it, shifting faster than you can think whether on the way up or down.
The suspension doesn't wreck the car's ride quality, but on adaptive shocks it still handles crisply and the GTC4 has the steering to match. The rear-wheel system works cleverly to improve matters whether you're turning in with verve or cruising along the motorway, and most importantly it does it without you noticing.
So this is a good car, a fantastically entertaining drive and, however ridiculous it still sounds, practical family transport. By supercar standards, at least.
Which, indeed makes it more or less unique. Because where else can you get a V12-engined two-door estate with four seats, 680bhp and an 800-litre boot?
No, in everyday GT stakes it can't justify costing nearly twice as much as a DB11 or Conti GT. But what it can do is dish up individuality on the grandest scale. And if you've got a quarter of a million quid to spend on that, you'll find it worth every penny.
Register for free to continue reading
Registration is a free and easy way to support our truly independent journalism
By registering, you will also enjoy limited access to Premium articles, exclusive newsletters, commenting, and virtual events with our leading journalists
Already have an account? sign in
Join our new commenting forum
Join thought-provoking conversations, follow other Independent readers and see their replies