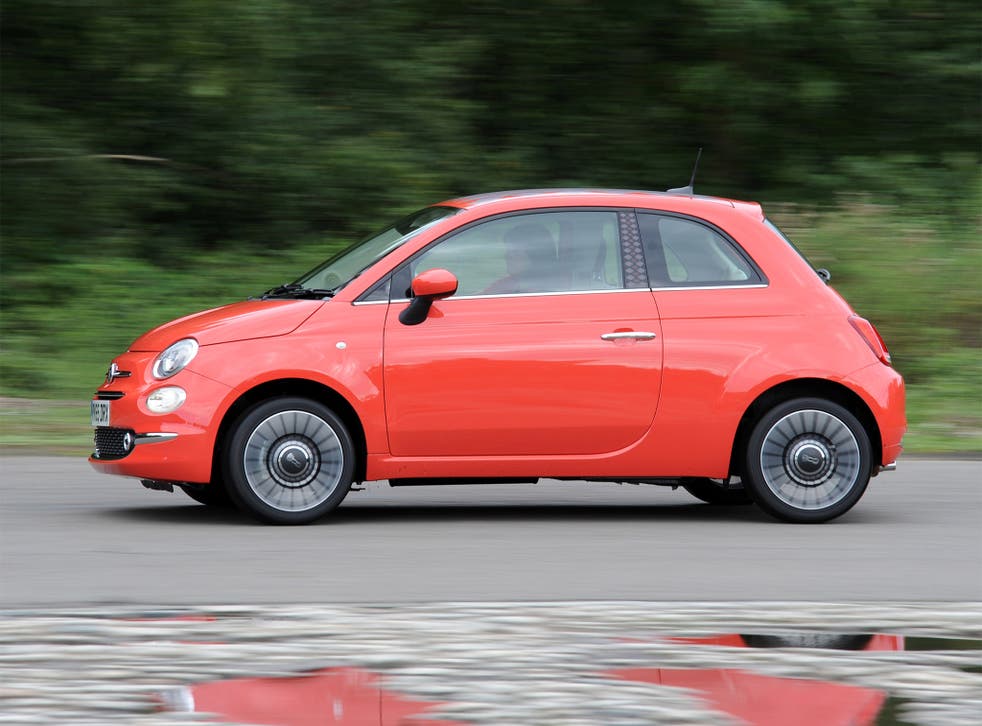 Fiat 500 TwinAir, motoring review: This dinky runabout looks back to the future in retro-chic style
The Italian carmaker has been clever enough not to mess with a recipe that has helped the firm shift 1.5 million dinky 500s in eight years
Jamie Merrill
Thursday 03 December 2015 00:34 Comments
Price: £13,940
Engine capacity: 875cc 2 cylinder petrol
Power output: 104 @ 5,500
Top speed: 117mph
Fuel economy: 67.4mpg
CO2 emissions: 99
Fiat's rather boastful tagline for the new 500 is "an icon remastered". It hasn't exactly been fully remastered. That happened in 2007 when the new Fiat 500 was first launched, 50 years after the much loved (and much smaller) original.
The new Fiat 500 is a "facelifted" version of that retread, and thankfully the Italian carmaker has been clever enough not to mess with a recipe that has helped the firm shift 1.5 million dinky 500s in eight years. Admittedly, there is a fiddly new digital display in the higher-spec models (the satellite navigation system is dire, buy one from Halfords instead) and the tiny TwinAir engine fails to live up to its economy promises, but the Fiat 500 is still a downright joyous car to rattle around town in before slipping into a tight city-centre parking space.
Like BMW, Fiat is going big for the so-called "fashion car buyer" who demands a "retro-chic" runabout, so most of the changes are cosmetic, including a new range of upholstery and trim. This means more personalisation than before – and a host of garish new colours.
This explained the virulent strain of red on my test car. Fiat calls it "glam coral" and it left my neighbour wondering what I'd parked in front of his drive last week. Keith, an architect, usually drops me a scolding email if I'm testing a particularly ugly car, but in this case it was the colour that aggravated him. For my money though, the 500 is a great looking little car that looks back but also has an eye on the future.
Most importantly though, Fiat hasn't been tempted to do what BMW did with the Mini and allow the Fiat 500 to bloat in size. Critics will still say that with a length of 3.5 metres and a width of 1.6 metres, the Fiat 500 is still far larger than the original; they have missed the point. Life has got bigger, safety has got better and not everything can or should be as it was in the 1950s.
Nearly 10 years may have passed since Fiat relaunched the 500 but it hasn't lost any of its dinky modern charm. And while it would be easy to portray its partial facelift as laziness on the part of the design team in Turin, if it ain't broke don't fix it. This car is just as fun to drive, and be seen driving, as it always was.
Register for free to continue reading
Registration is a free and easy way to support our truly independent journalism
By registering, you will also enjoy limited access to Premium articles, exclusive newsletters, commenting, and virtual events with our leading journalists
Already have an account? sign in
Join our new commenting forum
Join thought-provoking conversations, follow other Independent readers and see their replies