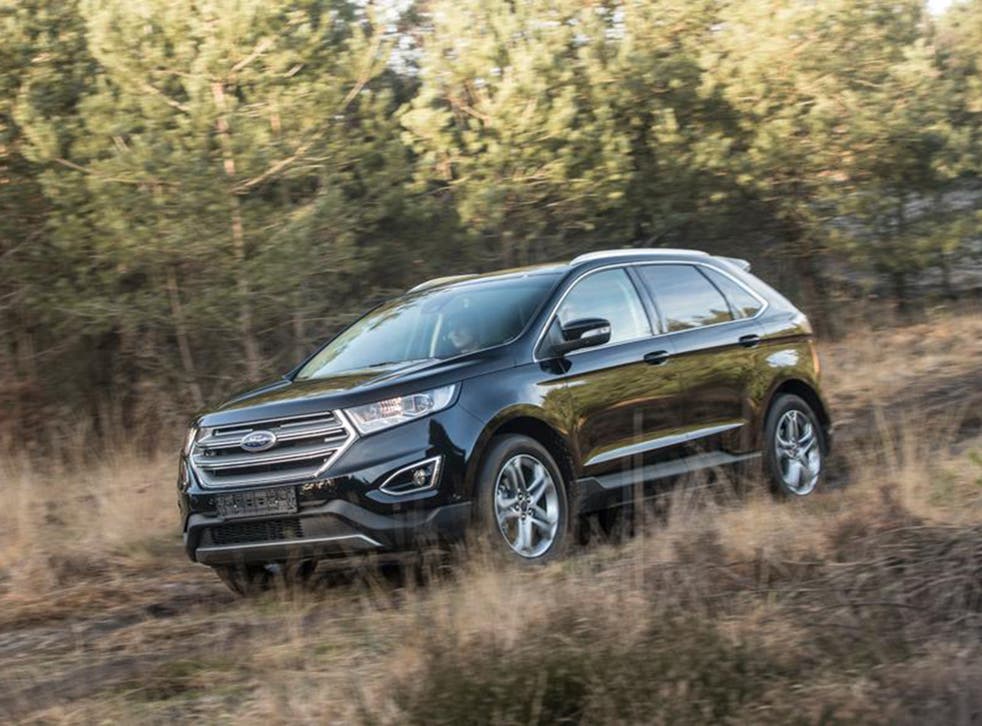 Ford Edge 2.0 TDCi 210, car review: Forthcoming SUV shows what it can do off-road
On first showing this looks a sound proposition even if it does lack the charisma of some of the competitors
Graham Scott
,
Autocar
Friday 25 December 2015 16:33 Comments
The Ford Edge has some SUV and 4x4 attitude, so joined a test drive at Ford's off-road route in Belgium to see how it would fare in the rough stuff. Obviously, this isn't a serious off-roader and it's not being sold as such. But over an array of dirt tracks, some quite big descents and climbs and some fairly deep ruts it acquitted itself pretty well. A good start.
Forward motion was ensured by the all-wheel drive system which under normal circumstances sends all the power to the front wheels for best fuel and emission figures.
But if the system detects slippage it can shift the drive 50/50 front and rear, and it can do that far faster than you can follow, like about 20 milliseconds.
That way it uses four-wheel drive only as long as it needs and then reverts to two-wheel drive for maximum efficiency.
That's hardly a new system but it works well in practice. Further back up the driveline is a choice of two turbodiesel outputs.
The 2.0-litre Duratorq engine can pump out either 177bhp through a six-speed manual box or 207bhp through the six-speed Powershift dual-clutch transmission.
Keeping away from the hardtop showed that these combinations work, with adequate grunt available when needed, and an efficient driveline that kept us moving forward at all times.
Sitting in the cabin, you're aware that there's good sound-deadening here as the engine noise is well suppressed. You can also feel the suspension keeping most of the ruts and thumps out of the cabin and it took quite a bit pothole before the interior was disturbed by a major thud.
There's pretty good space for four adults although a fifth would struggle a bit for any length of time. There's also plenty of leather around the cabin, giving the impression of a premium space. Dashboard and instruments all look neat and modern and the 8in Sony infotainment system works well.
Whether this all adds up to anything that would trouble Audi with its Q5 or BMW with its X3 remains to be seen when we can do a full road test rather than a trek round the forest. But on first showing this looks a sound proposition even if it does lack the charisma of some of the competitors.

Register for free to continue reading
Registration is a free and easy way to support our truly independent journalism
By registering, you will also enjoy limited access to Premium articles, exclusive newsletters, commenting, and virtual events with our leading journalists
Already have an account? sign in
Join our new commenting forum
Join thought-provoking conversations, follow other Independent readers and see their replies