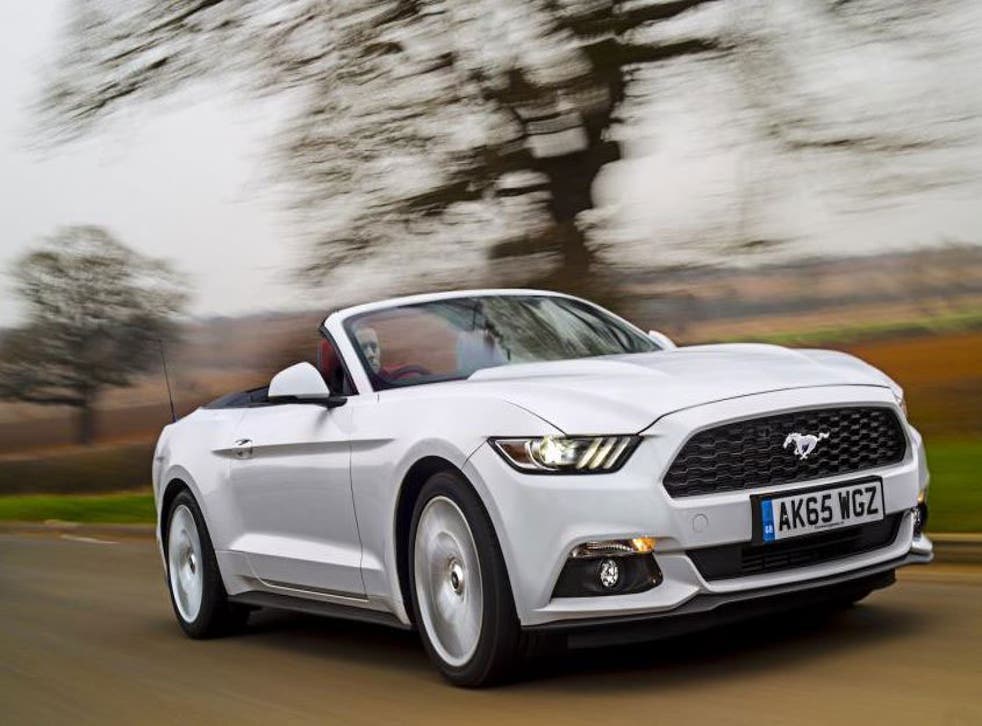 Ford Mustang Convertible V8, motoring review: A slice of Americana, if you can afford to fuel it
The Mustang is over-sexed and over here with a range of coupés and convertibles
Jamie Merrill
Wednesday 06 April 2016 21:52 Comments
Price: £38,495
Engine capacity: 5.0-litre V8 petrol
Power output (PS@rpm): 421 @ 6,500
Top speed (mph): 155
Fuel economy (mpg): 22.1
CO2 emissions (g/km): 290
The road ahead is empty, the sun is shining, the convertible roof is down and in front of me an American V8 engine is gurgling away. I'm behind the wheel of the new Ford Mustang convertible and to my right the security guards at a top-secret military base are looking at me suspiciously. I'm not blasting down a highway by Area 52 in Nevada though. I'm parked in a lay-by on the A43 outside the gates of a US listening station at RAF Croughton in Northamptonshire, where Ford launched the car in the UK last week.
The Mustang is an automotive superpower. It has been on sale for 50 years, but until now it was only available to UK drivers who were prepared to import one specially and put up with left-hand drive. Now, though, the Mustang is over-sexed, cheaply priced and over here with the range of coupés and convertibles starting at just £34,000.
And if, like a Nato general, power is your thing, you can get your hands on a V8 model for just under £40,000. That comes in nearly £25,000 cheaper than a comparably powered BMW M4.
Of course, it doesn't compare to the BMW in handling and build quality, but the Mustang is not longer just a hunk of unsophisticated muscle. It has had an engineering overhaul on the way over from America and is closer to European levels of refinement and cornering than it has ever been. So, if you can overcome the odd tacky detail and some rather hard plastic in the interior, this is a serious piece of kit. That's why Ford has already shipped 1,000 of them to customers in the UK since it went on sale earlier this year.
The new Mustang is what Ford call a "global car", which means it is the same the world over and isn't changed for different export markets.
In turn that means, to the joy of power purists, we get it in the gusty V8 form. Thirsty V8s are going out of fashion in Europe though, as regulators heap tax on their thrashing pistons and abysmal fuel economy.
And sure enough, blasting along the A43 the trip computer on my test car reads well below the claimed 22.1mpg figure, while emissions of 290 grams per kilometre could soon inspire Greenham Common-style protests as the air in our cities continues to get worse. We may have waited a long time for this slice of Americana, but the Mustang feels like it comes from an age when American metal ruled the world.
Register for free to continue reading
Registration is a free and easy way to support our truly independent journalism
By registering, you will also enjoy limited access to Premium articles, exclusive newsletters, commenting, and virtual events with our leading journalists
Already have an account? sign in
Join our new commenting forum
Join thought-provoking conversations, follow other Independent readers and see their replies