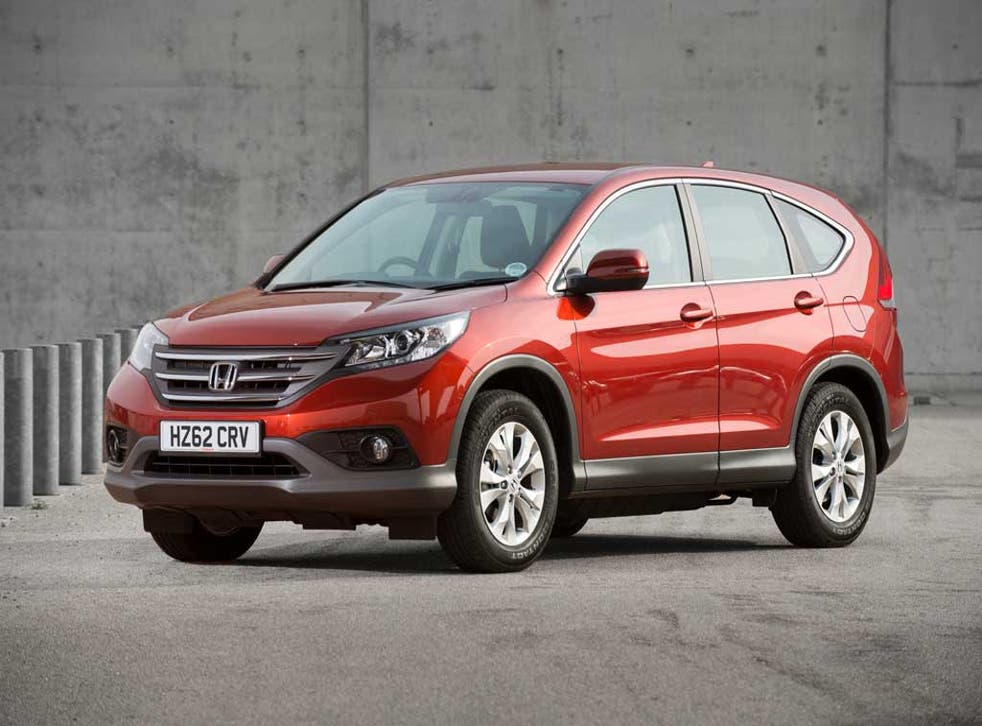 Honda CR-V 2.2 i-DTEC
Price: From £25,600 approx (range spans £19,000 to £33,000)
Engine: 2,199cc, four cylinders, 16 valves, turbodiesel, 150bhp
Transmission: Six-speed manual gearbox (five-speed auto optional), four-wheel drive
Performance: 118mph, 0-62 in 9.7sec, 50.4mpg, CO2 149g/km
This is Honda's fourth car to wear the CR-V initials that stand for Compact Recreational Vehicle. The evolution of this line neatly mirrors that of the entire compact 4x4 breed, from the calmed-down "Jeep" look of the 1995 original, with its boxy profile and external spare wheel, to today's rounded design.
It was the third-generation CR-V that changed the direction, a curiously styled machine which looked as if a fairly normal car had crash-landed on top of an SUV's bottom half. But the change in emphasis was clear: the hint of a rugged look suggestive of crashing through undergrowth or bounding along rocky tracks was no longer what buyers wanted. Curiously, while they still craved the impression of outta-my-way toughness and authority, the false conceit of off-road prowess now needed to be no more credible than the notion that someone wearing combat-trousers actually takes part in armed conflict.
Nowadays it's normal for an SUV to be as "styled" and prettied-up as a regular road car. This civilising of the SUV has also meant buyers are shunning compact MPVs and opting instead for the more interesting urban-warrior aura of the SUV, even though such SUVs tend to be over-specified for their role when often all that's needed is a set of winter tyres.
Into this receptive market Honda now launches its latest CR-V. It's made in Swindon, as its predecessors were, and most of its mechanical and under-skin parts are derived from the previous model's. But the new CR-V is slightly lower, a change repeated in the seat positions and the height of the boot floor, and its body is more rigid, slips through the air more efficiently and has flanks remarkably like a BMW's. There's a leering grin at the front, and the tail has a kicked-up look topped by zig-zag tail-lights with LED bulbs. Inside, there's a sleek and wide dashboard, very clear instruments and a clever mechanism for folding the rear seats to create a completely flat load floor.
The interior ambience doesn't have quite the padded, tactile slickness of its premium German rivals, but the roomy cabin's components fit together beautifully and the whole car comes across as a quality job. The stiffer body has allowed firmer and more "linear" suspension damping which, along with a new, and natural-feeling, electric power-steering system, makes this quite hefty Honda feel surprisingly agile.
It also rides calmly and there's very little thumping over bumps, which fits with the impressive lack of commotion from other sources. This includes the engines: still a 2.0 litre/155bhp petrol unit or a 2.2 litre/150bhp turbodiesel but now with reduced CO2 outputs thanks to their new stop-start systems. The petrol engine has to be worked hard to overcome the CR-V's ample weight, but the diesel is a relaxed, muscular unit which suits the CR-V perfectly.
For the first time, and responding to the trend for buyers to want SUV architecture but not necessarily SUV ability, the CR-V can be had with front-wheel drive only. Available only with petrol engine, it feels barely any different from the 4x4 version in most normal driving. The latter now gains electronic control of the clutch, sending power to the rear wheels when needed.
It's a better CR-V in every way, and an intelligent alternative to its German rivals (Audi Q5, BMW X3). If you must have an SUV, then this is a good one.
Register for free to continue reading
Registration is a free and easy way to support our truly independent journalism
By registering, you will also enjoy limited access to Premium articles, exclusive newsletters, commenting, and virtual events with our leading journalists
Already have an account? sign in
Join our new commenting forum
Join thought-provoking conversations, follow other Independent readers and see their replies