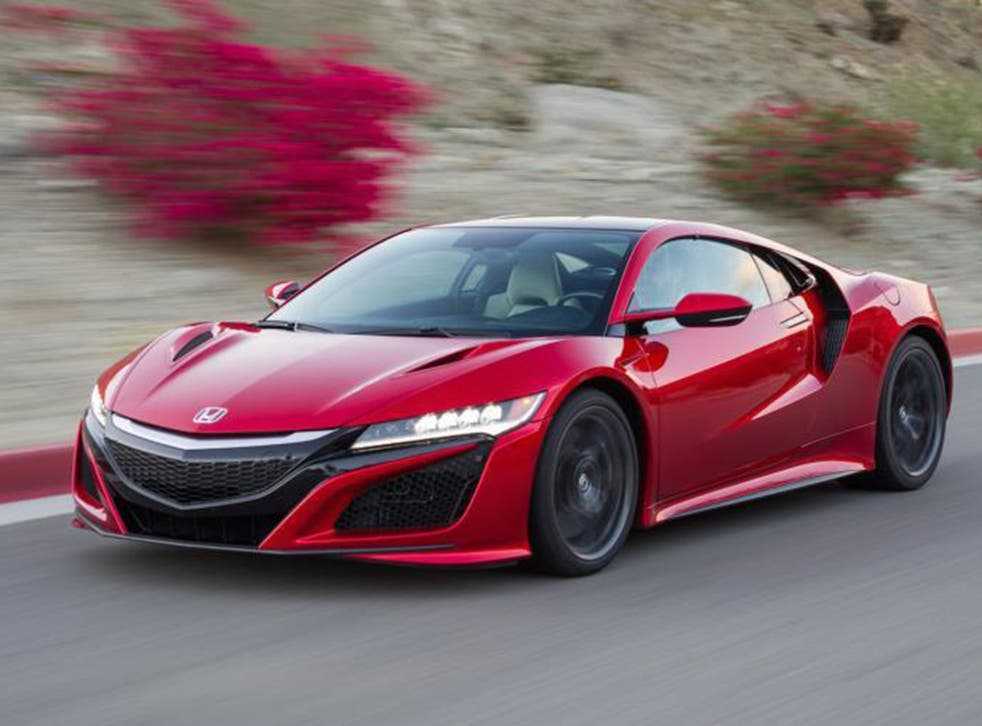 Honda NSX, car review: Manages to be fast, furious and a delightful car for everyday use
This has delivered on the 'disruptive supercar' that Honda wanted – and it's even cleverer than it was 25 years ago
Graham Scott
Thursday 24 March 2016 16:52 Comments
It's been quarter of a century since Honda launched a new NSX. That's a while. So has that time been well spent? Well, at least Honda aimed low.
The bodywork is a mixed-material spaceframe, and behind the cabin this accommodates a 3.5-litre V6 engine putting out 500bhp. The V6 has a dry sump so it can sit even lower in the chassis, and the twin turbochargers also sit low beside the engine, along with the exhausts. This really is low.
It fits in low enough for the boot to be above it all, capable of taking a set of golf clubs. But we're not here to write about your handicaps right now. Behind that engine is a 48bhp electric motor, and it's joined at the front by a 37bhp electric motor on each wheel. The power can then rise to 573bhp, as not everything reaches max power at the same time.
But this isn't a hybrid in the normal sense. The system is designed so that the batteries never go flat, the V6 sees to that, so you don't have an electrical range to worry about. And, as you've probably worked out by now, those electric motors are there to aid handling as much as they are to add power.
We tried out how it works on the track. It's terrific. The NSX is about the same size as an Audi R8, and it really does make the most of technology. Most things are fly by wire, including the steering and the brakes.
You might imagine it's all lifeless, but it's not. It's sharp and accurate even if a touch lacking in feeling. And there's oodles of power. The electric motors fill in the gaps between the turbos spinning up, so it feels incredibly powerful and torquey, whatever the revs.
The power feeds through a nine-speed automatic that is incredibly smooth and slick. You end up changing gears quite a bit because they're closely set, but that is never anything other than a pleasure.
This means it's super fast in a straight line and can corner like anything. The two-stage dampers give you some flexibility, but it's always firm and supremely controlled. That low centre of gravity helps offset the weight which is a by-product of the electric powertrain.
The performance is mighty, and the way you can enter and then exit corners is way above an awful lot of supercars. It feels totally planted and induces massive amounts of confidence.
Yet this isn't really a track car. It was designed to be easy to drive, on the road as the track. And it is. The cabin is quite spacious, the handling on the road is comfortable rather than racer-jiggly, and there's so much power you can tootle around with hardly any revs up. Of course, it's a fair size, particularly the 2217mm width, but it's never unwieldy.
It sounds lovely too, without the harshness of some supercars. You really could drive this to the golf course, and then drive home again without worrying about spinning into a ditch or putting your back out getting in.
It is very high-tech and very advanced and it all comes together in an experience that is actually quite analogue. Honda want this car to be a 'disruptive supercar' and it is. It's as fast and furious as some more single-minded competition, yet at the same time it's a simply delightful modern, tech-smart car that you could use every day without breaking into a sweat. That is clever. It's even more clever than it was 25 years ago.
Register for free to continue reading
Registration is a free and easy way to support our truly independent journalism
By registering, you will also enjoy limited access to Premium articles, exclusive newsletters, commenting, and virtual events with our leading journalists
Already have an account? sign in
Join our new commenting forum
Join thought-provoking conversations, follow other Independent readers and see their replies