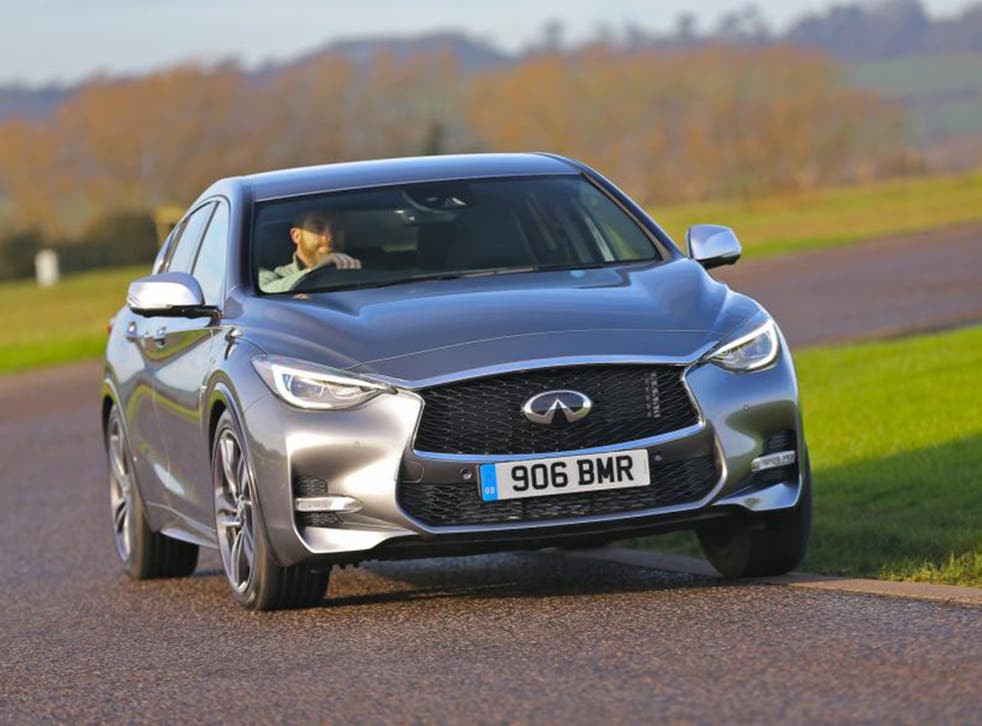 Infiniti Q30 2.2d AWD, car review: Nissan luxury brand takes on BMW and Audi
Infiniti have done well to produce something distinctive enough to separate it from their Germanic counterparts
Graham Scott
Wednesday 03 February 2016 14:04 Comments
There's an interesting irony here. We have a Japanese brand trying to encourage buyers away from the likes of BMW and Audi, to buy its own product. Which is based on a German underpinning, the Mercedes-Benz A-Class. And some of the engine choice comes from Renault. But, despite everything, this is an Infiniti.
Which means it stands out from the crowd. The distinctive styling works, and allows for plenty of room for those in the front seats.
The cabin seems well put together, and there's plenty of adjustment in the front. However, those in the rear get a lot less room and light. To balance that, the boot is capacious. The level of tech is fine but no better, and most trim levels mean you don't get sat-nav as standard. It's a £1400 option.
Under the bonnet there is a range of engines from a range of sources. At the entry level, as mentioned, Renault provide the motive power. This is a 1.5-litre turbodiesel emitting 108g/km of CO2 and managing a claimed 68.9mpg. At the other end, and tested here, is a 2.2-litre turbodiesel that can manage 127g/km and 57.6mpg.
This latter unit is sourced from Mercedes, and pushes on well. Although the noise-cancelling software has some work to do, and still has some way to go as the revs rise. The engine rumble is joined by wind and tyre noise but all this sound is matched by decent performance.
This AWD model feels quite potent, working smoothly through a seven-speed dual-clutch auto box. It works better in auto than manual mode. There are plenty of variants to choose from, and we tried both Premium Tech and Sport. The former is pretty comfortable with gentle understeer building up. However it has more body lean than feels reassuring.
The Sport variant doesn't suffer so much from the body lean, but then that is at the expense of the ride quality. The stiffer springs and lower suspension mean you get better handling but the ride is rather compromised, with more signals from the road intruding. The steering is far from sporty. Since the performance isn't improved this seems an option not really worth exploring.
Infiniti have given this a good shot, to produce something distinctive enough to separate it from their Germanic counterparts like the Audi A3 or the BMW 1 Series. It is different, you can tick that box. But is it better?
In terms of value for money you'd struggle to make the case. Take one major competitor, the Audi A3 Sportback 2.0 TDI 184 quattro automatic. It's faster, cheaper, drives better and has a superior interior. That's a tough list to beat.
Register for free to continue reading
Registration is a free and easy way to support our truly independent journalism
By registering, you will also enjoy limited access to Premium articles, exclusive newsletters, commenting, and virtual events with our leading journalists
Already have an account? sign in
Join our new commenting forum
Join thought-provoking conversations, follow other Independent readers and see their replies