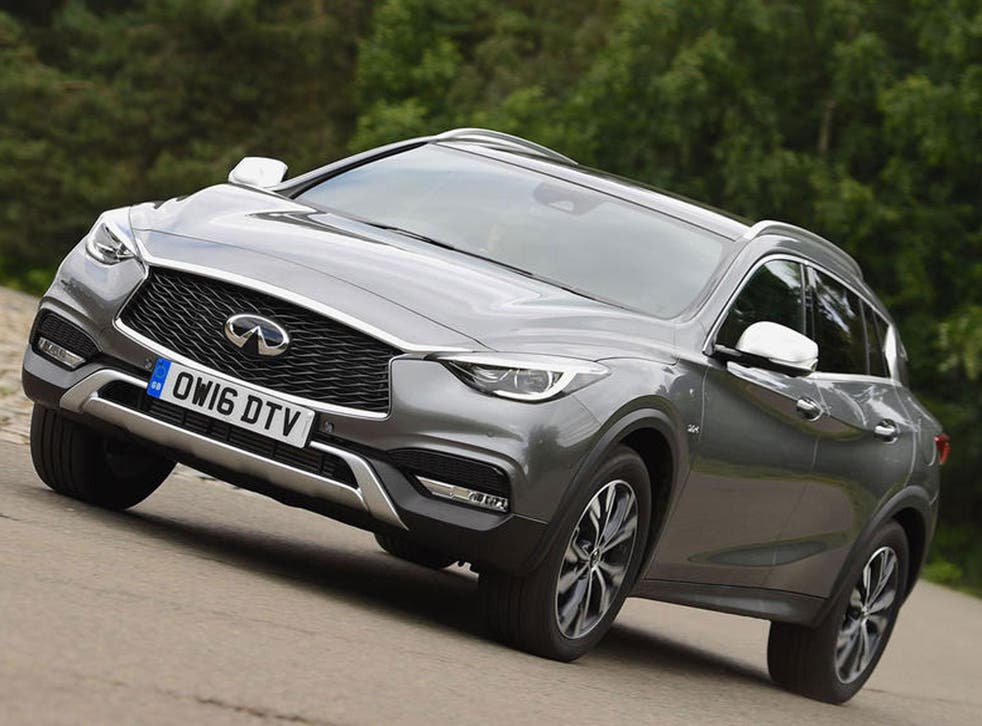 Infiniti QX30 Premium Tech, car review: Crossover gets an X – but lacks the X-factor
It certainly has something to offer, but does an awful lot of things less well than rivals
John Calne
Thursday 07 July 2016 00:36 Comments
Infiniti already makes the Q30 hatch. And now here's the QX30, a crossover with a little more in the way of, well, X.
And does the X give it some sort of X-factor? Well, you get taller suspension which hikes its ground clearance by a bit more than an inch and a 4x4 drivetrain turned by a 2.1-litre diesel engine. So that's a good start.
But you don't get a car that feels particularly distinct from the hatchback on which it's based. You might well consider this to be a point in its favour. If you come at things from a 4x4 perspective, probably not – but if that's the case, chances are your mind was already closed to the idea of an Infiniti SUV based on a Merc A-Class platform.
Our minds are not closed, so let's look around us. In the cabin, you're surrounded by equipment – nav, cruise, climate, seat heaters, all the right multimedia stuff, you name it. But what you're not surrounded by is space – particularly in the back, where pretty much every major competitor the QX30 has is more generous to your passengers.
Interestingly, the above kit list is the same as you'll find in the base-spec QX30 – which has the sweet aroma of good value to it. What does our Premium Tech model add? Some wood trim we'd frankly pay extra to get rid of, mainly, as well as a hefty price premium and the pong of a rotten deal.
So our minds remain open, but there's a door there that's definitely starting to swing shut. Let's see if a stint behind the wheel can shove it back in the right direction.
It's very much as you'd expect, with decent get-up-and-go and a fairly mellow, wafty sort of ride. All-wheel drive means all-wheel grip, and body movement only becomes an issue if you drive it like the bloke who wishes his wife had let him buy a Focus RS instead.
If that's you, expect understeer to be your nemesis in corners. And, once you've dealt with that, for body roll to become its ghoulish ally. All of this will be played out to the soundtrack of an engine that's not happy about being worked this hard – not least because in Sport mode, the seven-speed auto box leaves it so long to change up.
Yet it all works just fine when you're driving normally. So, duh, drive normally then. The engine is strong within its comfort zone, the box shuttles you up and down without a fuss and it deals nicely enough with the road.
Thus if you stick with the base-speccer (it's called Premium, for some reason) and have no desire to drive with sprit and zest, the QX30 is a car with something to offer. But it's one that does an awful lot of things less well than rivals. The X is there, but the X-factor is missing.
Register for free to continue reading
Registration is a free and easy way to support our truly independent journalism
By registering, you will also enjoy limited access to Premium articles, exclusive newsletters, commenting, and virtual events with our leading journalists
Already have an account? sign in
Join our new commenting forum
Join thought-provoking conversations, follow other Independent readers and see their replies