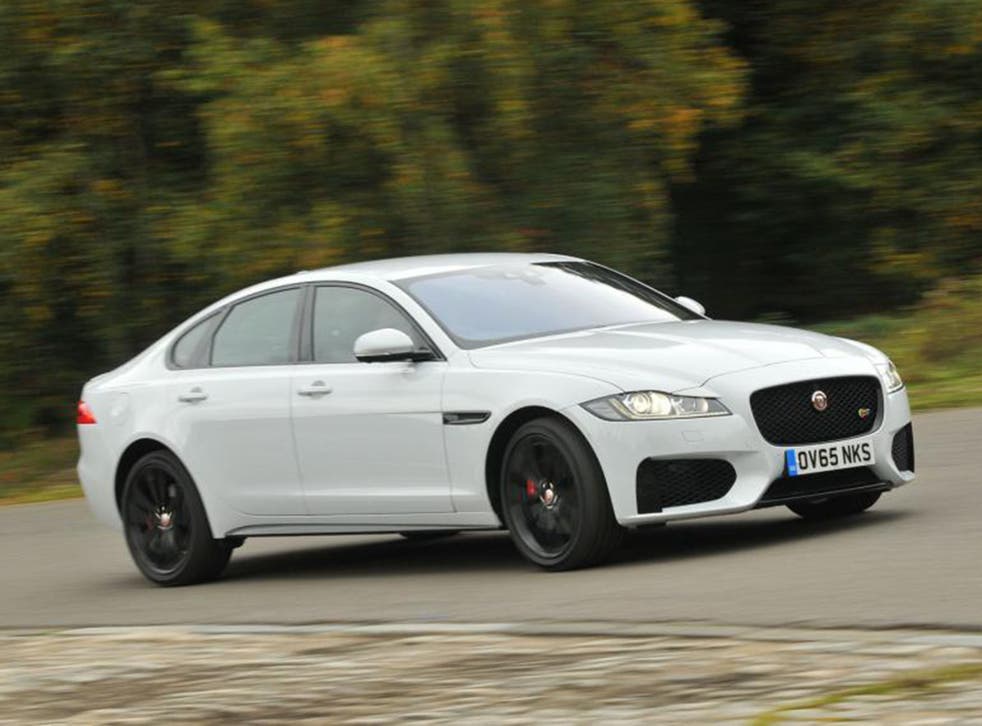 Jaguar XF S 3.0 V6 380PS, car review: Engine from hottest F-Type creates stunning way of getting around fast
This is a magnificent saloon car – and if you can make the money add up it'll be a pleasure to own and drive
John Calne
,
Autocar
Wednesday 09 December 2015 14:13 Comments
We've been raving about the new XF ever since it came out. And now here's our chance to rave some more, courtesy of the supercharged 3.0-litre V6 from the F-Type.
The same engine appeared in an armoured Range Rover built by JLR's SVO division a couple of months ago, so it's already proven its ability to deal with heavier vehicles than the F. Conversely, can the XF's chassis deal with bigger power outputs than those of the diesels (brisk ones, admittedly) it's been running up to now?
The power output in this case is 375bhp, so it definitely shifts. The V6 is bolted to the familiar eight-speed auto box, tuned in this case to match a torque curve whose maximum shove is at a revvy 4500rpm.
So you definitely hear the engine, though the noise isn't intrusive. It's not spine-tingling either, the way it is in the F-Type, but this is a super-saloon so refinement is what it's all about.
And refined it is. Which starts to answer our question about the chassis, because if it couldn't cope with the extra power you'd soon hear about it.
Instead, the cabin environment remains unruffled – as does the XF's body, however hard you thrape it round corners on a tough B-road or up the, er, autobahn at the sort of speed a gentleman would consider vulgar back home in Blighty.
It rides with suppleness, it handles with agility, it steers with precision. It's a car that doesn't
make extra work for you when you just want to get from A to B – but responds with unabashed joy if you ask it to show you a good time on the way.
There are, of course, selectable drive modes. Forget them: the chassis is so good you'll almost never gain any benefit from twirling the dial.
What you might get some benefit from is owning a petrol company. An official figure of 34mpg sounds adequate, but we averaged less than 20mpg simply by driving the thing the way it was built to be driven. A 198g/km figure means the taxman will punish you for enjoying life, too.
It's all very well to say these things don't matter to people who own expensive performance cars. But at just under fifty large before options, this XF might be pricey but it's not stupidly so.
That's why this Jag will only ever be an indulgence few choose to make. And when the diesel options are so good, it's easy to see why.
Make no mistake, though. This is a magnificent saloon car – and if you can make the money add up it'll be a pleasure to own and drive.
Register for free to continue reading
Registration is a free and easy way to support our truly independent journalism
By registering, you will also enjoy limited access to Premium articles, exclusive newsletters, commenting, and virtual events with our leading journalists
Already have an account? sign in
Join our new commenting forum
Join thought-provoking conversations, follow other Independent readers and see their replies